20 Powerful Marriage Lessons for a Happy Marriage
All over the world, people get married for all sorts of different reasons, but the common theme is love. With statistics in the UK showing a steady decline in marriages over the years, fewer people are indeed getting married, but this doesn't mean that your marriage can't last forever.
So how can one enhance their marriage, and how can one watch their marriage echoed through the ages?
What are the lessons of marriage?
Throughout the course of the marriage, the couple grows, learns, and evolves. When you live with the person, they uncover us to various perspectives we otherwise remain unaware of. We grow with our relationships and these lessons of marriage help us evolve better and handle relationships well.
Marriage lessons are essential because they help to understand different aspects of the relationship and provide ways to make the marriage successful, long-lasting, and happy.
20 lessons for a happy marriage
You must find ways in which to keep your marriage happy and alive. Take note of some of the following tips to help you do this.
1. Marry the one you love
It may seem all too simple. However, people marry for a lot of wrong reasons. One of the important marriage lessons to keep in mind is to not let yourself be one of these people.
Remember precisely why you're marrying somebody – it is because you love them and want to spend the rest of your life with them.
Marriage is a lifelong commitment, and it should be honored as such, so make sure that you are in this lengthy partnership with your ideal soulmate. Otherwise, you stand to watch a lifetime of resentment go by.
2. Don't expect too much
Have you ever wondered why people sometimes talk about the mundanity of married life? It's not always going to be electricity between you and your partner. However, this is all perfectly normal.
For a happy marriage life, do not expect a lot from your partner, whether it is in terms of certain behavior or action. Everyone has their own limitations. Expectations usually arise when you build pictures in your head.
3. Work as a team
Every successful married couple knows they need to be on the same side of the game.
Learning to be in the same team should be one of the marriage lessons couples should practice right from the first day.
If you treat your marriage like you do a competition, you may see that the game is over sooner than you think. It is perfectly normal for any marriage to encounter its ups and downs, so don't believe that it will always be the same as when it started.
Knowing these facts will help you make the most of your marriage because you won't get stressed if you feel disappointed at any moment. Concentrate on the positives for your marriage to successfully flourish.
4. Keep the adventure alive
Whenever somebody first meets their ideal match, relentless adventure usually follows – many a trip and many a candlelit dinner.
However, you may find that as the years pass, there are more challenges to face, different responsibilities, and excuses to stop doing the things you used to do together. One should not despair.
Try to keep your life as exciting as possible with your loved one. Of course, if you've got work commitments, you can't seriously expect to fly over to the romantic city of Paris every other week, yet plan shorter trips that you can look forward to.
Perhaps a quick getaway to the rural outskirts of your town or even a bit of activity around your local area. Whatever it is, surprise your partner and make them excited through your bold ideas. Also, if you're old and aging, it's never too late to keep your adventure going.
Keep the adventure alive.
5. Affection
It shouldn't surprise you that your attraction to your partner will fade, especially as they get older, it's just a scientific fact. However, one can still be affectionate in many different ways.
It is vitally important to make an effort to be affectionate, for instance, a simple kiss. Any small sign will be greatly rewarded, with significant symbolism backing it up. Everybody wants to feel loved after all.
6. Dealing with tough times
When your marriage is in its early days, you will find it very easy to love your partner and for them to love you too. Everything becomes a lot harder when you see yourself in a spot of bother.
Make sure you talk things over with your loved one when things get tough and fuel each other to find ways of getting through the tough times.
7. Be aware of monotony
How to have a great marriage?
In a marriage, you may find that you will experience a lot of boredom and monotony, even though every day is different. You may also find yourself missing out on unique plans and your dreams to make sense of important plans.
It is best to realize that this is just a normal part of life, and real-life isn't always going to be exciting. If you and your partner can understand that boredom is just inevitable at times, your marriage will be a great success.
It's also essential for you to take time to do the things you love and work on your hobbies, both together as a couple and alone for some peace.
Also watch: How to Find Happiness in Your Marriage
8. No comparisons
Your marriage is yours and yours alone, so don't waste time comparing your life to that of other people. In this day and age, with social media at our fingertips, it can be easy for one to edit their life and think it over excessively in the face of the lives of others.
Many people compare their home, children, partner, and many more things, but is this necessary? This sort of activity can leave one with a bitter taste, working against the happiness of your marriage.
Stop comparing yourself to others and think about paying attention to your marriage in the present moment.
9. Initiative
We often spend a lot of time wondering if we are the giver or the taker in the marriage, so what are we supposed to do? Always remember that if you give, the other person is sure to remember it. Take the initiative in your marriage and be the giver– your partner will reward you for it.
10. Be generous
Kindness and generosity are a few best words of wisdom for a happy marriage.
Marriage is a union where selfishness has no place. No matter how you are to your acquaintances, friends, colleagues and family, you must always be generous to your partner and avoid thinking just for yourself.
Whether it's in terms of physical efforts or financial aspects, the more you give to the relationship, the happier you will be.
11. Avoid complaining
Complaining will lead you both to nowhere. Besides, it is not a solution-oriented approach to communicate with your partner. This is one of the marriage lessons which takes time to be adopted as there are situations when everyone gets too frustrated to think.
Therefore, when you feel like complaining, always go with a solution or an alternative for that problem because your partner might not understand your worries just in an instant. Considering you are feeling the issue simmer in your head, you will understand it way better.
The video below discusses how we should handle complaints in marriage. Check out:

12. Express gratitude
Positive acknowledgment is one of the marriage lessons that couples need to incorporate right from the beginning. Showing gratitude is something we reserve for the dating phase and then, it fades as the relationship grows.
So, make sure you express your gratitude and tell them how thankful you are to have them in your life.
13. Be expressive
Being expressive is one of the important marriage lessons that need to be learned as your partner will not understand you if you are never expressive of your joys or concerns. So, talk better and express more about yourself.
14. It's okay to apologize
Usually, apologies are taken as a sign of failure or acceptance of failure. In the marriage, it is a crucial pillar of a happy and successful marriage. It establishes that you care for the relationship more than your ego.
Asking for forgiveness, as one of the marriage lessons, also lets you both become comfortable with each other as it drives away negativity and the fear of separation every time a fight or disagreement crops up.
15. Evolve
Change is the only constant.
People grow with time. With time, as priorities change, you need to evolve as much as your partner and not stick to what you were when you both were younger.
Evolve, change and take everything in a good stride rather than negatively and thinking that your partner has changed.
16. Stay committed
Over and above everything else, stay committed to each other. One of the most important marriage lessons for every happy married couple is to always hold each other's hands against all odds.
Not all days will be good days. There will be times when you will feel unloved or feel less love for your partner. Just remember that it is just a moment and things will be better.
17. Have boundaries
It might be assumed that marriage means sticking to the person all the time. Well, this is something that couples do not pay heed to. But a lack of space and boundaries can nearly suffocate the relationship.
It keeps the relationship fresh and encourages both partners to be strong and independent individuals on their own.
18. Practice acceptance
Learn to accept your partner the way they are rather than wanting to change qualities in them that you dislike. One of the important marriage lessons is to not try to change your partner.
Acceptance is a powerful pillar of marriage and lays the foundation of a happy marriage. Unless you practice acceptance, your relationship will seem unfulfilling to you.
19. Know your frustrations
If you feel frustrated with your relationship at times, rather than getting at your partner negatively, try to work on your frustration and it starts with understanding what bothers you in the first place.
Once you know your issues, you will feel easy and at peace.
20. Disagreements are healthy
No relationship or marriage is successful by avoiding disagreements and fights. So, one of the essential marriage lessons is to know that it is okay to have disagreements in the first place.
What is more important is that the couple should know that they are not fighting against each other. They are in the same team.
Conclusion
So whatever state your marriage is in now, or if you're yet to be married and are still thinking about wedding preparations, take note of the following tips to see that you live a happy life with the person you love.
Share this article on
Want to have a happier, healthier marriage?
If you feel disconnected or frustrated about the state of your marriage but want to avoid separation and/or divorce, the marriage.com course meant for married couples is an excellent resource to help you overcome the most challenging aspects of being married.
Learn More On This Topic
You May Also Like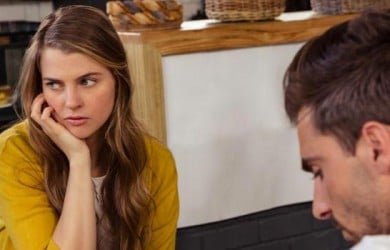 Popular Topics On Married Life