5 Reasons for a Breakup to Happen After Lockdown
It's been months since the COVID-19 pandemic hit, and the lockdown was put in place in many countries.
No one knows how long it will last, neither where humanity will be at the end.
But I can tell you now; once the restrictions end, there will be an increase in relationship breakdown after lockdown for unmarried couples.
Daydreaming about spending time together has turned to a nightmare. Some have questioned the aspects of relationships before, but living under the same roof has highlighted problematic issues.
What was easily tolerated has turned out to be a huge annoyance that has shown cracks in communication and personality differences, depleting relationship compatibility.
Take, for example, Carolina, my neighbor, recently discovered that George, his fiancé, was cheating on her.
George, together with his "boys' club," competed who amongst themselves would bed most girls and post them as evidence in the WhatsApp group.
The emotional toll devastated her and made her question her partner's love, her judgments, her sense of security, her self-worth, and her capacity to trust again.
So when all this is over, most couples will evaluate the risk of being in a sour relationship for the rest of their lives or taking a bold step and seeking fulfillment elsewhere.
And I bet the latter will be the better option for many. Because life experience during lockdown is distasteful for a lot of folks right now.
There can be many reasons for breaking up with someone, here are the 5 big reasons for a breakup in relationship for non-married folks at the end of this lockdown.
1. The closeness is no more comfortable
The experiences of living together for some couples have been a nightmare. Some relationship troubles have increased because of sharing almost every household item.
This has amplified every quirk and oddity that may have earlier gone unnoticed, unlike the single people who are living comfortably.
For the longest time, most folks spent much of their time communicating through texting. Then the pandemic happened, and it forced many to live together with minor phone distractions.
This moment makes you realize what you are, what they want, and who they are. What seemed cute fades away, and the insignificant thing that never bothered you like snoring now agitates you.
Most of the young couples who have lived together will end feeling like they are living with a stranger.
For those doing office work at home may neglect to understand the need to give attention to their partner, which fuels unwarranted arguments.
The inability to find time and space from your partner would be one of the reasons for a breakup once the lockdown ends.
2. You will realize you are not compatible for life
Overestimated compatibility is why relationships fail and would become one of the prominent reasons for a breakup after the lockdown.
Every relationship is founded on longevity and a lasting future, but when the future is put to the test, things go differently than expected.
At the end of this Covid-19 pandemic, most of the relationships will either strengthen or break up.
A quarantine environment has enabled couples to assess the behavior of their partners with a strict pragmatism.
One of you will realize that your partner isn't who you want in life during hard times. It devastates some couples to live with partners with who they can't identify their feelings anymore.
This pandemic will force many to realize they are incompatible and will prepare to deal with the breakup earlier.
3. Unearthing infidelity
Out of all the reasons for a breakup after lockdown, the most surprising is infidelity.
One of the pandemic advantages in disguise is that quarantine makes it harder to hide physical affairs.
Longer working hours, business trips, and hanging out with friends is only an excuse. Most would assume pandemic would have minimized the affairs, but apparently, most people are thrilled by how riskier it has become and still keep the affairs.
People will risk it all to have sex, even after being forbidden from breaking six-foot space, during the pandemic.
Ashley Madison, a website that caters to individuals seeking affairs, is reporting 17,000 new sign-ups every day since pandemic started. This is a considerable increase compared to 15,500 sign ups in 2019.
Relationship frustrations have pushed many to have affairs to feel alive and less alone during this grueling time. Sadly, most are just using others temporarily to survive through the pandemic.
Most are being found out while having cybersex, "taking too long to buy groceries," sexting, frequent evening walks, and weird phone calls at night. Most couples will quit once they lift the quarantine.
As Sheridan wrote, "China's Divorce Spike Is a Warning to Rest of Locked-Down World." This, too, applies to the non-married couples.
4. You are struggling to meet your financial needs
Money has always been one of the top reasons for a breakup. As the lockdown has hit the economic and financial capabilities of couples, their relationship is withering away.
In the US, over 40 million Americans have lost jobs and are claiming benefits. While the unemployment insurance benefit eases the financial strains, it's not enough to satisfy all the needs.
The worst has not yet happened. The business and companies will take time to rebound, which may occur at a slower pace hence making it difficult for them to hire back within a stipulated speed.
When the needs of your partner can't be met for survival, the couple struggles to compartmentalize that money issues is the primary reasons for a breakup, and the relationship is bound to end.
Psychological trauma strains the pair, and it's now a question about when the quarantine will be over for either to quit.
As for the married folks, the divorce cases will be minimal because of economic hardship. The finances will take a massive hit for those that may consider going through with it.
The average divorce cost is $15,000 per person. The rich may proceed with it because of the falling stock market value, giving an opportunity to divorce when the financial repercussions are minimal.
Also watch: How to manage your money.

5. You were already breaking up
Some people had already realized their relationship was doing more harm to them and broke up before the government started lockdown.
The lucky found the right reasons for a breakup with their girlfriend/boyfriend before they could face the dilemma of living together. Other folks made different living arrangements to work it out later after the pandemic was over.
For those that choose to live together till the end of the epidemic, the relationship will have raised unwarranted fights.
Conventional wisdom advises us not to make hasty life-changing decisions during times of happiness and stress moments; our human brain cannot logically think when under intense emotions.
Most people will agree that once the heart is broken and breeding, giving someone space is paramount to think and heal, that is why the effort to reconcile back is minimal.
Most folks who are coupling temporarily together have nothing to say to one another apart from "hey." Most relationships are facing a hard time, and those that will survive will be stronger.
Share this article on
Want to have a happier, healthier marriage?
If you feel disconnected or frustrated about the state of your marriage but want to avoid separation and/or divorce, the marriage.com course meant for married couples is an excellent resource to help you overcome the most challenging aspects of being married.
Learn More On This Topic
You May Also Like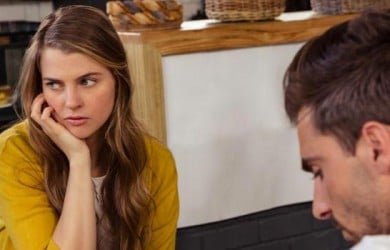 Popular Topics On Married Life