Laughing at the Altar: Funny Marriage Vows
Walking down the aisle, standing by the altar, and going for your wedding vows calls for a serious commitment. But, it is written nowhere that funny marriage vows dilute the seriousness of your commitment.
Everyone would like to craft great wedding vows for their wedding day; the day being one of the most important milestones in your life.
And, wedding vows are actually a public declaration of your love for your partner. So, most of the people wish to reflect the gravity and sincerity of their commitment to stay lawfully wedded for the rest of their lives through their wedding vows.
But, now with the changing times, people are moving from the most touching wedding vows or the archetypal vows to humorous wedding vows.
So, the couples want their wedding to be a reflection of who they actually are, with regards to their style, personality, and even a sense of humor. And, what better opportunity can it be than a funny wedding pronouncement, for a good stress-busting laugh.
Why do we need funny wedding vows
Although weddings are joyous events, they can be somewhat nerve-racking because it is such a huge milestone in life. The nerves combined with the flourish of heartfelt emotion could certainly use a few laughs.
The best way to intertwine some fun and light moments into your wedding is with funny marriage vows.
Whether there are funny wedding vows for her to him or funny wedding vows for him to her, these all can help calm everyone's nerves and lighten up the traditional wedding ceremony for your attendees.
Also, marriage vows can be humorous and touching at the same time. All you really need are a few funny wedding vows ideas to get the creative juices flowing and ultimately, keep you, your soon to be spouse, family, and friends laughing.
How to go about funny marriage vows
If you particularly do not have a funny bone, but yet wish to write 'funny wedding vows for her' or 'funny wedding vows for him', for your partner's happiness, you can always browse for funny wedding vows examples and get inspired.
Whether you are borrowing funny wedding vow ideas or writing your own wedding vows, romantic funny wedding vows are totally in vogue.
So, if you find yourself ruminating and are yet not able to craft something beautiful, browse for funny marriage vows ideas. You don't have to exactly copy them, but get worked up.
Spend some time in solitude and think about your partner, their personality, their likes, and dislikes. This is a great opportune moment where you can humorously talk about their negative facets, only if they are easy-going and will take your humor with a pinch of salt.
And then, with all your heart try to pen down what comes to your mind when you think about your partner. Once you have jotted down some points, you can then take time to give it a humorous touch and make your vows a tad ornamental.
So, read along to check out some hilarious wedding vows examples to inspire you and get you going with your wedding day preps to make your big day even more special.
Funny marriage vows ideas to consider
"Although you bug me on a daily basis and test my nerves often, I cannot imagine spending the rest of my life with anyone else… "
This funny marriage vows example is a great way to start and serves as a comedic transition to the more touching vows.
Following this portion, go on to do a little reminiscing about how your life changed when the two of you met, go on to say that your bride/groom is your true counterpart and then vow to honor, love, respect and cherish him/her or pledge your love, honor, and devotion.
A little humor makes writing vows way easier.
"When I first met you, I wasn't impressed…"
This is a great way to lead into the loving vows you wrote.
Following this line (and the laughs), touch on how you fell for him/her and share a portion of your love story. Then move on to the more traditional vows like promising your love, respect, and devotion.
"I will take you as you are. After spending time with you I've learned I have no other choice. I vow to listen to you most of the time and support you always. I will always love you, share your happiness, your triumphs, your sorrows, and do my best to make you laugh until you cry. "
Adding subtle notes of humor is a smart way to approach funny vows. It creates the perfect balance of romance and lightheartedness.
Important things to remember
The funny marriage vows ideas provided will definitely liven up your wedding ceremony. But, prior to going in a humorous direction, there are a few things to consider.
As we all know, humor must be appropriate so the first thing you want to do is consider the ceremony location and check with your officiant. Certain religions do not approve of non-traditional vows.
Secondly, think from your spouse's perspective. Will they appreciate your humor or get offended? Since it will be the most important day for both of you, you need to take care that your humor doesn't spoil their mood
So, take care that you keep your wedding vows light and not too sarcastic to hurt your partner and make it a nagging memory for them.
Thirdly, consider all of your guests. To avoid making anyone feel uncomfortable, always keep the jokes clean. After all, it's your responsibility to play a good host in all possible ways.
It is a good idea to first practice your vows with someone you trust and see if they react the way you want the other guests to react in order to know that you are doing/saying the right things.
Lastly, you may have an entire stand-up routine planned but be sure to edit it down. Humor is best kept short and to the point, especially when it comes to wedding vows.
Share this article on
Want to have a happier, healthier marriage?
If you feel disconnected or frustrated about the state of your marriage but want to avoid separation and/or divorce, the marriage.com course meant for married couples is an excellent resource to help you overcome the most challenging aspects of being married.
More On This Topic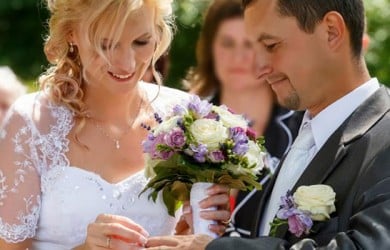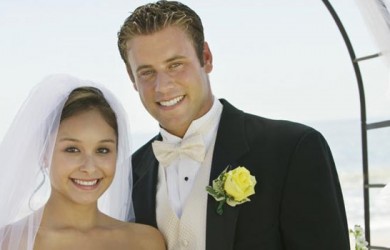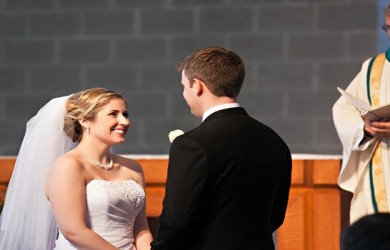 You May Also Like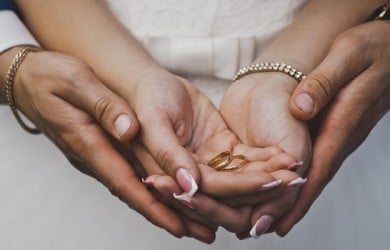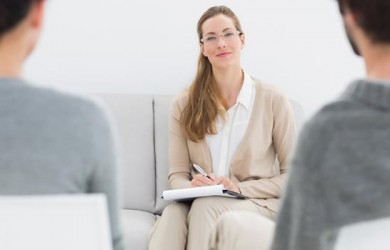 Popular Topics On Getting Married