Save the Day With Funny Wedding Advice For The Groom
When one hears the word advice, one tends to get all stuffy and serious. But all things in life have a lighthearted and humorous side to them. Funny advice is actually more likely to click and leave a long-lasting imprint on the mind of the person who is listening rather than dry, monotonous words. Same goes for wedding advice.
Wedding advice is predisposed to being grim since it's a matter of spending and building your whole life with someone and that's why should be taken pretty seriously, but like all things in life, there is a blithesome and very humorous side to marriage.
Related Reading: 100+ Funny Wedding Wishes, Messages and Quotes
1. Enjoy the quirks before she gets tired of your jokes
Clearly, your wedding vows demonstrated the fact that you were willing to be there in sickness and health and splendid times and grim times and all those promises that you made to each other so that you could get to the "You may kiss the bride" part quickly. It's good to have someone to laugh along with and cuddle and hold on to.
But getting all this done is a bit harder than it looks, and as a man (groom), you ought to know what makes her smile and what brings that look on your face where you know it's your meat on the table come dinner. The newlywed stage happens to be one of the best stages in a marriage. Enjoy while the quirks last and while she hasn't had time to grow tired of your silly jokes.
2. Don't get caught in the middle of a daydream
You are going to have fights. She is going to get irritated by your clothes lying all over the floor and when you pretend to pay attention to what she is saying about the argument she and her friend were having.
Don't get caught in the middle of a daydream. And if you do, my funny wedding advice for the groom is: Never go to bed while you are angry at each other. Better yet, stay up and fight all night (in some cases. Not all fights can be won with an all-nighter).
Related Reading: 100 Inspirational and Funny Wedding Toast Quotes to Make Your Speech a Hit
3. Stay up and fight all night
This might sound downright absurd but is actually very fantastic advice if you look at it that way. Most disputes between partners are about something diminutive that was exaggerated and misinterpreted. Fighting all night will make you feel exhausted and you'll hopefully decide to stop fighting.
4. Utter the golden words – Let's go out
Forgot to make dinner as you promised? Not a big deal.
Take her out to dinner, and have a date night. Saying to her, "Let's go out," would bring a smile on her face. Date night isn't a thing for single people only.
Married couples that still date each other and do little things like these stay together longer.
Related Reading: Funny Marriage Memes to Make Your Day
5. Don't complete your projects
You are feeling lazy and really don't want to complete a project, bingo!
Get your better half to do it with you. She will feel included and will stop complaining about you not spending enough time with her. It's a win-win for you!
You shouldn't really get your wife to do your projects and work, but the thing to take away from this is making memories with your better half.
6. A man who gives in when he is right, oh! he is married
As the groom, if you want to stay happy and content, avoiding arguments, include in your vocabulary, "I understand" and "You're right." These two phrases are going to get you places with your woman, believe me. Another funny wedding advice for the groom would be to first set the ground rules and constitute whose boss. And then do everything your wife says.
A happy marriage can be defined as a matter of giving and taking. The husband gives, and the wife takes. So don't you forget this!
Whenever you're wrong, be a man and acknowledge it. Whenever you're right, just say nothing. As they say, a man who gives in when he is wrong is a wise man. A man who gives in when he is right, oh he is married!
Related Reading: Funny Pieces of Advice for the Bride-to-Be
7. Lie about time, sometimes
Never lie about anything to your better half, but always lie about time. It's better to have a 45 minute to an hour safety window if the two of you are going out together. This will avoid making her feel hurried, and it would also ensure that she looks fascinating and gives you time to repose.
If you want to drive a certain point home with your lovely wife, don't try sending her a message by having fake conversations with your children or dogs. No need to act as if she isn't in the room (i.e., talking to your kid about how you wouldn't have been behind schedule if mom hadn't taken too long to get dressed, etc.).
8. Read between the lines
When your wife says, "I won't be mad at you" that's her lying. When she says, "You don't have to ask me before going out with your friends" that's her lying. When she says, "I want you to be honest with me – does this suit me?" that's her lying. My funny wedding advice for the groom is to read between the lines and keep her as happy as he can!
As Socrates said, "By all means, marry. If you get a good wife, you'll become happy; if you get a bad one, you'll become a philosopher."
Share this article on
Want to have a happier, healthier marriage?
If you feel disconnected or frustrated about the state of your marriage but want to avoid separation and/or divorce, the marriage.com course meant for married couples is an excellent resource to help you overcome the most challenging aspects of being married.
You May Also Like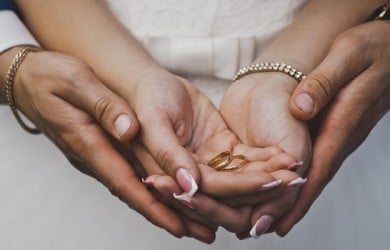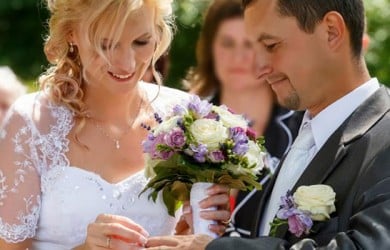 Popular Topics On Getting Married