5 Tips to Recover From the Fear of Vulnerability
Vulnerability is a strong emotion that most people tend to avoid. Being emotionally vulnerable requires an insane amount of trust and you must let go of the fear of being rejected.
Many people who have had difficult childhoods may have a fear of vulnerability. At other times, even those who experienced pure bliss as children may find showing vulnerability daunting.
These are all normal occurrences. It even gets worse if you have gotten hurt by people you once opened up to. Hence, you may find it hard to become vulnerable to any other person again.
Nevertheless, we need to learn to draw strength from expressing these vulnerable feelings – especially when we're with our soulmate. In this article, we will shed some light on what the fear of being vulnerable means and also show you how to get over it.
What is the fear of vulnerability?
The fear of vulnerability is a feeling of wanting to keep to yourself at all times, and avoiding opening up to other people.
People who do not know how to be more vulnerable avoid attaching themselves to others. Instead, they do all they can to project themselves as perfect and calm. This way, no one gets to judge or hurt them.
Medical studies have revealed that this emotional detachment that we refer to as the fear of vulnerability is an emotional response of people who have experienced rejection in the past.
So, to protect themselves from experiencing that hurt and pain again, they'd rather recoil into their shells and approach life with a semblance of independence – even when they desperately want someone to connect with them.
This fear of vulnerability is worse than social anxiety which we may all experience at some point. People like this are scared to establish deep bonds with others, uncomfortable with affectionate moments, and always expect others to let them down.
Extreme fear of vulnerability may also be a sign of low self-esteem. People with low esteem believe the worst about themselves and would rather keep to themselves than allow others into their lives.
People who have a fear of being vulnerable usually have low self-esteem, so they tend to keep their distance from people.
In a nutshell, the fear of vulnerability test means being uncomfortable when people know you to a degree. Sadly, some of us may not even realize that we have this fear.
How does a fear of vulnerability develop
We are all scared of vulnerability to an extent, whether it's the fear of going into relationships, meeting new people, etc.
The fear of vulnerability psychology can unconsciously develop in so many ways. You might have been rejected so often by your love interests and decided that finding love isn't worth it anymore.
Trying for a job interview, sending out multiple job proposals, and constantly getting rejected can dissuade you from thinking about being gainfully employed.
Some people develop a fear of vulnerability in their early life; their parents taught them to be "strong and independent." These parents may have never shown their children that they care about them, or they would take the slightest opportunity to criticize them.
Fear of vulnerability can also stem from friendship circles, where people get talked down to.
It can also stem from meeting someone for the first time or trying something new. What if it doesn't work out as you've planned? What if the person ends up rejecting you? What if they even bail on you?
As you can see, the fear of vulnerability doesn't have a single point of origin. It can stem from multiple places and it is up to you to keep living your best life regardless.
Why is vulnerability important?
Vulnerability allows you to be more open and emotionally available for yourself and others.
When you're vulnerable, you give people the rare gift of experiencing the real person underneath every facade you may have presented before. By doing so, you also encourage them to express themselves and give you the same gift you've given them.
Vulnerability reminds you to be honest with the important people in your life. With the right amount, you attract more genuine relationships.
Nobody wants to be associated with a phony and selfish person because that is exactly what it'll look like when the people you love keep opening up to you, but you never return that energy. When you learn to express vulnerability confidently, you learn to encounter strong emotional satisfaction;
It helps you build stronger relationships. You promote affection when you're vulnerable with the people that mean so much to you. Even with romantic relationships, being vulnerable allows you to relate better with/trust your partner, compared to when you were scared to allow them in.
Also, when you're vulnerable with your friends, you're more honest and transparent with each other, which helps to build a stronger bond with them.
Vulnerability helps you become tougher. Being vulnerable with others means you're now confident in yourself and your abilities. When you find yourself in a vulnerable situation, you're confident that you have all the strength within you to overcome it, which helps you overcome difficulties easily.
It also helps boost self-approval.
Vulnerability comes with accepting every part of who you are. You learn to be familiar and confident with your originality and your perks.
You might wonder, if vulnerability is such a good thing, then why do people fear it so much and try their best to avoid it?
Well, that's because as much as it comes with these good benefits, it also has a part to play in negative emotions such as disappointment, shame, etc. The fear of vulnerability may also be associated with the fear of abandonment, especially for people who have already experienced it.
10 tips for recovering from the fear of vulnerability
Being vulnerable helps you build strong relationships, become confident in yourself, and build self-esteem. Here are some tips on how to overcome your fear of vulnerability;
1. Challenge yourself to new goals
Tell yourself that you will do much more than you've been comfortable with. One of the common examples of vulnerability is the choice to discuss an important subject with a close friend or a family member. You can also discuss it with someone close to your heart.
This way, you'll learn self-expression and become a better version of yourself.
Related Reading

: 

35 Relationship Goals for Couples and Tips to Achieve Them
2. Embrace your true self
Who are you?
The first step to letting go of the fear of vulnerability is to get comfortable with yourself. When you don't accept your authentic self, you'll get easily swayed by unwanted negative energy.
To let go of the fear of vulnerability and establish deep connections with the people in your world, you must be willing to be rejected at some point.
This will only be the case if you struggle with low self-esteem. As humans, we have flaws, imperfections, and parts of ourselves that we don't like, but we need to learn to love the way we are and be confident in our abilities.
Take solace in the knowledge that you're not alone. Everyone has their insecurities.
3. See a therapist
Sometimes, the way out of the fear of vulnerability is to enlist the help of a professional who will help you deconstruct some of the negative experiences you've had in the past and pull you out of every funk you may be in.
When you see a therapist, please don't hold back. Confiding in them may feel like ripping a band-aid off a still-gaping wound, but it is necessary for your healing.
Listen and engage with them during your sessions to achieve results.
Related Reading

: 

Benefits of Therapy 10 Reasons Why Seeing a Therapist Can Improve Your Life
4. Remind yourself that you don't have to be perfect
You can do some of the things right. Don't beat yourself up about making mistakes, unconsciously hurting the people you love, or letting yourself down sometimes. If others also get to be imperfect, make mistakes, and still move on, why can't you?
Think of the most competent and accomplished person you know. They've always done right by you since you've known them, and what if they upset you? Do you judge them by only those negative emotions? Maybe not.
Extend this same grace to yourself as well. If you judge people with kindness, you should do the same for yourself. You deserve that much.
5. Be patient with yourself and read just your intent
Every good thing takes time. You must understand that overcoming the fear of vulnerability takes time, practice and effort. People might tell you to talk more and try to rush the process. Under these conditions, please don't heed their advice. Work at your own pace.
Remember that you are working to achieve long-lasting results and not fleeting ones. Hence, remind yourself to go one step at a time. It took a lot of experiences to bring you to where you currently are; it will take some time to leave this mental and emotional space.
Your goal should be to improve your genuine relationships. Take your journey one step at a time and give yourself the grace called time.
6. Keep a journal
Medical studies reveal that effective journaling is vital in helping us let go of negative emotions and past trauma.
Intentionally write down your emotions and take stock of all the moments when you felt vulnerable or anxious each day. Note the cause of those emotions and how you reacted to the situation. Can you spot any patterns?
After some time, revisit your journal entries so you can analyze those situations and find a way to face such fears and anxieties in the future.
7. Treat people with love and kindness
Take out time to appreciate the people in your life. Treat them with love and remind them of how special they are to you. They will more likely return your love when you make the first move.
When you constantly show kindness and compassion to people, you learn to be vulnerable, which creates a more honest relationship based on honesty and trust.
Related Reading

: 

Niceness Vs Kindness in Relationships-what Matters the Most

?
8. Communication
If you don't tell anybody what you're going through, how will they know?
Effective communication is necessary to overcome the fear of vulnerability in your relationships. No matter how unjustified you think it may be, communicating your feelings is one way to tell the people in your world that you value them.
When you open up to people, they'll be smart enough to appreciate the trust you have vested in them. Together they can help you find lasting solutions to the problems you have shared with them.
Here are some practical examples.
You can ask your partner for encouraging words or a warm hug at a specific time of the day. While doing so, explain to them why it is important for them to give that hug. Maybe, it would remind you of their love for you.
If your partner doesn't feel comfortable with what you want or cannot reach your requests, you can compromise with them.
Are you working to overcome the fear of vulnerability or helping someone to overcome it?
Remember that understanding and appreciation are two important elements to arrive at the best result. Appreciate your efforts, and if someone is assisting you to overcome the fear of vulnerability, learn to appreciate them for their time and patience.
Suggested video: How to improve communication in your relationship.
9. Try something different
As you attempt to come out of your shell and open up better to the people that care about you, consider trying out new experiences and conversations that will help you step out of your comfort zone.
Visit new places. Try new meals with your partner. Explore new interests and hobbies together. Do something that challenges you to let go of what you used to know.
10. Maintain sight of the brighter side of things
Letting go of the fear of vulnerability requires laying down your ego and stepping into uncharted territory. To stay sane, never lose sight of the bigger picture; that is, the end goal you have in mind (to improve your relationships with the people that matter to you).
When you learn to be vulnerable, you can be a better person and experience a happy and honest life with your loved ones.
It may take time to understand why you're scared or anxious about certain things, but you'll certainly overcome them with your efforts and that of your loved ones.
Is it normal to feel vulnerable in a relationship?
Vulnerability in any relationship is important because it helps partners to connect more and helps to build trust and intimacy.
So, it is normal to feel vulnerable with your partner in a relationship. Don't shake the feeling when it comes.
Final takeaway
Vulnerability with someone means you trust them enough to share even the most embarrassing parts of yourself. While you may not actively influence the person's next decision to your openness, being vulnerable helps you maintain a state of total honesty and ensures you live in your truth.
The fear of vulnerability shouldn't stop you from experiencing love at its finest. When the chips are down, you have only one life to live, so do your best to enjoy every moment.
If it takes letting your partner in, then so be it. Relationship counseling is also a powerful way to let go of every fear you may have and enjoy your relationship.
Share this article on
Want to have a happier, healthier marriage?
If you feel disconnected or frustrated about the state of your marriage but want to avoid separation and/or divorce, the marriage.com course meant for married couples is an excellent resource to help you overcome the most challenging aspects of being married.
More On This Topic
You May Also Like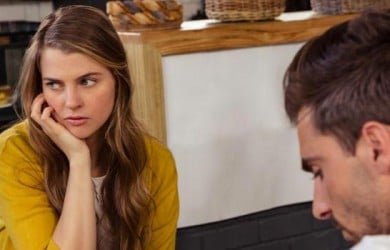 Popular Topics On Married Life