How to Develop Authentic Relationships
What would be your reaction when you discover that your partner has been pretending to be who they were not? For some people, it would break their heart to learn that they have been in an equation that doesn't live up to their dreams of nurturing authentic relationships.
One of the reasons why people put up a curated version of themselves before entering a relationship is because they are afraid that their partner won't accept them. The idea of being true to yourself in a relationship might sound scary, but it builds genuine intimacy and love.
Authentic relationships are structured to stand the test of time because both partners are ready to share the good, bad and ugly sides of themselves without fear or favor.
What does authenticity mean in relationships?
Authenticity in relationships occurs when both parties are honest and genuine with each other. Both partners understand that no one is perfect, but they are willing to accept each other's flaws and come to a fruitful and positive compromise.
More importantly, studies show that authenticity in relationships is one way to develop a genuine bond between two partners. Furthermore, authentic relationships are devoid of fear and insecurity because both spouses love each other wholeheartedly, even when communicating their vulnerability.
Related Reading: 

15 Signs of a Healthy Relationship Between Couples
10 Ways to become an authentic person
Displaying authenticity is an integral aspect of a relationship. If you are true to yourself in a relationship and your partner follows suit, it becomes a healthy, strong, and honest relationship.
To develop this attribute and maintain authentic relationships, here are some ways to get started:
1. Intentional and considerate communication
Being intentional and considerate when communicating makes your partner realize that you care about their feelings. When your partner mentions their needs to you, it is essential not to make it about yourself instead. Relationship Coach Richard E. Hellen sees a direct correlation between being intentional in all aspects of your relationship and having a thriving marriage.
When it comes to the act of being genuine, intentional, and considerate, communication is one of the primary yardsticks for measurement. It is crucial to mention that this type of communication is a two-way road, as it involves speaking, listening, and spending quality time understanding the other person's perspectives.
Related Reading: 

Improve Communication In Marriage
2. Choose to love your partner each day
Loving your partner is vital to becoming an authentic person. It is expedient to state that partners who decide to love actively and consciously are more likely to have successful relationships than those who don't.
It would help if you were deliberate in how you behave and speak to your partner. If you tell your partner that you love and care about them, it should also reflect in what you do for and towards them. After all, actions do speak louder than words.
Choosing to love your partner every day helps you treat them as a priority. Your spouse will feel secure because you love them deliberately, and they can see it in your actions. Everyday actions help create an authentic connection as couples learn to trust each other.
3. Create boundaries in your relationship
Couples need to create boundaries and agree not to cross them in order to be true to themselves. There are some things that you don't like that would be painful to you when your partner does them. Despite being in a relationship, you have your individuality, and you should not compromise that.
It is essential to set boundaries because much damage can be done to the relationship when those lines are crossed. Respecting boundaries involves respecting and trusting each other and deciding not to damage the relationship by doing something consciously that hurts your partner.
Related Reading: 

Setting Healthy Boundaries in a Relationship
Check out this video to learn more about setting boundaries in a relationship:

4. Be transparent
Many people find it difficult to be transparent in relationships because they can't bear the thought of having their partner know some secrets about them. Authentic relationships are built on transparency because both parties will be committed to sharing their feelings, ideas, and acts without hiding anything.
Being transparent with your spouse entails sharing things you usually feel embarrassed about when sharing them with anyone else. The truth is, you will be revealing your vulnerabilities, but you are establishing authenticity in the long run.
5. Learn and practice each other's love languages
According to Relationship Expert Gary Chapman's book titled The Five Love Languages, there are five general ways whereby romantic spouses express love to each other. These five languages are:
Physical touch

Acts of service

Quality time

Words of affirmation

Giving gifts
In order to be authentic in relationships, you will have to learn your partner's love languages genuinely. Having this knowledge helps you love them in the way they desire to be loved. On the other hand, deciding not to know your partner's love languages might suggest that you are not intentional about being in a real relationship.
Also Try: 

What Is My Love Language?
6. Don't let your relationship be the sole source of your happiness
No one has to be pressured into allowing their relationship to be the only source of their happiness. Before the relationship, you derived your joy from various means. And even though you have to make some adjustments in the relationship, it is crucial not to lose your identity.
To develop authenticity, you have to balance your relationship and other aspects of your life. The truth is, your relationship should be one of the many sources of your happiness and not the only source. By negating yourself repeatedly, resentment and contempt can start seeping into the dynamics with your partner.
In a real relationship, both partners retain their sense of identity even though they are in love, and they don't use manipulation to keep each other happy. When you work towards achieving your goals and cultivating your interest, you will find happiness in what you are doing, and it will benefit the relationship too.
7. Face the challenges instead of avoiding them
Challenges are inevitable, and the best way to prevail is by tackling instead of avoiding them. In authentic relationships, challenges occur, and both partners can get past these problems because they understand each other inside out.
They reach a level of self-awareness and genuine intimacy that allows them to solve any problem that they are facing with ease. And they also realize that their relationship has become a valuable tool in aiding their personal growth.
8. Cherish every moment with your partner
To establish a genuine connection, you have to be conscious and strategic. It is important to spend ample time sharing your goals, ambitions, feelings, and thoughts with your partner. Quality time together can help your partner see the real you and have a better understanding of who you are.
Cherish such moments because they will prove to be defining moments for the relationship. In authentic relationships, both partners spend sufficient time having in-depth discussions that help them understand their partner more. In addition, they create time to have fun and relax because it makes them bond better.
Related Reading: 

8 Couple Bonding Activities to Strengthen the Relationship
9. Take responsibility for your actions
Authentic relationships cannot last if you continue to blame your spouse for your wrong actions. Unfortunately, some people shy away from accepting their choices because they don't want to live with their mistakes. So, they prefer to put the blame on someone else, thinking that it will benefit them.
If you continue to avoid responsibility instead of holding yourself accountable, you're not developing authenticity, and the relationship might continue to suffer. It is essential to change your mindset and rise to the occasion by finding solutions and depending on your partner for support.
Related Reading: 

20 Steps to Becoming a Supportive Partner
10. Value your relationship
It is necessary to mention that authentic relationships are a product of spouses who treasure their relationship and do everything possible to keep it working. Complacency breeds negativity and insecurity in any relationship, and therefore efforts should be made every day to avoid that.
Studies conducted on couples in long-term intimate relationships have clearly shown a direct correlation between authenticity in relationships and romantic attachment, along with caregiving to a partner.
You should be in a relationship for the right reasons because it determines the amount of value you place on it and on your partner. An authentic relationship provides the opportunity for you and your spouse to value each other despite the odds.
Conclusion
Don't lose sleep just because your relationship is not in an authentic space right now. Understanding how to work towards establishing a relationship that is real and genuine can seem difficult. But if you and your partner are willing to put in the effort and follow the steps mentioned here, you too can get there.
Just start working on your relationship together and your relationship will get better.
Share this article on
Want to have a happier, healthier marriage?
If you feel disconnected or frustrated about the state of your marriage but want to avoid separation and/or divorce, the marriage.com course meant for married couples is an excellent resource to help you overcome the most challenging aspects of being married.
More On This Topic
You May Also Like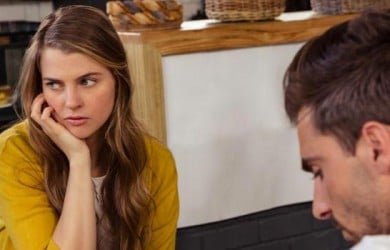 Popular Topics On Married Life