How to let go of someone you love: 15 Ways
Heartbreak can be the worst thing someone has to go through.
It is extremely painful and a devastating time; it is similar to attending the funeral of someone you love. But knowing that someone who once loved you does not love you anymore, is not the hardest thing of a breakup. It is letting go of someone you love and finding an answer to how to stop loving someone.
Knowing that the person with whom you shared every single thing, the person who knows you inside out, the person who you couldn't imagine life without last week, is no longer a part of your life can be very disturbing.
What does it mean to let go of someone you love?
Letting go of someone you love means detaching yourself from the person despite all your or their feelings and walking away because that's the best decision for both of you.
It means forgiving the other person and shedding all the remorse to be able to move forward in life. It means giving yourself permission to fall in love again.
How do you know when it's time to let go of someone you love?
Knowing that you have to let them go in order to move on and be happy can be the most difficult thing a person can go through. Saying that if you love someone let them go, is easier said than done. So, can you ever stop loving someone, after they have called it quits with you?
Learning to let go is no easy feat but sometimes you have to let go. Unfortunately, sometimes it is necessary to go through this stage of heartbreak.
It is important to know when to let go of a relationship and how to let go of someone you love in order to take control of your life and to find happiness again.
I know it may seem impossible to do since your wounds are all fresh, but you must learn how to let go of someone you love who can't be with you or someone you can't be with and start afresh.
Also, here is a video that has its own interesting take on if you love them let them go.
Why do you leave someone you love?
Sometimes, loving someone doesn't come at the right time. You might love someone but it is possible that your life is not prepared for something like that at that moment.
Not just this, you might love someone but the love could be not strong enought to hold onto the person. You could also love someone but don't see a future with them and hence, you leave them because you don't want anything temporary.
Sometimes, life grants us love but you think love is not something you need at that point of time.
Is it OK to let go of someone who loves you?

Letting go of someone who loves you might be one of the toughest things to do in life. However, if the relationship is on uncertain grounds and it is no longer serving the deep purposes of love and connection, it is best to let go and move on rather than stay together and hurt each other.
You could feel the urge to hold onto your partner but it's best to move on before the relationship turns toxic.
When should you let go of someone you love?
It is best to let go of relationships when it is no longer serving the purpose for both of you. Check out these signs or reasons why you leave someone that show when should you let go:
You feel uncomfortable communicating your needs to your partner

Your family and friends aren't happy with the relationship

You are not fond of your partner and vice versa

You are in an

abusive relationship

You feel obligated to stay with your partner because of the time you both have invested into the relationship
How to let go of someone you love: 10 Ways

How do you let go of someone you love? Keep on reading to find out about easy ways to let go and get over someone you loved.
1. Cut contact
When letting go of a relationship, cut all contact you have with your ex.
Try to do this for at least a while. Keeping an ex in your life for the sake of still being friends is a sign of immaturity. How can you befriend someone who broke your heart?
Yes, it is important to forgive them, but it is also important to look after your emotional well-being.
If you do not cut contact then you will become a stop for them, they will come when they want and leave when they please.
During a breakup, you must be selfish and think about your own well-being. Let go of someone you love as it will liberate you from the self-inflicted misery of anticipatory anxiety.
2. Face your pain
The worst mistake that people make during a breakup is they hide what they are feeling.
They start to look for ways in order to drown their feelings. They find solace at the end of a bottle or tend to hide from them.
The longer you do this, the worse your situation will become. So instead of being a coward, face the pain of heartbreak, head on towards it, and don't hide.
3. Stop blaming yourself
Say goodbye to the "what if's."
Relationships end for a reason, sometimes things aren't going well, and you aren't meant to be with someone because God has bigger plans.
Whatever the reason is for letting go of a relationship, blaming yourself and drowning yourself in "what if's" won't help you heal faster.
If you are going through a breakup then you must be going through a very tough time but remember that this is not the end. This life is filled with beautiful things, gorgeous moments, and breathtaking places; you were sent here for a purpose.
4. Evaluate if being friends is the right decision
Letting go of love is overwhelming for most people.
Many of you don't want to let go of someone you love and hang on to the idea of being friends in order to keep the relationship alive.
Maybe you think that this way your ex will come back, but ask yourself this:
If they come back now will they not leave again when things get hard?

Will they stick by when they know you will end up forgiving them and eventually let them back in your life?
5. Vent out
It is okay to weep; it is okay to skip work, it is normal to watch the same old movie twenty times and still cry; allow yourself to embrace your feelings completely.
Missing your ex is not a stupid thing but not venting out is.
After you let go of someone you love, over time, your mind will settle down, and you won't even think about the guy or girl who broke your heart.
Related Reading: 

How to Get Over Someone You Love
6. Don't fantasize
Stop thinking about how to change yourself and make things work; things won't change and your relationship will not work no matter how many times you fantasize about it. If you keep doing this, you will end up drowning yourself in pain again.
So take a deep breath, give yourself a reality check and look forward to the future because there are bigger and more beautiful things waiting for you than a person who broke your heart.
7. Have faith in life
Do not let someone's decision ruin your life.
As a solution to how to move on, leaving someone you love could be the beginning of something new and beautiful in your life. After moving on from a relationship you would subsequently, move on to bigger and better things in life.
If you are suicidal then put down the blade, don't ruin your life because someone left you. You are surrounded by people who love you more than this one person does, so let this imbecile go.
Think about your future, focus on yourself and become the best possible version of yourself.
8. Practice self-love
You are worth so much more; do not let a single person define your worth. If the relationship has run its course, and you are compelled to let go of someone you love, do it gracefully. Don't resist the urge to constantly fix what's broken.
Love yourself, embrace your life and go out and live. That's how to leave someone you love and find light in life.
Find your passion, meet new people, and start creating new memories and experiences. Learn to move on even if you don't want to. Do not let a single human being define your worth; God created you with so much love and beauty, don't let it go to waste.
9. Rely on your loved ones
Your friends and family are your go-to people. So, you should always count on them whenever you are feeling low. They will always give you the best advice.
10. Get help
If you can't find the solutions to how to let go of someone you love, get in touch with a therapist who will be able to guide you better regarding the right direction in your life. They will also be able to give a perspective of what might be going wrong for you.
Takeaway
It might be hard for you to think of your life without the one you love, of how to let go of your wife you love or the husband you love no matter how toxic they are.
It's hard letting go of someone you love. Breaking up with someone you love is not easy.
But you must know that you can't wait forever to set things straight. Take time to introspect, understand what's right for you and make the decision that will benefit you both in the future, keeping other emotional aspects aside.
Share this article on
Want to have a happier, healthier marriage?
If you feel disconnected or frustrated about the state of your marriage but want to avoid separation and/or divorce, the marriage.com course meant for married couples is an excellent resource to help you overcome the most challenging aspects of being married.
More On This Topic
You May Also Like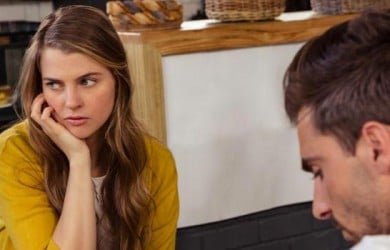 Popular Topics On Married Life