How Do You Fix Emotional Detachment in a Relationship?
Are you dissatisfied with your relationship and no longer want to spend time with each other? Do you find it difficult to work on the relationship? You might be dealing with emotional detachment if you answered yes to these questions.
Most people who have been in a long-term, serious relationship will remember moments when it seemed like you devoted all of your time together. You may also notice instances when you felt more disconnected from your partner or grew apart.
Emotional detachment signs can manifest as numbness and lead to relationship difficulties, such as difficulty experiencing sensitivity or other concerns with mood control. Continue reading to learn more about what is emotional detachment in a relationship and how to handle it effectively.
What is emotional detachment?
When one becomes emotionally detached from the feelings of others, this is referred to as emotional detachment. According to the AACAP, emotionally detached meaning can continue, as in those with attachment disorders, or it can be a one-time reaction to a traumatic incident.
People who are emotionally detached may also not engage with their feelings. It's similar to creating a barrier between oneself and the outer world and refusing to bring it down for anyone.
Emotional detachment can disrupt a person's life, affecting social, emotional, and professional domains. For example, a person may struggle to form or maintain a personal relationship or find it difficult to express their feelings or emotions.
What causes emotional detachment can be a lot of things. Being emotionally disconnected can be a coping method for certain people. Others may experience it as a reaction to abuse and repressed emotions, making them unable to speak about their challenges.
Surprisingly, certain medications can also contribute to emotional detachment.
10 clear signs of emotional detachment in a relationship
If your partner appears deaf to your needs, regardless of how much you scream for intimacy and closeness, you may be experiencing emotional detachment in your relationship. This section will discuss the signs of emotional detachment that may affect your romantic life.
1. They are not open about their concerns
When your partner is anxious, sad, or having a bad day, you are not the first person they turn to. They remain silent even when you sense something is amiss and ask your partner about it.
It appears your partner is no longer willing to be vulnerable with you. Worse, you may feel you are no longer welcome in their private lives.
2. They are not sympathetic to your feelings
Your disappointment and anguish have caused you to cry. However, your partner is unconcerned about your feelings. They don't care if you're in pain and could use some love and caring.
Related Reading

: 

20 Ways Men Express Their Feelings Without Words
3. They are always withdrawn
Every time you want to spend time around each other, they find a reason to be unavailable. When you enter a room where your partner is present and attempt to speak with them, they either stand up and walk away or seem preoccupied.
4. They never put your needs first
Your partner completely ignores doing lovely things for you. When doing things or making decisions, your partner appears to have forgotten to consider your concerns. They are apathetic about these trivial matters' influence on your life or the relationship.
5. They appear uninterested in what you've got to say
You tend to always attempt to create intimacy, but your partner is uninterested. When you tell your lover about anything that happened during that day or spill your emotions, they look relatively disinterested or perhaps irritated.
6. They are apathetic during a disagreement
You want to restore the bond you previously had, but they need to be more interested in figuring things out with you. Even provoking them into a debate results in a frustrated gasp or an eye roll.
Watch this video to learn more about emotional neglect in relationships:
7. They no longer try to make you happy
They sent you flowers as well as poems. All of those things, however, are no longer present. They now make little to no effort for you. You almost feel like a roommate who your lover is somehow putting up with.
Related Reading

: 

Can your Partner Make you Happy

?
8. They are sexually cold
You have no sex life with your lover. Every time you want to initiate sex, you are rejected in some way. They may even imply that you are the source of their dissatisfaction with sex.
9. They don't discuss the future
If you bring up your ambitions or long-term goals for both of you, your partner will avoid the subject. You either receive an explicit refusal to talk about your aspirations or, at best, a bland response.
10. They give you the silent treatment
They do not respond to your efforts at conversation, let alone attempt to make love. They appear to be purposely separating themselves from you by refusing to speak.
Related Reading

: 

How to Deal With Silent Treatment in Marriage
5 ways to deal with emotional detachment
You will want to resolve detachment in relationships if you want your marriage to be healthy. To begin, you should determine whether your detachment is psychological or situational. Then, if you've already decided it's time to work on the issue, follow the steps below.
1. Allow yourself some time
It may take more than a short period to grow awareness and discover a strategy to avoid emotional disconnect in relationships. Be kind and patient with yourself so you can be more reasonable and loving in your relationship.
2. Learn more about yourself
Discover more about your priorities and any past experiences you may have buried. Someone outside of your relationship can assist you in identifying your general relational patterns and behavior problems. You can then work on healing the wounds preventing you from having a healthy relationship.
3. Feel your feelings deliberately
The inability to feel emotions is a significant barrier to emotional detachment. Fortunately, journaling is a fantastic technique for dealing with this. You can encourage yourself to experience and comprehend emotions by writing about your feelings.
4. Put yourself in your partner's shoes
It is critical to view your relationship through the eyes of your partner. Talk to them to fully understand their situation and their aspirations and needs. Then share yours and work together to repair your marriage.
5. Have faith in yourself
Make a list of your anxious emotions, identify the triggers, and eventually get to the bottom of the problem. Deal with each of the causes as effectively as you can. Positive affirmations are tremendously beneficial in increasing your confidence and transforming your mentality.
Commonly asked questions
Emotional detachment can affect how you function within any relationship and can cause a lot of worry. This worry might prompt some questions that we have tried to address here.
Can you love someone while remaining emotionally detached?
Being emotionally detached is not the same as being unable to love your partner. It is important to realize the emotional detachment symptoms early on before they become bigger things.
According to the most recent studies of Mohd Awang Idris, emotional detachment can aid in managing burnout and depression. So, don't be afraid to allow yourself (or your partner) some space to work through your issues before involving them.
Is it always harmful to be emotionally detached?
Detachment is not necessarily a terrible thing, particularly when carried out constructively. It provides you with the emotional space you require while also assisting you in being less controlling and accepting of your partner for who they are.
However, according to Zamfira Parincu, things could escalate into an emotional detachment disorder. Abuse, neglect, and trauma are among the factors that might contribute to the condition. So, to avoid becoming lost in emotional detachment, try to always be conscious of your emotions.
In a nutshell
People in long-term relationships often crave emotional connections. It allows you to build a strong relationship with your partner, develop physical intimacy inside the marriage, and mature in love.
Unfortunately, there will be moments when you do not feel emotionally connected to your partner. This might be especially painful if you had a powerful emotional connection at the start of your relationship.
If you notice that one of you has begun to drift away, this could be a sign of emotional detachment in your relationship. The advice provided above should assist you in better dealing with the situation.
However, if you believe the problem is too large to handle on your own and requires assistance, don't hesitate to contact a relationship counseling service. Not only are those professionals knowledgeable about emotional detachment in relationships, but they also understand how to fix emotional detachment in marriage.
Share this article on
Want to have a happier, healthier marriage?
If you feel disconnected or frustrated about the state of your marriage but want to avoid separation and/or divorce, the marriage.com course meant for married couples is an excellent resource to help you overcome the most challenging aspects of being married.
More On This Topic
You May Also Like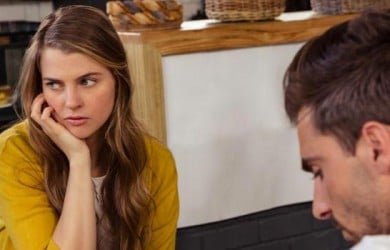 Popular Topics On Married Life