10 Ways to Overcome Your Fear of Love (Philophobia)
Having a fear of love is a genuine phobia. A phobia in medical terms deems an irrational or extreme fear of a situation, object, feeling, place, animal, creating panic in a person. Fear of love is referred to as "philophobia." Philos is Greek for loving, and Phobos indicates fear.
Medical dictionaries are void of the work, and professionals are sparse in speaking of it in literature, creating a challenge for those suffering from the condition when attempting to understand their feelings or, more so, to look for guidance on managing the phobia.
In the medical community, fear or phobias fall under the category of anxiety disorders, with individuals only showing symptoms when faced with the object of their fear.
In the case of philophobia, the indication is that people experience the irrational or exaggerated association of danger when it comes to love.
They have the possibility of developing panic and anxiety with merely the thought of love for which medical professionals label as an "anticipatory anxiety phenomenon."
What is the fear of love (Philophobia)
Whether people choose it or not, love finds a way to maneuver into everyone's life, particularly when it's least expected.
Some individuals don't see the idea as a lucky happenstance. They instead dread the occurrence to the point of being irrationally scared to fall in love or scared of relationships.
Science designates it as a phobia of falling in love, specifically philophobia – the fear of love.
This phobia or being excessively scared to love someone is genuine and overwhelming to some even develop panic over the mere idea of the emotion or anything remotely romantic.
There is the potential for even bouts of anxiety striking when conversation ensues regarding the person's love life.
Also Try: 

Am I Afraid of Love Quiz
10 Signs you're experiencing a fear of love
You might be someone who doesn't endure daily symptomatology, but some suffer each day, making it tough to develop even a semblance of everyday life.
Symptoms you should pay attention to if you are love phobic include (these are common with many phobias):
Lightheaded

Unsteady

Perspiration

Dizzy

Nausea

Shaky/Trembling

Palpitations/Heart Racing

Short Of Breath

Stomach Upset

Panic/Anxiety Episode
These signs aren't outlined in medical texts by medical experts currently.
The indication is the professional community needs to develop more data on those who are afraid to love to get a better grasp of the notion to be promising treatment options available for sufferers.
What causes a fear of love?
The medical community, including psychologists and psychiatrists, is attempting to better understand the triggers for fear of love.
Suggestions indicate several factors for why some find love can be scary, like perhaps a childhood experience, a traumatic event, or possibly genetics.
Anyone who might fear not being loved back or, more so, rejection will avoid entering into a relationship, so there's no chance to suffer the embarrassment or risk the knock to their pride when that happens.
Those who have already experienced rejection, like divorce or a bad breakup, often endure the fear of love.
Related Reading: 

What to Do If You're in Love with Someone Afraid of Love
10 Ways to overcome your fear of love
Philophobia defines what the fear of love is. The striking fear brings solitude, isolation, and loneliness, making individuals feel that they don't fit in with society and long for the beautiful components of loving.
While there's a terror associated with allowing yourself to love someone, that doesn't mean that you don't have a desire to experience affection and to develop an emotional attachment.
Many people who are scared of being loved search for ways to change their position and learn how to get over the fear of love.
Overcoming any phobia is incredibly challenging, but that doesn't mean impossible. Let's look at a few ways you can attempt to work through the fear.
1. Look through your romantic history for a rejection
Taking time to look in-depth at each past romantic relationship can help you determine where you might have experienced rejection, pain, perhaps a moment that was traumatic for your self-confidence.
Any of those things has the potential for creating fear moving forward about getting involved with another person.
If there was never a substantial healing period or you didn't have a support system to help you through that painful experience, this could be the root of your philophobia. It would serve as a beginning point for healing.
2. How do you feel about yourself
Self-love is critical to be able to like or love anyone else. For you to love yourself, you have to have a sense of self-esteem and confidence. That means you can see your good points, but you can also see the flaws and accept those.
You're happy in your skin. There's no dwelling on what's wrong with you and constant attempts to fix yourself.
If you're someone who continually puts yourself down, however, those wounds come to be, they need analyzing and working through to look at yourself in a much more healthy way.
That could mean counseling to grasp better why you can't make that determination on your own.
3. Stop listening to the inner voice
Everyone has that inner voice that constantly speaks to us about what's good and what's wrong, what we should and shouldn't do, and also what we need to be worried about and not so much.
That voice instills fear, including the irrational ones like the fear of love.
Suppose you've only ever had beautiful memories of happy times when it comes to romance, for instance, longevity with joyful parents, siblings in loving marriages, friends in compatible relationships. In that case, that voice is giving you wrong information when it's advising you to look at love with fear.
It's creating a sense of vulnerability and disallowing you to release so that you can enjoy all the things everyone else around you is experiencing.
The very best thing you can do is to attempt to recognize what is triggering it when you get close to encountering romance and try to overpower those urges to run away.
4. Make sure the person you're drawn to is right for you
Indeed, we can't choose with whom we fall in love. It's beyond control. However, those in your life are impartial and can tell when someone is right or wrong and why.
Many people often fail to hear what friends and family say when it comes to affairs of the heart.
But if you're spending time with someone who others are seeing major red flags, pay attention to the warnings to avoid possibly adding to your apprehensions in the future.
5. Vulnerability is not a bad thing
Too often, people are afraid to feel their feelings, and some believe vulnerability is a sign of weakness. It's okay to be vulnerable, and it's okay to have a fear of love.
In reality, a more significant number of people than not likely have more philophobia than they care to admit.
It is scary getting involved with someone and putting yourself on the line for potential rejection. No one wants to be hurt. And it takes a courageous person to communicate those things.
When you find someone you feel somewhat attached to, the ultimate goal is to overcome your fear, and an ideal way to do that is to open your heart and tell them precisely what you're experiencing.
You might be surprised to find the other person is a little scared too.
Related Reading: 

Tips to Become More Vulnerable in Your Relationship
To know more about how vulnerability can be your superpower watch this video:

6. Try to relax and not expect too much
When you go out with someone for the first time (maybe a few times after that), please don't put too much into it.
Let it just be time out having fun instead of worrying about it being "romance." There don't need to be labels attached. That makes things more complicated and creates anxiety for everyone involved.
Relax and enjoy the company. What happens from that point will end up just being natural and easy.
7. Journal your feeling
Writing down how you feel and what you're thinking can often make situations seem less frightful and help relieve some of the stress and anxiety we're experiencing.
Often people tend to ruminate over the same thoughts continually, but once it's on paper, it's easier to deal with them.
You can also read back over what you've written and attempt to rationalize the emotions or see their irrationality.
Putting it in a journal allows you to see yourself from a different lens, one that might open your eyes.
8. Envision living without the person you're beginning to like
If you have someone, you're developing a "like" for but fear that it might turn into more than that, take some time to look at your life if that person were not in it.
Someone with whom you're enjoying spending time isn't necessarily going to disappear, but what if they did? What would happen to you?
A sound way to overcome the fear is to consider the fact that you were thriving before a partner came along, and if they were to "abandon" you, you could go on to be okay.
Philophobia's basis is an irrational fear of love, and a significant basis for that can be due to a past rejection or "abandonment" that indirectly impacts future relationships.
What you need to try to bring yourself to understand to overcome the fear is that you are independent and capable. A mate is an accentuation to your life.
If something were to happen that they no longer wanted to be a part of, you would continue to do well on your own.
9. Let go of the control
Fear of love is an attempt to control your emotions and those of the people around you. When you try to control every aspect of your life, it can be genuinely exhausting and cause more stress and anxiety than it's worth.
Still, love happens when you least expect it, whether you want it to or not. It's not something you can stop because you will find it.
You can hurt someone, including yourself, by ending something that's working its way towards love.
That merely strengthens the reasons to hold onto the fear. Let go of the control and see what happens when you allow things to take their course.
10. Realize you're the problem
When you're in a partnership that you're enjoying but fear starts to set in because love is beginning to develop, you cannot only feel yourself responding to the fear, but your mate senses the changes in you as well.
It begins to affect the relationship negatively because you're not the same person with your partner that you were in the beginning.
You become negative, paranoid that the other person will leave, and begin to push them away.
The only way to make things right is to go back to who you were when you started dating with a complete attitude change to prevent the union further. In worrying so much about rejection, you could, in fact, inadvertently instigate it.
Related Reading: 

What Is Fear of Marriage (Gamophobia)? How to Deal With It
Final thoughts
A phobia is an irrational or exaggerated fear. For those suffering from being scared, it seems pretty sensible. The notion of philophobia or fear of love can prove exceptionally sad for those with symptoms.
The individuals express a lack of fitting in with society and missing out on beautiful, loving emotions instead of having empty lives. Ironically, they push people away who, in their eyes, will at some point hurt them by rejecting them.
They instigate a breakup by pushing away potential life-long, quality relationships, leaving once loving partners baffled by the experience.
There are things pointed out here you can try to break the fear. It takes incredible effort and a genuine desire, but love is most certainly worth it.
Share this article on
Want to have a happier, healthier marriage?
If you feel disconnected or frustrated about the state of your marriage but want to avoid separation and/or divorce, the marriage.com course meant for married couples is an excellent resource to help you overcome the most challenging aspects of being married.
More On This Topic
You May Also Like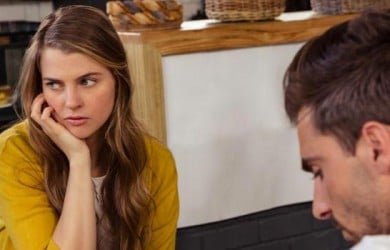 Popular Topics On Married Life