Niceness Vs Kindness in Relationships-what Matters the Most?
I recently had a client in my private practice tell me that he was tired of being nice to people and that from now on, he was going to be kind instead. This got me thinking on the lines of niceness vs. kindness, and about the wisdom for couples in making this distinction.
What, in fact, does it mean to be nice? What does being kind mean? And, finally, how is the difference between nice and kind important in marriage and family life?
Read on to get an insight into the niceness vs. kindness dilemma.
What does it mean to be nice?
Webster's Dictionary defines nice by using the following synonyms: "pleasing, agreeable, socially acceptable." When people are nice, they don't make waves.
"Nice" people are often afraid to be assertive and reluctant to let others know where they stand on an issue.
Rather than stick up for themselves, they may choose to "go along to get along," thus robbing their partners of their honest feedback and input.
There may be a compulsive element to "niceness"; "nice" people may not be choosing to be nice, they may feel that they "must" be nice to avoid conflict.
What does being kind mean?
The Dictionary defines kind with the following synonyms: "gentle, considerate, disposed to be helpful." Kind people are empathic and able to put themselves in other's shoes. They want to help others and do so with sympathy and sensitivity.
Remember the song lyric "cruel to be kind?" I think that verse speaks to another aspect of kindness, namely that there are times that being kind to someone involves being honest with them.
A spouse may not like being told that they don't look good in their outfit or that their tone of voice may be off-putting. But being kind means giving others information that can help them be more successful in life.
Kind people are often nice but not compulsively, so; they can be direct and honest when the situation calls for it.
Niceness vs. kindness
I grew up with an incredibly kind mother. She was thoughtful, empathic, and delicate, not to offend my feelings. However, when necessary, she could be direct, assertive, and if the circumstances dictated, even aggressive (for example, if someone she loved was threatened).
My mother's kindness has had a life-altering impact on me, directly influencing how I interact with my own children.
A prime example of her influence is the fact that I would quote both of my children the following insight on a regular basis: "Kindness is more important than knowledge, and the awareness of that distinction is the beginning of true wisdom."
How to practice kindness over niceness
So how can we be kind to our spouses and children without falling into compulsive "niceness"?
Balance constructive feedback with positive feedback!
John Gottman talks about a ratio in successful couples of 5 positive interactions to every negative interaction.
To balance valuable feedback with positive feedback with your family members, first, train yourself to catch your spouse or child "being good" and then verbalize your observation.
Do that often before offering constructive feedback.
Practice a gentle start-up. If you are offering a loved one honest feedback, start by complimenting them and giving them the benefit of the doubt.
For example, "I know you have been busy with work lately (and going a great job at it), but I have noticed that your tone of voice with our daughter has been sharp. I am troubled by this and am wondering if this is something you can work on?
I know that this change would mean a lot to all of us". One couple I worked with termed this communication technique as a "reverse Oreo" i.e. start with a positive, insert a negative, and then finish with a positive.
Watch this video to understand the power of kindness:
Realize that you are "kind" to yourself by being assertive and standing up for your rights As we have discussed, you are also "kind" to others by offering them honest feedback.
Remember that in the final analysis, "kind" people are more likely to be respected by others; people who are always "nice," in contrast, often lose the respect of others who are likely to see them as doormats.
Share this article on
Want to have a happier, healthier marriage?
If you feel disconnected or frustrated about the state of your marriage but want to avoid separation and/or divorce, the marriage.com course meant for married couples is an excellent resource to help you overcome the most challenging aspects of being married.
More On This Topic
You May Also Like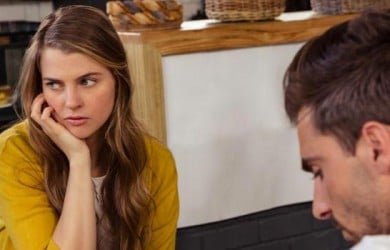 Popular Topics On Married Life