25 Easy Ways and Beautiful Words to Impress a Girl
Everyone likes to hear nice things, right? Well, girls are no different. When you use genuinely beautiful words with a woman, it can likely make her day.
If you have a girlfriend and wonder how to make her smile naturally? There are some beautiful words to impress a girl who can do just that for you.
Or maybe there's a lady you admire, and you're thinking of what beautiful words to say to a woman to make her feel special. The trick is to be honest and speak from the heart.
Here's a simple guide to help you say the right things and make a girl feel truly valued.
Easy ways to make a girl laugh and impress her
Laughter is a universal key to winning hearts. To make a girl laugh, be genuine and observe her likes.
A light tease, a funny story, or even a playful joke about something she's interested in can do the trick. Remember, it's not about being a comedian but about sharing a joyful moment.
Listen to her stories and find humor in everyday situations. Compliment her in a fun, exaggerated way. And sometimes, just being yourself, with all your quirks and unique perspectives, can be the funniest thing of all. When you make her laugh sincerely, you're already impressing her.
How to impress a girl with your conversation skills: 5 tips
The art of conversation can be a challenge, but with the right approach, it can be a delightful experience for both parties. Here are five tips to help you impress a girl with your conversation skills:
Listen actively and attentively
What to say to impress a woman? What about listening to her first?
The first step to a meaningful conversation is listening. By actively listening, you show genuine interest in what she's saying. This not only makes her feel valued but also gives you insights into her world.
Remember, it's not always about using beautiful words to impress a girl; sometimes, it's about letting her words shine.
Instead of asking questions that can be answered with a simple 'yes' or 'no', opt for open-ended ones.
These types of questions encourage deeper discussions and give her the opportunity to express herself. As you engage in these deeper conversations, you'll find natural moments to use beautiful words to impress a girl.
Share personal stories but don't dominate
Sharing personal anecdotes can make the conversation more intimate and relatable. However, ensure that you don't dominate the conversation.
Balance is key. Let her share her stories too. As you both open up, you'll find opportunities to sprinkle in those beautiful words to impress a girl.
Be genuine and avoid pretense
Authenticity goes a long way. It's easy to detect when someone is being insincere or trying too hard. Instead of rehearsing lines or trying to be someone you're not, just be yourself.
Genuine compliments and real interest in her stories will always be more impressive than any rehearsed lines.
Expand your knowledge and stay updated
Being well-informed about various topics, from current events to popular culture, can be a great asset. It gives you a broader range of subjects to discuss and shows that you're a curious and well-rounded individual.
However, always approach topics with humility and a willingness to learn, especially if she knows more about a particular subject.
How to impress a girl with your intelligence and wit: 5 tips
Intelligence and wit are attractive qualities that can leave a lasting impression. When combined with genuine interest and respect, they can be powerful tools in building a connection. Here are 5 tips to help you impress a girl with your intelligence and wit:
Stay curious and well-read
Intelligence isn't just about knowing facts; it's about being curious and eager to learn. Regularly reading books, and articles, or even watching documentaries can expand your knowledge base.
When you share what you've learned, it's not just about showcasing your intelligence but also about sharing your passion for learning.
How to tell a woman she is beautiful in words and make her blush? Through the right humor.
Wit is a blend of intelligence and humor. It's the ability to see the lighter side of things and make clever, timely remarks. However, always be sensitive to the situation and the person you're speaking to.
A well-timed joke or playful tease can be endearing, but it's essential to ensure it's never at the expense of others.
Engage in thoughtful debates, not arguments
It's impressive when someone can discuss a topic they're passionate about without getting overly emotional or confrontational.
Engage in conversations where you can share your perspectives but also be open to listening to hers. Remember, the goal is to understand and be understood, not necessarily to win.
Show emotional intelligence
What words to say to a beautiful woman? Ones that can help connect on an emotional level.
Being smart isn't just about IQ; it's also about EQ (emotional intelligence). Recognizing and understanding your emotions, as well as those of others can be incredibly attractive. It shows maturity, empathy, and the ability to deal with complex social situations with grace.
Admit when you don't know something
There's a certain charm in humility. No one knows everything, and it's impressive when someone can admit they don't have all the answers.
It shows honesty and a willingness to learn. Plus, it opens the door for her to share her knowledge, creating a mutual learning experience.
How to talk to a girl and impress her: 5 tips
Engaging in a conversation with a girl and leaving a lasting impression requires more than just rehearsed lines or flashy vocabulary. It's about genuine connection, respect, and understanding. Here are five tips to guide you in talking to a girl and impressing her:
Start with genuine compliments
Everyone appreciates sincere compliments and certain beautiful words to tell your girlfriend can serve the purpose.
However, instead of focusing solely on physical attributes, delve deeper. Compliment her on her insights, her passions, or her choices. Using beautiful words to impress a girl can be effective, but they must come from a place of authenticity.
One of the most powerful ways to connect with someone is by truly listening to them. When she speaks, give her your full attention. This not only shows respect but also provides you with opportunities to use beautiful words to impress a girl, reflecting back on what she's shared with you.
While it's essential to listen, sharing your own experiences can create a deeper bond. Relate to her stories with your own, creating a shared narrative. This mutual exchange can pave the way for more profound conversations and moments to sprinkle in those beautiful words to impress a girl.
Encourage her to share more by asking questions that can't be answered with just a 'yes' or 'no'. These questions can lead to deeper discussions, allowing you both to explore various topics and get to know each other better.
Maintain good body language
Communication isn't just verbal. Your body language speaks volumes. Maintain eye contact, lean in slightly when she's speaking, and use open gestures. This non-verbal communication shows that you're engaged and interested in the conversation.
How to impress a girl with words: 10 simple tips
Words, when chosen and delivered thoughtfully, can be the key to forging deep connections. If you're aiming to leave a lasting impression on a girl through conversation, here's a comprehensive guide to help you navigate this art:
1. Listen more than you speak
A balanced conversation involves both speaking and listening. By dedicating yourself to truly hearing her, you're signaling that her thoughts matter. This attentive approach provides a foundation for using beautiful words to impress a girl, making her feel genuinely valued.
2. Ask open-ended questions
Open-ended questions invite expansive answers, allowing her to delve deeper into her thoughts and feelings. This approach not only showcases your genuine interest but also paves the way for more profound, meaningful exchanges between the two of you.
3. Share personal anecdotes
Sharing personal stories creates a sense of vulnerability and trust. By offering insights into your life and experiences, you're inviting her into your world, fostering a deeper connection and mutual understanding in the process.
4. Use humor wisely
Humor, when used appropriately, can lighten the mood and add a playful element to the conversation. However, it's crucial to gauge her comfort level and ensure your jokes are inclusive and kind-hearted, avoiding any potential discomfort.
Andrew Tarvin, the world's first Humor Engineer, shows how everyone can use humor effectively:
5. Expand your vocabulary
A diverse vocabulary allows for more nuanced and expressive conversations. While it's not about using complex words, having a varied linguistic arsenal can help you articulate feelings and thoughts more effectively, offering more opportunities for beautiful words to impress a girl.
6. Avoid negative talk
Focusing predominantly on uplifting topics or shared interests can create a more inviting and pleasant conversational atmosphere.
7. Show empathy and understanding
Showing empathy is about more than just listening; it's about truly understanding and validating her feelings. This approach fosters a sense of trust and shows that you're genuinely invested in her well-being and perspective.
8. Be curious about her world
Delve into subjects she's passionate about. Whether it's a recent book she's read, a hobby she's taken up, or a cause she supports, your genuine curiosity can lead to enriching discussions and moments to use beautiful words to impress a girl.
9. Practice active feedback
Reflecting on what she's shared not only shows that you're actively engaged but also that you're keen on understanding her deeply. This feedback loop can reinforce the bond between you two, making conversations more meaningful.
10. Be genuine in your compliments
Genuine compliments stand out because they resonate with truth. Instead of generic praises, pinpoint unique attributes or actions that genuinely intrigue or impress you. Remember, beautiful words to impress a girl should mirror your authentic feelings, making them resonate deeper.
Commonly asked questions
Having conversations, especially with someone you're keen to impress, can be a mix of excitement and uncertainty. Here are some frequently asked questions to guide you through the art of conversation with a girl
What are some topics of conversation that girls find interesting?
Girls, like anyone, have varied interests. However, popular topics include travel experiences, books, movies, personal aspirations, hobbies, current events, and shared experiences. Remember, the key is to find mutual interests and be genuinely curious about her perspectives.
How can I make a good first impression?
A good first impression hinges on being genuine, confident, and attentive. Maintain eye contact, offer a warm smile, and listen actively. Avoid dominating the conversation and be respectful, ensuring your words and actions align.
How to start and maintain a conversation with a girl
Begin with open-ended questions or comments about shared experiences. Listen actively, showing genuine interest in her responses. Keep the conversation balanced, sharing your stories while encouraging her to do the same. Remember, it's a two-way street.
What are some conversation starters that I can use with a girl?
Starting with observations about your surroundings, recent events, or mutual acquaintances can be effective. Questions like "Have you read any good books lately?" or "What's your favorite way to spend the weekend?" can also spark engaging conversations.
How can I end a conversation gracefully?
Acknowledge the enjoyable conversation, express hope to continue it another time, and offer a warm farewell. For instance, "I've really enjoyed our chat. Let's catch up again soon!" ensures a positive, open-ended departure.
Mastering the art of conversation
Effective conversation is a blend of genuine interest, active listening, and mutual respect. Whether starting, maintaining, or ending a chat, the key is to be authentic and considerate. By focusing on mutual interests and being present in the moment, you can create meaningful connections.
Share this article on
Want to have a happier, healthier marriage?
If you feel disconnected or frustrated about the state of your marriage but want to avoid separation and/or divorce, the marriage.com course meant for married couples is an excellent resource to help you overcome the most challenging aspects of being married.
You May Also Like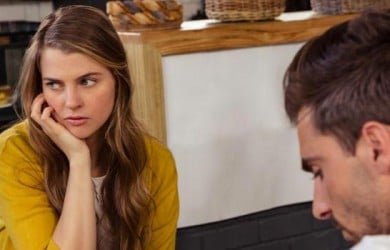 Popular Topics On Married Life