20 Tips on How to Make Your Girlfriend Feel Special
Do you remember when you were still trying to win your girl's heart? Were you constantly trying to learn how to make your girlfriend feel special?
You would do your very best, even asking for people's opinions on how to make your girlfriend feel special. With all your efforts, she finally said "yes." But after the courtship stage, what happens next?
Are you the type of person who is consistent, or would you stop the efforts and sweet gestures because you're already together?
Sadly this is very common. Complacency leads to some women feeling unappreciated and unloved. You don't have to book dinner at a 5-star restaurant or give your woman an expensive pair of earrings. You just have to make her feel loved and special.
Did you know that those little sincere and sweet gestures can make a woman feel warm and giddy? That's correct. Those simple acts of sweetness can already fill your girl's heart with love and appreciation.
The question here is, how do you do it? We're here to give you some easy ways to make her feel special.
20 ways to make your girlfriend feel special
Congratulations! You're here because you want to make your girlfriend feel special, and that's the first step.
The willingness to do something for your woman is already a sweet gesture. Your openness to trying out new things to make her feel special indicates that you have the right attitude already.
Now just follow these easy steps to learn how to make your girlfriend feel special:
1. Be honest with her
Do you want to know the first thing to do when learning how to make your girlfriend feel special?
Always be honest with her.
When you are genuinely in love, you won't think of deceiving the person you're with. What hurts her will also hurt you. So start with this. Always be honest with your special someone.
It doesn't just make her feel good; it also strengthens your relationship.
2. Give authentic compliments
One of the things to say when learning how to make your girlfriend feel special is to give her compliments.
There will be times where your girlfriend might feel down or unattractive, and this is the time to compliment her to boost her confidence. Take note that you should only give honest compliments about how her skin looks, how she smells nice, and so much more.
3. Don't take her for granted
Make a woman feel special by not taking her for granted.
No one wants to feel alone and underappreciated. Imagine how moving it would be if you started showing your appreciation of her? Even if you are busy or tired, don't forget to make your woman feel loved, appreciated, and of course, respected.
4. Give her time
Do you want to know the simplest way to learn how to make a girl feel special? Make time for her.
Even if you shower her with expensive gifts, nothing will compare to the time you will be spending with her. Cuddle, watch a movie together, or just have a meal with her.
By doing this, your girl would feel special and loved.
Related Reading: 

15 Reasons Why Is She Ignoring You
5. Have eyes only for her
Another sure thing that will make your girl feel special is if you only have eyes for her.
Avoid staring at other girls – no girl would be happy about this. In a room full of beautiful women, keep your eyes only on the woman you are with.
Your focus on her would show that you are only interested in her, and no one else will take your attention away. Sweet, right?
6. Go on dates
Even if you are finally together with the woman that you love, don't stop courting her. Be consistent and let her know that she's special. Go on dates, just the two of you.
Try to enjoy your dates and figure out ways to laugh together. Studies have shown that laughter increases relationship satisfaction in the present moment and also when one is reminiscing about past moments with their partner.
If you already have kids, continue to go out every once in a while. It keeps your bond strong, and of course, it makes your woman feel valued and special.
7. Talk and listen
Make a girl feel special over text and in person by having meaningful conversations.
If we want something, we can always find a way to make it happen. A few minutes in a day would be enough to initiate a good conversation. You also need to make sure that you are really listening. Studies show that listening can be a powerful tool in relationships.
8. Respect her opinions and decisions
A girl can sometimes feel undervalued when you don't respect her opinions and suggestions.
If you love her, then her words would matter. Let her have a voice and respect what she has to say.
Remember to respect her opinion even when you both disagree on a particular issue. Be open to her idea and try to compromise to make things work for both of you.
9. Give her hugs and kisses
Here's something that will make any woman blush. Give your woman random kisses and hugs. Do it when she's getting ready or when she's watching a movie.
Aside from being sweet, it's also a sign of love and appreciation. Even if she's tired of doing household chores or her job, receiving a tight hug from you can make it all better.
10. Be proud of her
One of the things to say when learning how to make your girlfriend feel special is just to be proud of her.
Introduce her to your friends, workmates, or business partners. When there's a family reunion, be proud and tell them something about her. Being proud of your girlfriend is a great way to learn how to make your girlfriend feel special and loved.
11. Always check on her
Even if you are busy or tired, don't forget to check on your girlfriend. When trying to figure out things to say to a girl to make her feel special, make checking up on her physical and mental health a priority.
Call her and let her know that you are thinking of her. Send her a text message if you're busy, but make sure it's not dry texting. Let her know she's still on your mind, and that's already something that will make her happy.
12. Give her gifts
Okay, we're not talking about expensive gifts like watches, phones, or a new car.
Do you know what's sweeter? Give her something out of the blue. If you're going home and you see a flower shop, buy one rose and when you come home, hug her and give it to her.
You can also just write her a small note and leave it on your bed or in her bag when you're together. Those sweet gestures can mean so much to a person.
Also Try: Who Loves Who More Quiz
13. Never compare
Comparison hurts. Never do this if you want to know how to make your girlfriend feel special. Don't shame or compare your girlfriend to any other woman, ex or not.
Instead, focus on her strengths and compliment her for that. Appreciating her individuality is an important way to learn how to make your girlfriend feel special.
14. Be there for her
Women can be independent, but sometimes, women may also value having their partner by their side. Be there for her when she's sick, feeling emotional, is stressed, and just know when she needs you and make sure to be there for her.
Your presence and understanding can already do so much for her.
15. Support her
If your girlfriend wants to learn how to bake, wants to go back to school, or start a new business, don't discourage her.
Instead, be there and support her. Your support can give her twice the strength and determination to fulfill her dreams.
Also Try: Is My Girlfriend Using Me Quiz
16. Remember special dates
We all know how some people remember special dates, right? Remembering milestone dates isn't something that everyone is good at, but it's worth trying. By doing this, you will make your girlfriend feel special and loved.
By remembering important dates, you can make your partner realize that the relationship is important for you. Therefore, when learning how to make your girlfriend feel special, make an effort to remember when you reached certain relationship milestones.
17. Trust her
Nothing says "I love you" better than showing that you trust your girlfriend.
Give her privacy, and show her that she has your trust. Research points out that trust is the most important thing for people. That is one of the things that will make anyone feel special.
Also Try: Do I Have Trust Issues Quiz
18. Don't be afraid to apologize
Misunderstandings in relationships are common. We all make mistakes, and even if you love each other, sometimes, you will get on each other's nerves.
Don't let your pride be more than your love. Lower your pride and don't hesitate to say 'sorry.' Don't let simple misunderstandings become big arguments.
Watch this video to learn more about the power of an apology:

19. Be patient
Always be patient with your girlfriend. Sometimes, people feel overwhelming emotions and you should try to be patient with her during these times. Instead of thinking of just things to say to make her feel special, focus on how patiently you talk and behave around her.
Allow her to talk to you. Let her talk about her feelings. Sometimes, a person just needs a tight hug and that sweet 3-letter-word to calm her.
Also Try: Am I a Good Partner Quiz
20. Respect her
Lastly, one of the most beautiful ways to learn how to make your girlfriend feel special is to respect her truly.
If she doesn't want something, respect that. If she says 'no,' don't force her into doing things she's not happy to do. If you respect her, she will also behave the same towards you and your relationship.
Conclusion
When you are in love, you just want to make your significant other happy. From gifts, sweet messages, kisses, cuddles, and so much more. These can, without a doubt, make a girl feel loved and special.
Most of these tips don't even require you to spend money but will require your genuine attention and love, and that's what makes all of these special.
Love is affection, respect, effort, and patience. So follow these simple tips on how to make your girlfriend feel special and see how happy your girlfriend would be. Nothing is more rewarding than seeing your girl smiling.
Share this article on
Want to have a happier, healthier marriage?
If you feel disconnected or frustrated about the state of your marriage but want to avoid separation and/or divorce, the marriage.com course meant for married couples is an excellent resource to help you overcome the most challenging aspects of being married.
More On This Topic
You May Also Like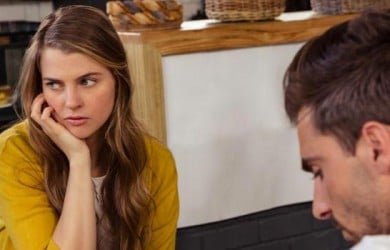 Popular Topics On Married Life