How to Get a Girlfriend: 15 Effective Ways
When some young people hit puberty (or sometimes even before that), they dream about having a girlfriend. It's natural to have a crush on a girl. It eventually blossoms into love or lust.
As time passes, and some search for a girlfriend, they notice that getting one takes work. At the very least, getting the girl they like takes effort.
Learning how to get a girlfriend is not that easy. Competition can be fierce. Some people can't get the one they like, while others attract girls like moths to a flame.
It sounds unfair but is it?
It may look like girls sometimes go after the biggest jerks on the planet while leaving the good people out in the cold.
This only makes some guys wonder why is it so hard to get a girlfriend.
But that's only partially true; once you figure out what attracts girls, you can get into a relationship with the girl they like.
15 ways to get a girlfriend
First, you must remember that girls or women are also usually looking for love. You need to figure out if they want to have a relationship with you.
Even if they say they do not want to have a relationship, that might be partially true. It usually means you need to try harder.
So the best way to get a girlfriend is to be THE person, the girl you like desires.
Notice how there are types of people that women flock to, such as rich, powerful, sporty, good-looking actors, and even models.
The trick on how to get the girl you want is pretty simple; if you want Kate Middleton, then be the next person that will make her fall in love.
It's not about the girl. It's about being the right person for her.
Lucky for you, you can do something; we are here to help. So here are the steps on how to get a girlfriend and keep her.
1. Fix your looks
Even though many women claim that they do not care about their partner's looks, A man's look matters more than what women care to admit.
At the very least, it doesn't hurt to be pleasing to the eyes. Invest in yourself and take the time to look better.
If you think that's not how to get a girlfriend and your profound brooding intellectual persona should be enough, then I guess some women are into that.
But there is no disadvantage in cleaning up and looking presentable. Thinking that women will fall for you because you are smart and mysterious is optimistic, but to do that, you would need to keep them interested long enough in peeling off your layers.
However, the women you like might not be that patient.
Related Reading: 

How Much Do Looks Matter in a Relationship?
2. Excel at something
Many women may not go for looks but are attracted to people who work hard at something or excel at it. Someone who inspires them and they can respect.
The reward theory of attraction states that people are attracted to those who remind them of people they enjoy being around. That's one of the best ways to learn how to get a girlfriend.
Be awesome at something. But it has to be something that impacts her world.
However, being the best sniper in Call of Duty and having the best pokemon card collection might not cut it, but you can try.
3. Information is key
Knowing is half the battle.
The more you know about what your potential girlfriend wants, the more likely you can develop a relationship with her.
While getting information nowadays is easy, with people blatantly exposing themselves on social media, what to do with that information becomes the next big step.
Is she looking for someone like you, or does she prefer someone opposite of who you are?
If you are a stable introvert who likes to stay at home and relax while she is a party animal who wants to travel the world and save elephants in Africa, you will have to rethink your choices.
One of you will need to change drastically to be in a long-term relationship. If you have a girlfriend who wants to go in the exact opposite direction than you are heading, it will be a challenge.
If your life goals are aligned with each other, then here is one of the best tips to get a girlfriend, have fun doing what both of you enjoy.
Girls develop bonds quickly, and fun is the most enjoyable way to do it. So to answer the question 'how to get a girlfriend," have fun with her.
4. The first date
Many may find it hard to ask a woman out on a date. That's why they couldn't figure out how to get a girlfriend. The easiest way to ask a girl out is to just do it.
But don't make it sound like a formal date. A simple would you like to try the Italian Restaurant down the street can do the trick.
Or better yet, ask the question so that it is to their benefit to go out with you.
Such as, have you tried going hiking (if she is into outdoor fun)? There's a good camping spot that has a great view of the sunset.
The first date is like the first interview. It is more of confirming the information you have gathered in their resume.
You want to know if she is the girl of your dreams or not. Make sure it's a conversation and talk about yourself too.
Related Reading: 

100 First Date Ideas to Make Your Date Memorable
5. Prioritize good hygiene
"I want a girlfriend, but no one notices me."
Before you plan to get a girlfriend, you must first assess yourself. Are you ready?
Aside from looking good, it's just right that we understand the importance of good hygiene. Unfortunately, some people need help with their basic hygiene.
That's a total turn-off for girls. So, remember this. Even if you look like a model, you must practice proper hygiene to attract girls.
Learning how to get a girlfriend would be easier when you're neat looking, smell good, and clean!
6. Be comfortable and confident
"When will I get a girlfriend? Am I not good enough?"
Sometimes, waiting for the right person can be tiring, and you slowly lose hope. Who doesn't want to meet 'the one,' right?
Before you look for a person to love, you must first love yourself. When you love yourself and are comfortable being alone, you become more confident.
Finding a girlfriend is just a bonus.
Self-love is important to become confident, and we all know that confidence plays an important part in finding love.
7. Be open to meeting other people
Are you looking for tips on how to get a girlfriend? Well, there is one thing that you need to do. Feel free to meet other people.
You can't tell your friends, "Hey, find me a girlfriend."
It's you who needs to go out and meet other people. Your buddies probably know girls they could introduce to you in person.
The bigger your social circle, the better your chances of meeting girls. So, don't be afraid to go out and have fun while you're at it!
8. Join school clubs
Join clubs in your school or sports teams to meet girls at school. Get out and be available.
Only expect to look for girlfriends when you're out there.
By joining clubs, sports, or events, you meet new people, learn new skills, and enjoy yourself.
Imagine meeting your crush in the same group. This means you can spend time together when you have club activities.
9. Learn to understand cues or notes
Some people think they can't get a girlfriend, but the problem is that they need to learn how to take cues from girls.
We cannot build a girlfriend, but we attract one by listening to their cues. Believe us when we say women love sending signals. You have to be ready for them.
Women sometimes give cues or comments like, "I love a person who loves to read!" That means it can be a signal that she's letting you know what she likes.
If you want to attract a girl, you should also be sensitive to these comments.
10. Be a gentle person
"Can I get a girlfriend if I put her needs first?"
There are a lot of factors that would help you get yourself a girlfriend, but being a gentle person helps.
Anyone will have a higher chance of making a girlfriend if they know how to be kind and considerate, help her carry her things, listen to her when she's sad and would know how to treat her like a princess.
Everyone usually appreciates a person who knows how to treat a woman right.
11. Try online dating – safely
There can be many ways to get a girlfriend; one of the most common is through online dating apps. These apps are everywhere. You can easily find a girlfriend by browsing and finding a match.
You don't even have to go out. But what's the catch?
Online profiles can easily mislead people and we also know that some of these online dating apps aren't that safe, especially if you're still not allowed access.
So, if you're an adult, you can try this option, but always with caution.
Related Reading: 

10 Benefits of Online Dating
12. Give genuine compliments
Some people would give compliments to impress a woman they like, but that is not right.
If you are serious about meeting someone you can date and possibly be in a relationship with, you need to give genuine compliments.
Also, compliment her about herself, not how sexy or hot she is. Give her one compliment at a time. Over-complimenting may cause her to feel uneasy.
13. Be funny
Here's a little secret. Women love to laugh. So, if you're funny, then plus points for you. Of course, it should be natural.
Even in couples therapy, you will understand how laughter can play a huge part in any relationship.
You may not have that Hollywood look, but if you're effortlessly funny, then women will notice you.
14. Be honest
Another tip to remember on how to get a girlfriend is, to be honest.
Online or not, it's easy to fake your personality, achievements, and sometimes, even your income to impress the woman you like, but is it worth it?
You may woo her but until when? If you are looking for true love, be true to yourself first. Let her love you for who you are.
15. Always be respectful
You may have everything a woman likes about a partner, but you won't find a girlfriend if you don't know how to respect a woman.
Respect is one of the top qualities women look for in a partner.
If you know how to respect a woman, then that's good. So, put this on your top list and soon, you'll see how a woman falls for you.
How do you build a strong relationship?
Jordan B Peterson, a Canadian clinical psychologist and professor of psychology at the University of Toronto, shares the steps to form strong relationships.
Commonly asked questions
At what age should you get a girlfriend?
As a parent, we can never be ready to hear the words "boyfriend" and "girlfriend" from our kids.
However, we also realize that kids fall in love at an early age today.
Kids as early as eight could already start having crushes, and some, at 12 or 13, can start being close to a potential love interest. Still, it's a bit too young.
If you have a 16-year-old, that's more appropriate. There are many considerations before your child should take a girl out.
We all know that teenage love can be aggressive, fierce, and influential.
Parents should still be there to guide their children when they fall in love, from how to respect a girl to how to handle rejection or even a breakup.
Once you have transformed yourself into, at the very least, a regular productive member of society, it's time to focus on the girl you want. Your self-esteem and confidence will increase when you no longer live with your parents and can pay for yourself.
After a couple of "dates," there will come the point when you wonder when to ask her to be your girlfriend.
Unless you still believe in the traditional courtship ritual, you don't need to bother thinking about how to ask someone to be your girlfriend. Just be sincere. If you want to make it formal, do it after an intimate moment.
And if you want to know how to get a girlfriend and keep her, be reliable, respectful, and loyal, at least in her eyes.
Conclusion
Learning how to get a girlfriend is not that complicated. Just be true to yourself, practice self-love and good hygiene to go out and enjoy.
So you got yourself a girlfriend, but the life lessons don't end there.
Being respectful, loving, and a gentleman are just some things you need to remember when dating. Falling in love is easy, but staying in love?
It takes lots of work, learning, and growth to keep the woman of your dreams with you.
Share this article on
Want to have a happier, healthier marriage?
If you feel disconnected or frustrated about the state of your marriage but want to avoid separation and/or divorce, the marriage.com course meant for married couples is an excellent resource to help you overcome the most challenging aspects of being married.
Learn More On This Topic
You May Also Like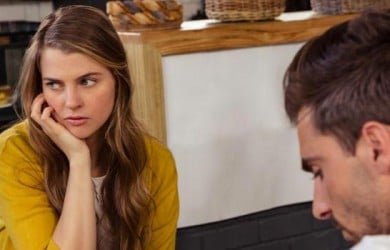 Popular Topics On Married Life