10 Reasons Why Name-Calling in a Relationship Isn't Worth It
There are so many factors that need to be considered to maintain a romantic relationship or a marriage. A lot of these are basic lessons that people need to learn to sustain a long-term romantic relationship.
One such basic lesson is about name calling in a relationship.
So, what is name calling in a relationship? Is it okay to do it? If not, why so?
These questions might be flooding your mind right now. You might even be wondering whether you have done it to your partner.
Suppose you want to make yourself aware of name calling psychology. Hello and welcome! Keep reading this article to learn everything you need to know about name-calling.
The meaning of name-calling
First and foremost, it is imperative to understand what does name calling means.
When you and your significant other are having an argument and things get heated up, do you resort to calling each other demeaning names?
Is it one of the childish ways in which you lash out at your beloved? Using degrading names to call your partner and implementing the same during arguments or other conversations with your partner is name calling in a relationship.
So, have you experienced it in your romantic relationship or marriage? If you have, think about how name calling in a relationship happens.
Usually, when both partners are in a pleasant mood, or at least in a neutral state, name-calling doesn't happen.
Name calling in a relationship usually happens when the partners have a disagreement that turns into a heated argument, and either or both of them lose their temper. That fit of anger and frustration makes people call each other degrading names.
Is name calling acceptable in a relationship
Now that you know the meaning of name calling in a relationship, you may be wondering whether it is acceptable behavior.
Well, before answering that question, think about how name-calling happens. As mentioned in the previous section, the context in which it happens is very negative.
So, it is not okay to call your partner degrading names. It just isn't.
It may be very tempting to give in to the passion of your temper and just call your partner a nasty name when you're arguing. But is it worth it? No. It isn't.
Examples of name calling in relationships
So, you now know about the meaning of name-calling and that it's unacceptable to engage in this behavior in a romantic relationship. Now you may be questioning is name calling abuse?
Well, before getting into that, take a look at some examples of what people say when someone resorts to name calling.
Whenever you're about to call your partner something bad or vice-versa, the sentence usually goes like "You're such a ______!" or "You (adjective) (noun). "
Sounds familiar? Well, here are some examples:
"Oh my god, you are such an annoying idiot!"

"You're such a greedy pig!"

"You're Satan's spawn, and you disgust me!"

"You're a lunatic, and you know that?"

"You are a pathetic loser!"

"You're as dumb as a donkey!"
Name calling is a sign of weakness. The examples you just read are some of the tame examples. It can get much worse.
The damage done by name-calling
When name calling in a relationship becomes a regular occurrence, it is very dangerous.
If your partner is calling you degrading names with the intention to make you feel horrible, it is abusive behavior.
It is a manipulation tactic to control how you feel and what you think about yourself. So, name-calling can do extensive damage in a relationship.
It is a form of verbal abuse as well as emotional abuse.
10 reasons name calling is not worth it in a romantic relationship
A big part of knowing how to deal with name calling and how to stop name calling in a relationship is to understand and accept the reasons as to why name calling in a relationship is not going to be worth it.
So, you may consider the following reasons why name-calling in a relationship must stop:
1. It represents a lack of respect for the partner and the relationship
One of the main reasons to stop name calling in a romantic relationship is because if you're the one calling nasty names to your partner, it shows that you have very little respect for your beloved.
And if you're the victim of name-calling, it's an indication that your partner may not have any respect for you. Your significant other may look down upon you by calling you names.
So, one of the most damaging effects of name calling in a relationship is that the partners involved lose respect for each other.
Also Try: How Much Do You Admire And Respect Your Partner Quiz
2. It is a way to control the significant other
As mentioned earlier, abuse presents itself in many forms. Emotional abuse and verbal abuse are just two of the most overlooked types of abuse in relationships.
Any form of abuse is a way to control the victim. If you're on the receiving end of the verbal and emotional abuse associated with name-calling, you may find yourself becoming highly dependent on your abuser.
3. It will ruin the communication in the relationship
If you and your partner resort to hauling slang at each other, are you communicating properly or directly?
Instead of actually trying to be on the same page about the misunderstanding you two had by sharing actual information, you're just spending your time saying mean things to each other.
So, name calling in an argument or during other conversations gets in the way of healthy and effective communication.
Also Try: Relationship Quiz: How Is Your Communication?
4. Expressing true feelings take a backseat
This reason is closely connected to the previous point. When you say nasty, unpleasant things to each other by calling each other pigs, cows, ugly losers, and so on, you're not expressing your feelings.
Why do you say these names? It's because you may be feeling sad, disappointed in your partner, hurt, shocked, betrayed, angry, or something else.
Instead of telling your partner how you're feeling, you're just making things worse by calling bad names to each other.
5. You may end up feeling belittled
As mentioned earlier, long-term or frequent name-calling in a romantic relationship is abusive behavior. If you're on the receiving end of the name-calling, understand that it is a manipulation tactic.
When you're called demeaning names, you may end up feeling belittled or embarrassed, or hurt. This is their way of controlling what you think and feels about yourself.
Related Reading: 10 Things to Do if You Feeling Unappreciated in a Relationship
6. You may begin to doubt yourself and your capabilities
This once again goes hand-in-hand with the previous point. Purposeful long-term or frequent name-calling not only has the potential to make the victim feel bad, but it can also break their self-esteem and self-confidence.
Since intentional name-calling can make the victim feel bad about themselves, it can also control what they think about their potential and abilities.
This is one of the most detrimental effects of name calling. If your partner intends to hurt you through name-calling, it can impact your self-esteem and self-confidence.
7. It can give rise to a lot of resentment
When you and your partner get into the habit of calling each other bad names during disagreements, normal conversations, and major fights, you may start resenting each other.
People are wired in ways that enable their brains to keep a record of these negative experiences, especially with loved ones. Without being aware of it, you might both start keeping tabs on what you've been called by the other person and how that made you feel.
This can pile up, and you may start resenting your partner. This may even break the trust that was built in the relationship. The love and admiration for each other may start fading away.
This is, unfortunately, what name calling does to a relationship.
Also Try: Do I Resent My Husband Quiz
8. Name-calling isn't a way to fight fairly
When two partners disagree, the moment one of them resorts to blurting out a mean-spirited comment (name-calling), the fight becomes ugly.
It becomes an unfair argument. Why?
This is because the moment you say something mean-spirited and hurtful to them, such as "loser," "lazy fat pig head," "worthless loner," and so on, your partner will simply turn a deaf ear to whatever it is that you say after that.
That is all they're going to hear. They might stop responding after that and just walk away.
9. Name-calling reinforces more negative feelings
The potential held by name calling in a relationship to cause emotional damage is unparalleled.
Name-calling is such a bad habit that it can impact you and your partner's emotional wellness.
Even if you do not have an unpleasant exchange at the moment, sometimes the thought of living together with someone who makes you feel horrible about yourself can reinforce more negative feelings.
Related Reading: How to Fix a Negative Relationship
10. The arguments turn counterproductive
There are certain disagreements or angry debates that need to happen in every relationship. It sort of represents the stepping stone to progress into the next stage of the relationship.
However, if one or both partners resort to name-calling in the necessary fights, it becomes counterproductive. The fight becomes all about winning or losing.
There's no more room for compromising, listening, or meeting halfway.
Before we move further, here's a basic video clip:

Conclusion
So, how to deal with name calling in a relationship? Try to avoid escalation at all costs, set boundaries, monitor your feelings, and consider the possible consequences of name-calling before saying something hurtful to your partner.
Do not overlook name-calling. Put a stop to it.
Share this article on
Want to have a happier, healthier marriage?
If you feel disconnected or frustrated about the state of your marriage but want to avoid separation and/or divorce, the marriage.com course meant for married couples is an excellent resource to help you overcome the most challenging aspects of being married.
More On This Topic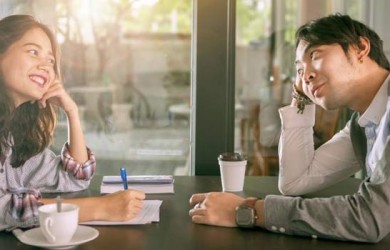 You May Also Like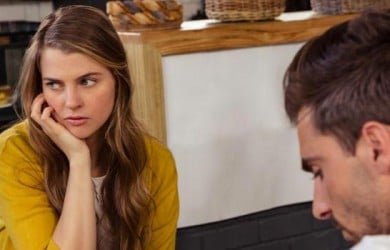 Popular Topics On Married Life