What Is in the Roots of Marital Conflicts?
It is an old wisdom, but it's all true – the happy families all look alike, while every unhappy one is unhappy in its own way. In other words, there are countless causes of marital conflicts and thousands of ways in which they affect the relationship. Yet, one thing appears to be a common truth, and that is that the majority of marital conflicts could be easily resolved if only the couple could find the root cause if the quarrel. However, this is not as simple as it sounds!
Why do we fight… Really?
The first step to understanding any conflict that you might have with your spouse is in realizing that you might not really be arguing about who's going to take the dog for a walk. It might be a banal thing to point out to some, but it is amazing how many married people simply don't seem to be conscious of what's truly troubling them. The fight might be going on around a completely unemotional thing (such as the purely technical issue of who is going to take the dog out for the walk). Nonetheless, in a marriage, none of the issues is ever void of emotions. It is, after all, an effective relationship, and everything that we do is intertwined with countless emotions that often don't have much in common with the subject of the conversation. For example, the wife might feel that the husband isn't caring enough and that he doesn't appreciate how much she's doing for the family on a daily basis. And the husband, on the other hand, might feel that after a day's work, he deserves a bit of pampering instead of being bossed around by his wife.
One might think that working through the feelings of resentment, of being unappreciated, of being uncared for – in short, through all the emotions that we actually feel when we fight over everyday chores or more elaborated problems – would do the trick and we would enjoy a well-deserved "happily ever after". However, in practice, this doesn't happen that often. The reason lies in even more profound foundations of almost any marital conflict – in our beliefs about ourselves, our spouses, the institution of marriage and family, the nature of emotional relationships. The root of our dissatisfaction and angst is in our conscious or unconscious beliefs, and in the emotions that these rigid cognitive constructions evoke in us.
So, how do we live happily ever after?
This idea, that what determines how we react to what we experience, what we see and hear, are our beliefs that come between the event and our emotions, is attributed to the creator of one school of psychotherapy, to Albert Ellis who developed Rational Emotive Behavior Therapy (REBT). Unlike what we usually believe in, we rarely react to the situation itself; rather, we react to what we think about what the situation signifies. In other words, we don't really fall into pieces because our spouse asks us to take out the trash or dislikes the dinner we spent 4 hours near the hot stove to make. We sometimes seemingly overreact to such incidents because of our deeply held convictions that, let's say, our partner ought to be delighted about every little thing we do, otherwise the romance is dead. Or we expect for our spouse to be unconditionally supportive, so when they criticize something we did, we interpret this as the sign of indifference or even loathing.
Also watch: What Is a Relationship Conflict?
Some of these beliefs are rational and we do have the right to expect their fulfillment. Although, even with such beliefs, we ought to be conscious of them and to communicate our needs and expectations in an assertive manner. But, the common cause of repetitive marital conflicts is irrational beliefs about what our partners should be like and how our married life should look like. For example, many individuals somewhat unconsciously expect that their spouses will love them and support them under any circumstances, regardless of how they behave. So, when this doesn't happen, they feel angry, frustrated, rejected…
Now, what it is that we can do about it? Even the most irrational beliefs can be hard to shake off. Yet, what we can do is to first become aware of those that have the most destructive influence on our marriage. When we do that, as REBT teaches us, we can start replacing them with more rational set of convictions. So, the next time you have an overly intense reaction to what might be called a trifle, challenge your beliefs, reflect on what you think your spouse's behavior signifies that causes your anger or sadness. Question how rational these beliefs are, and work hard on changing them. Because how well we handle marital conflicts often determines the quality of the entire marriage.
Share this article on
Want to have a happier, healthier marriage?
If you feel disconnected or frustrated about the state of your marriage but want to avoid separation and/or divorce, the marriage.com course meant for married couples is an excellent resource to help you overcome the most challenging aspects of being married.
More On This Topic
You May Also Like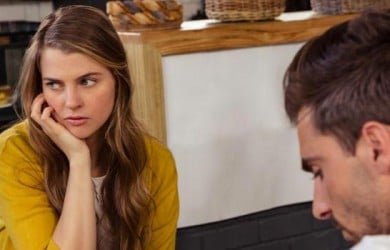 Popular Topics On Married Life