10 Silly Mistakes to Avoid When Resolving Conflict in Marriage
There are times within any relationship when there will be some conflict. However, it may be helpful to learn how to resolve conflict, so it isn't escalated when this may not be necessary.
Keep reading for more information on silly mistakes to avoid when resolving conflict in your marriage.
What is conflict in marriage?
When it comes to conflict situations in a marriage, this indicates disagreements and strife within the relationship. You may not see eye to eye about certain things or have issues you must work out with each other.
Why is it important to resolve conflict?
There are a few reasons why you should try your best to resolve conflict. One is that it can allow you to change as an individual. For instance, if you have a conflict with your partner and you can talk about issues that arise, it might allow you to change how you act.
Another reason is that you can improve your relationship with your mate when you can work things out. If you cannot get through arguments effectively, this could lead to major problems within your relationship, which you likely want to avoid.
For more information about conflict resolution, refer to this video:
Five steps to resolve conflict with your partner in marriage
There are steps that you can take to manage conflict in your marriage. These include not criticizing one another, talking about things, working out any differences of opinions, trying to change any negative feelings you have, and making sure you hear each other when conversing.
While it may take some time and effort, when you can work through these steps, you may be well on your way to resolving conflict.
Ten silly mistakes to avoid when resolving conflict in marriage
When dealing with conflict in marriage, there are certain mistakes that you may want to steer clear of.
1. Staying mad
If you stay mad about things that keep coming up in the relationship, there may be better ways to resolve conflict. You could talk about your feelings with your mate, instead of being mad at them.
When you can hear their point of view on the matter, it might make a big difference in how you feel.
2. Making more conflict
Research indicates that the more time individuals spend arguing, the more they may feel unsatisfied with their relationship. This is why you should do your best to prevent adding more conflict when it isn't necessary.
Think about speaking up when something is bothering you gently instead of getting upset and starting a fight because of how you feel.
3. Trying to win
Have you ever found yourself trying to win an argument? If this is something that you often do, you should refrain from doing this. After all, in some cases, there is no winning in an argument.
It can be more beneficial to do everything you can to work through any issues and problems you face together instead of seeing it as a me versus you situation.
Related Reading

: 

20 Simple Ways to Win a Woman Heart
4. Blaming your mate
Another major conflict resolution tip you should follow is to stop blaming your mate. There may be times when you are having a disagreement with your spouse where you end up telling them that something was their fault.
This isn't fair to them, and it could lead to them blaming you for something the next time you disagree. You should try your best to say what you have to and hear them out.
5. Not paying attention
When the time comes for you and your partner to talk through your disagreements or work through things, you should always pay attention to what they have to say.
You likely wouldn't want someone to ignore you, so you must give your partner your full attention.
Moreover, if you are often not paying attention to your mate, this could lead to undue stress. A 2021 study concluded that it might be harder to work through conflicts in relationships where there was a high level of stress.
Related Reading

: 

What Happens When There Is Lack of Attention in a Relationship

?
6. Not compromising
Something else that you should consider as one of your top conflict resolution goals is to start compromising. You should talk to your partner each time an argument comes up and see if there is some compromise that you can make with them so that you both get what you want.
For instance, if you want them to help more around the house, you can tell them exactly what chores you need help with, and they can come to your aid. This could help in resolving conflict overall.
7. Not talking
You should avoid not talking to your partner, even if you feel like you are mad at them. It may be more helpful to talk about your issues so that you can agree.
If you aren't on speaking terms, not only does this keep you from being able to continue growing as a couple, but it could make it harder to make up.
This is even more true if you continue to avoid talking to each other day after day. Consider working through and talking about your issues quickly after they arise, which may be one of your best chances to resolve conflict.
Related Reading

: 

How to Talk to Women
8. Keeping it bottled up
Another way related to solving conflict is to prevent keeping your feelings bottled up. When you don't let your feelings out, this could lead to your getting very angry and stressed out at an inopportune time.
You don't want to lash out at your partner when you are frustrated, so it is better to let your feelings out whenever possible. Be sure to allow your mate to talk to you about what's happening with them when needed.
9. Ignoring the issue
The key to resolving conflict is usually paying attention to an issue. When you ignore your feelings about a situation or do everything you can not to have a conflict with your mate, this may cause other issues to pop up. When you need to talk about something or have a different opinion from your partner, it is okay to talk things out.
This may not lead to a fight; if it does, you should still be able to work through it. If you cannot get through it by yourself, you may also work with a therapist for couples counseling.
Working with a therapist may help you determine how to reach your conflict resolution goals together.
10. Ignoring problems
You don't have to ignore things that bother you because you are trying to keep the peace. It would help if you did everything you could to be open and honest. Be sure that you keep your communication open, even if you don't want to disagree.
What are the five strategies for resolving conflicts?
There are several strategies to consider when you want to know more ways of resolving conflicts, and there are five strategies you might consider using.
1. Talk to each other
The first step for resolving conflicts is to talk to each other. You have to determine together what you want to accomplish.
In many cases, your goal may be to work out your issue with one another so you can move on and not worry about it anymore. You probably don't want the same issues to keep coming up.
2. Think about what each person said
When you are communicating, both people need to be able to speak their minds. It would help if you listened to what your partner says, and they should listen to you.
After everyone says what they need to say, you can discuss the situation and how to work it out.
3. Find common ground
One way you should be able to work out a conflict is to find common ground with your mate regarding the issue that is affecting you.
For instance, if you both feel like you need to spend more time together, this is common ground for addressing a problem that you are facing.
You can determine the best ways to work more time with each other into your schedule.
4. Work through all issues
The conflict solution is that there isn't just one solution to any problem. There are different solutions to every problem, and it can be helpful to remember that you don't have to figure out how to solve them yourself.
Together, you and your partner can determine how to work through all the issues you are facing, so you may lessen your conflicts overall. Do this as often as you need to.
5. Keep working at it
Remember that conflict resolution may not happen overnight; it may be a work in progress. This is why you should do your best not to give up. Work at solving your conflicts all the time with each other.
Make sure you communicate and take time to listen to one another as often as possible. This can help you get through any arguments and prevent other arguments from occurring.
FAQs
Here are some frequently asked questions about conflict resolution in marriage.
1. What are the mistakes to avoid when communicating to avoid conflict?
One of the top mistakes you may make when in conflict with someone is blaming them for everything. Consider the situation you find yourself in. Is your partner responsible for the entire problem?
If they are not, you should do what you can to prevent blaming them. Instead, talking to them about how you feel can be more helpful since they may not know exactly what is going on in your brain.
Perhaps you think that your mate stays up too late at night. Instead of saying that they need to have the same sleeping habits as you, it may be more effective to find out what is causing them to be unable to sleep, or if they are doing something they enjoy, it could be better to leave the subject alone.
You should also refrain from trying to win the fight. Think about when you are arguing with your partner. This is someone that you love and care about. Do you really need to win against them? It would help if you instead considered coming to an agreement with them that makes you both happy and is fair.
2. What is a good example of conflict resolution?
If there has ever been a situation that you and your spouse have argued about multiple times and were then able to agree on and work through your disagreement, this is a good example of conflict resolution.
For example, if you want your partner to understand that you wish to go out with your girlfriends a few nights a month, it may be helpful to evaluate whether you allow your partner to go out with their friends at times.
When you can both do things that you like to do, even when you are being autonomous, this can prevent you from having to have disagreements about it.
The takeaway
There is a chance for conflict in all relationships, including romantic relationships. However, there are things that you can do to avoid conflict when possible. Make sure you hear your partner out, let your feelings be known, and do your best to be attentive and fair with your mate.
You can also talk to a therapist if you need more help with conflict resolution or want to learn how to communicate better. You may want to go through therapy together, or it could also be helpful to work with a professional by yourself.
Keep at it and help your partner understand that you want to work through any problems with them. This can help you talk about things and disarm disagreements in the future.
Share this article on
Want to have a happier, healthier marriage?
If you feel disconnected or frustrated about the state of your marriage but want to avoid separation and/or divorce, the marriage.com course meant for married couples is an excellent resource to help you overcome the most challenging aspects of being married.
More On This Topic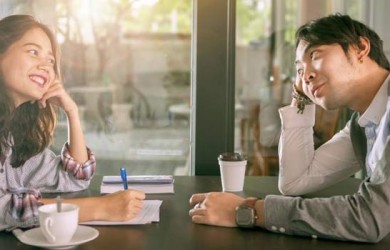 You May Also Like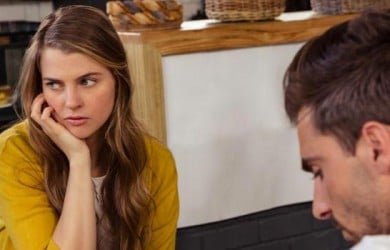 Popular Topics On Married Life