10 Ways to Solve Recurring Marital Conflicts
You have told your spouse repeatedly that it bothers you when they do something and how you wish they would do more of something else. You've repeated yourself so many times now, even if you're sick of hearing it.
What should you do when innocent squabbles become repetitive marital conflicts? People communicate and listen in different ways, and sometimes not at all. This can make solving marital conflict feel more like a battleground than a communication effort with your spouse.
Don't waste your time having the same argument over and over again. By identifying recurring arguments, remaining focused on the issue at hand, and showing one another respect and understanding, you and your spouse can accomplish much.
Here are the top tips for how to stop fighting about the same old topics with your spouse and get some marriage help.
5 examples of marital conflicts
To resolve repetitive marital conflicts, you'll need to identify what topics seem to be rearing their ugly heads most often. There are six main topics that long-term couples tend to fight about most often. These topics are:
1. Pet peeves and bad habits
Certain behavior exhibited by your partner can specifically get on your nerves. But since habits are hard to change, you might get bothered by these issues.
He doesn't wash the dishes, she whistles in the shower, he leaves the toilet seat up or she leaves old coffee in the coffee maker. It could be the way your partner smacks his lips when he eats or their speaking pattern – whatever it is, couples love to fight about the little things.
2. Sexual dissatisfaction
When one partner feels like they are always being hassled or guilted for sex, or if the other feels there is not enough sex and feels a lack of emotional and sexual intimacy with their spouse, trouble will follow.
A difference in sex drive, inability to orgasm or perform, differing preference for sexual frequency, kinks, and the use of protection are all triggering topics for couples that lead to marital issues.
3. No time together
Couples who don't prioritize spending time together are headed for disaster, leading to marital conflicts. The topic is bound to come up again and again.
Couples who do not spend enough time together and lack sexual or emotional intimacy may frequently argue over a lack of romance.
4. Finances
Arguments about money, while not generally explosive in couple behavior, are often one of the most recurrent sore subjects between married couples. Overspending, a lack of money, and differences of opinion on budgeting are common concerns for couples.
5. Jealousy
Flirting online, porn addiction, spending too much time with one's preferred gender – these topics fall under the jealousy umbrella. This is one of the most argued about recurring marital conflicts and hot topics that couples face.
Related Reading

: 

15 Signs of Jealousy in a Relationship
10 ways to solve recurring marital conflicts
Once you have narrowed down which topics are hindering the happiness in your relationship, you'll be able to focus on the real issue.
Relationship conflict resolution involves recognizing the problems and trying to find a solution. Ignoring or being in denial about relationship conflicts.
1. Work as a team
It's easy to get side-tracked when emotions are high, but staying on topic when a recurring argument ensues is important. Recognize why you are getting upset and avoid lumping the topic at hand with other issues you have in the relationship.
Your spouse is not someone who exists in your life to argue with. Do not use your discussion as an excuse to attack your partner or let past issues or resentment surface. To stop marital conflicts about the same topics, you need to learn to work as a team.
2. Understand your triggers
One key to squashing repetitive marital conflicts is understanding your emotional triggers. For example, a jealous husband will not appreciate you spending time with other men, nor will an insecure wife appreciate you commenting on her body.
Arguments are all about reaction. You want to feel safe, accepted, and appreciated in your relationship, so you react strongly when your partner does something that disrupts these feelings.
Once you understand what sets each of you off, it is easier to avoid these topics or work around them in a gentler manner.
3. Be empathetic
You can only reach a compromise if you understand why you should meet each other in the middle.
For example, a wife may be upset that her husband doesn't want her to go out with her girlfriends. He isn't telling her that he feels he isn't getting any quality time with her lately and feels pushed aside.
If this couple were communicating openly with one another, they would be able to show empathy and resolve the marital conflicts altogether.
To stop arguing, you need to be empathetic.
Oddly, if you and your spouse are arguing about the same topics, you need to feel understood by your spouse. Both should strive to understand why the other thinks and feels the way they do and to put themselves in the other's position.
Related Reading

: 

How to Build Empathy in Relationships
4. Take initiative
Making the first move toward conflict resolution can be challenging. It involves humbling yourself and displaying a willingness to communicate and resolve marital conflicts. This means putting aside resentment, hurt feelings and striving to pursue peace with your spouse.
Taking the initiative also means being open and honest with your partner about what's bothering you.
5. Compromise and resolve
To find a compromise and end your repetitive marital conflicts, you must find a solution that benefits both partners' needs. For example, if it bothers your partner that you are not being physically affectionate, strive to deepen your emotional and physical connection.
Question yourself when you are pursuing a resolution. What is your motivation for your questions or statements – to help or to hurt your spouse?
Don't use an aggressive attitude, listen to your partner, stick to one issue at a time, and strive to resolve the issue once and for all.
6. One issue at a time
Conflict resolution in marriage can occur in various ways if the couple ensures that they discuss only one issue at a time. Attaching too many issues to a present disagreement can lead to confusion, chaos and frustration.
Bringing up multiple problems in a fight usually exacerbates the problems, and only some issues get resolved. Past conflicts are brought to the fore while the present ones take a backseat.
7. Accept your differences
Conflict in marriage is to be expected; however, these can take a negative turn if you and your partner try to change each other. Many marital arguments can be solved if you learn to accept that the other person is different, not wrong, in various circumstances.
By accepting each other's individuality, you showcase your respect and resolve many avoidable issues this way. It is one of the key aspects of premarital counseling for this reason.
8. Be open about your triggers
Many people don't realize that most common relationship ending conflicts occur because couples are not vulnerable with each other about their emotional triggers.
Traumatic childhood experiences, emotional wounds, and specific idiosyncrasies could be why emotional responses seem unjustified to someone who does not know about these reasons. Sharing these experiences can help you understand each other better.
9. Avoid insults and crossing the line
To resolve marital conflicts, try to be respectful towards your partner at all times. If you cross the line and are disrespectful, the arguments can turn nasty and your feelings might be extremely hurt.
To learn the common types of disrespect in relationships, check this out:
10. Don't make assumptions
Jumping to conclusions is one of the worst things you can do in a relationship.
If you are trying to resolve issues, try to stop yourself from making assumptions about your spouse's intentions, desires or experiences. These can make the partner feel misjudged, misunderstood and frustrated, ultimately making things worse for you.
Summing up
No couple enjoys arguing, especially not when simple suggestions blow up and become repetitive marital conflicts.
Strive to communicate and treat your spouse like your partner, not your enemy. These steps will help you and your spouse to overcome uncomfortable marital conflicts and solve your issues.
Share this article on
Want to have a happier, healthier marriage?
If you feel disconnected or frustrated about the state of your marriage but want to avoid separation and/or divorce, the marriage.com course meant for married couples is an excellent resource to help you overcome the most challenging aspects of being married.
More On This Topic
You May Also Like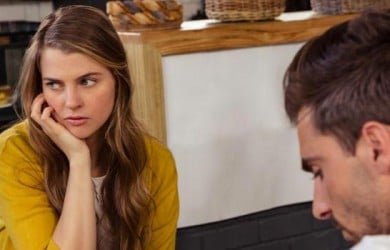 Popular Topics On Married Life