Why Does My Wife Act Like A Child: 10 Reasons
Are you stuck on the thought that "my wife acts like a child"?
When you got married, you probably never imagined that you would end up being in a parent-child relationship with an immature wife.
This can be frustrating to live with, especially if you're dying to communicate and your wife is more adept at throwing temper tantrums.
Why do women act like children, and what can you do to banish childish behavior in your wife and get back to having an awesome marriage with your best friend? Keep reading to find out.
Signs of a childish wife
When women act like children, it isn't cute – it's annoying. But how do you know if you have an immature wife or if she's having a weird week?
Here are some of the biggest signs to look out for if you feel 'my wife acts like a child':
She's impulsive to the point of recklessness

She yells when she's

trying to communicate

She gaslights you

She doesn't have deep conversations with you

Her interests seem childish

She throws a temper tantrum

She refuses to speak to you when she's angry

She runs from responsibility

She tells you she hates you

She lies about silly, small things

She exhibits regular selfish behavior

She doesn't participate in serious conversations
Does any of this sound familiar in your marriage? These immature wife symptoms will help you discover if you have a childish wife.
10 Reasons why women act like children
Now that you know those immature wife symptoms, it's time to delve into why women act like children sometimes.
1. She has poor communication skills
If you're thinking: "my wife acts like a child" because she never seems to express her feelings, you may have tapped into something noteworthy.
Women act like children because they don't know how else to communicate with you.
Someone great with communication will be willing to listen, give you her undivided attention, and work at solving the problem at hand together.
Someone bad with communication will go straight to yelling and blaming when trying to talk about an issue and will view you as her enemy instead of her partner.
Watch this insightful video about how you can use communication to build your relationship stronger:

2. Because you act like a father
One unfortunate reason why "my wife acts like a child" is because you may treat her like one.
If you have taken on a fatherly role in your marriage, it may have caused your wife to inherit the role of your child or rebellious teenager. Or perhaps her immature behavior made you feel like you must parent her.
Whatever the case, you need to agree to stop your unhealthy dynamic and get back to being a husband-and-wife team, not a father-daughter duo.
Also Try: Will My Parents Get A Divorce Quiz
3. She is immature
One reason why "my wife acts like a child" maybe because she's immature.
This immaturity will often present itself with her:
·

Demanding your attention

·

Badmouthing previous partners

·

Never taking responsibility for her actions

·

Not taking a deep interest in you

·

Using manipulative behavior

·

Taking an interest in things commonly liked by teenagers
People reach emotional maturity at different stages. Your wife may not be at your level quite yet, or perhaps she is just an immature person in general.
4. Because she thinks it's cute
Believe it or not, some women act like children because they think they're being adorable.
Doing a high-pitched baby voice (You know the one. It's the same tone she hits when she's talking to her adorable nephew or a fluffy kitten) and making a big show of how much she loves cartoons may all be an act to show you how unique and sweet she is.
5. She's holding onto past conflict
The answer to why "my wife acts like a child" may have to do with the issues in your marriage (maybe previous relationships.)
If your wife is prone to temper tantrums, it may stem from a triggering past incident, such as being cheated on.
Also Try: What's Your Conflict Style in a Relationship? Quiz
6. She's looking for attention
One common reason why women act like children is that they're looking for attention.
Think of a toddler. They lash out when they're angry and make a splashy show of their emotions. Why? Because they want their parent's attention.
They may be secretly looking for some love or validation from their parents, or they may want to let their parents know how angry they are.
Similarly, your wife may be storming off or doing her baby-cute voice because she wants your attention, for better or worse.
7. She enjoys feeling spoiled
Have you ever thought: "My wife acts like a child who wants a present! She's so spoiled!"
If so, the answer could be that your wife likes being treated like a princess. She wants you to buy her flowers and make her feel special, which isn't necessarily bad.
It only becomes a problem when she begins to expect or demand it from you.
Also Try: Why Do I Love Them So Much Quiz
8. She has issues from her childhood
Another reason why women act like children is that she's dealing with something from her childhood.
Research suggests that a traumatic incident (such as being abused, growing up with an alcoholic parent, going through a life-or-death accident) can impact a child's cognition and self-identity.
Such an event may have your wife's mind living as if she were still a little kid, particularly when she gets stressed out.
9. She lacks responsibility
One reason why you may be thinking, "my wife acts like a child," is that she lacks responsibility.
This may manifest in childish ways such as not knowing how/frequently forgetting to do important things like pay bills or pick up groceries.
She may also rely on you financially and feel indifferent about getting a job herself.
Thoughts of having children or committing to a pet may make her feel squeamish because of the responsibility involved.
Like a bit of a kid, responsibility seems daunting, and she'd instead not do it.
Also Try: How Healthy Are Your Personal Boundaries Quiz
10. She had a bad example set for her
One reason women act like children is that they had a poor example of what a marriage is supposed to look like growing up.
Perhaps your wife's parents are divorced, or maybe they're happily married but never learned quite how to respectfully communicate when they had problems.
Either way, your wife learned from the model she had growing up – and that model wasn't good.
How to handle an immature wife
The situation may seem out of the hand but you can actually handle your partner with these simple tips.
Communication is as much about listening as it is about talking. Practice healthy communication with your wife and take turns being vulnerable with your feelings and listening to each other without interruption.
The online Save My Marriage course is terrific for privately addressing marital issues.
The course focuses on communication skills, recognizing unhealthy behaviors, and creating sustainable change in your marriage.
Also Try: Communication Quiz- Is Your Couple's Communication Skill On Point?
Therapy can be a lifesaver when women act like children. Not only can a therapist get to the root of the issues that make your wife behave that way, but your sessions should bring you and your partner closer together.
Don't tolerate a childish wife
One of the biggest tips in dealing with an immature spouse is to refuse to tolerate when a woman acts like a baby.
If your wife expects you to be patient, communicative, and loving when you're having a discussion, you should expect the same behavior from her.
If she behaves like a child, leave the room, and resume the conversation at a time when she can calmly and respectfully speak to you about her issues.
She will quickly learn that her tantrums won't get her very far with you.
Also Try: Would I Be a Good Boyfriend Quiz
Conclusion
If you see signs of childish behavior in the wife, it could mean a lack of emotional maturity in a woman. These signs include making fun of you, repeating mistakes, and lacking in talking about her feelings.
Dealing with an immature spouse can be a bit of a nightmare.
Don't stand for your wife acting childish in a relationship. If she behaves immaturely, get up and leave. Calmly and kindly tell her that when she's ready to have an honest conversation, you'll be waiting.
Set a good example by being open with her and behaving maturely. Couple's therapy can also be an excellent tool for partners to grow and communicate together as adults.
Share this article on
Want to have a happier, healthier marriage?
If you feel disconnected or frustrated about the state of your marriage but want to avoid separation and/or divorce, the marriage.com course meant for married couples is an excellent resource to help you overcome the most challenging aspects of being married.
More On This Topic
You May Also Like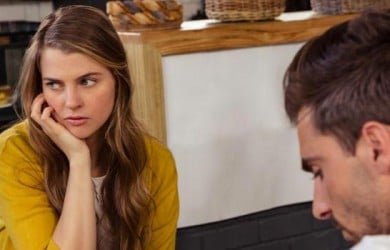 Popular Topics On Married Life