10 Signs of Emotional Immaturity and Ways to Deal With It
It is difficult making things work with an emotionally immature partner. The excessive difficulty, taking out their anger/frustrations on the people around them, and constantly making it difficult for you to connect with them on a deep level could be signs of emotional immaturity in your partner.
The bad thing about this is that when dealing with an emotionally immature person, you would have to walk on eggshells around them. They are easily triggered in the wrong way and seem aloof. Connecting with them is complex, and often, their mood swings can be dramatic.
Research has shown a direct link between emotional satisfaction in relationships and the emotional maturity of the couple. If even one of the partners displays signs of emotional immaturity, it can ruin the possibility of a healthy future for their relationship.
If you are in a relationship with a partner like this, don't worry because you would find this article quite helpful. Let us look at some crucial signs of emotional immaturity, its causes, and how to develop emotional maturity.
What is emotional immaturity in relationships?
According to the American Psychological Association's Dictionary, emotional immaturity leads to expressing emotions without restraint or disproportionately to the situation. Simply put, an adult is emotionally immature when unable to control their emotions in a manner appropriate for their age.
Signs of emotional immaturity in a relationship can become visible in several ways, including being prickly to one's partner, putting up walls, inexplicable mood swings, and the tendency to be out of touch with reality.
What causes emotional immaturity?
In your quest to figure out how to overcome emotional immaturity in your relationship, understand what could be the reason for the emotional dearth in your partner. And how it expresses itself can be instrumental toward helping you identify the best course of action.
Here are a few factors that could cause emotional immaturity in adults:
Lack of supportive parents
Suppose a person grew up under parents who weren't as supportive as they should have (maybe emotionally/physically unavailable or abusive). In that case, the person might grow up to become emotionally immature. Parenting plays an impactful role in how a child develops and how they interact with the world, even as adults.
If you've discovered your partner to be emotionally immature, you may want to take some time to visit their past. What kind of parents did they have? What are the formative memories from their childhood? Answering these questions can provide some context.
Clinical Psychologist Lindsay C. Gibson, in her book 'Recovering from Emotionally Immature Parents,' talks about the generational impact that emotionally immature parents can have on a child's mindset and personality. She observes that the emotional lack in parents can result in the child also showing signs of emotional immaturity even as an adult.
Someone who has had to endure trauma early on might remain emotionally immature, even as an adult. The scars of their trauma might limit their emotional capacity even as adults. The emotional wounds from their childhood might be the reasons for their immaturity.
The research documented by the National Center for Biotechnology Information revealed that adolescents who have experienced traumatizing experiences are more likely to have difficulties managing their emotions in adulthood, including severe PTSD. All these are likely to manifest in a relationship as being emotionally immature.
Related Reading: 

How to Be Mature in a Relationship

 
10 Signs that your partner may be emotionally immature
Emotional immaturity is not visible at first glance. It takes spending time with another person to notice any signs of emotional immaturity in a partner. To tell whether someone is emotionally mature or not, you would have to interact with them for some time.
Just in case you've been wondering, here are a few signs of emotional immaturity in your partner:
1. Emotional detachment
When you constantly feel emotionally estranged from your partner (especially when you find them constantly putting up mental walls between you), they could be displaying emotional immaturity.
Under these conditions, they struggle to talk about their feelings, and achieving emotional intimacy is difficult.
Related Reading: 

Signs of an Emotionally Disconnected Marriage
2. Compromise is difficult
If you find yourself doing all the 'bending over backward' in the relationship, you may want to put a foot on the brakes and think things through.
One sign of emotional immaturity in adult men/women in relationships is that they may find it challenging to be accommodating.
Related Reading: 

Do You Know How To Compromise In Your Relationship?
3. Playing down meaningful conversations
If your partner is known for trying to weasel their way out of emotional conversations, it could signify that they are dealing with emotional immaturity. Please note what they do and tell them about these when you have critical conversations with them.
Expressing your feelings to your partner and having conversations about the future of your relationship are essential aspects of all adult relationships. Constantly trying to steer the conversation in other less-relevant directions could be a sign of emotional immaturity.
4. Getting defensive easily
If things were perfect, you should be able to bring up specific conversations around your partner (even if they aren't the best of topics), critically examine issues, and work out solutions to complex challenges without feeling attacked. However, emotionally immature partners always get defensive if they feel cornered.
They would lash out at the slightest opportunity and may try to make you feel bad for bringing up their issues. It is an important sign of emotional immaturity when some people feel targeted over minor things.
Related Reading: 

How to Stop Being Defensive in Relationships

 
5. Not communicating their love
There's every possibility that an emotionally immature partner may not even know your primary love language, even if you have constantly tried to communicate your love and admiration for them using theirs.
When your partner is emotionally immature, they may not see the need to be thoughtful or do the lovely little things for you. On the other hand, they have high expectations that you should do every one of these for them.
6. Bearing grudges
Everyone makes mistakes. However, has your partner ever gotten angry at you for something completely insignificant? Has that grudge stretched for the longest time with no effort from them to let it go?
Another sign of emotional immaturity in relationships is that the immature partner usually holds onto tiny grudges for the longest time. Coupled with the fact that they are mostly emotionally estranged from their partner, they may find it difficult to come clean with the partner.
Related Reading: 

How Holding Grudges Affect Relationships and Ways to Let Go
7. Making decisions alone
It's one thing when your partner decides to have quaker oats for breakfast instead of bacon and cheese. However, it could be a red flag when they start making major decisions (like relocating to another state) without consulting you.
Relationships are all about communication, compromise, and understanding. When your partner takes away your right to make significant decisions as an adult, you may want to pay double attention.
8. Shifting blame easily
Notice how difficult it is for your partner to take responsibility for their actions. Even when they make a mistake and what they have done is obvious, accepting responsibility is like an arduous task for them. An emotionally immature partner would blame you for their mistakes if given the opportunity.
Taking responsibility for your actions and words is the marker of a mature individual. It makes it easier to address and move past any hurdles in your relationship.
Related Reading: 

1

0 Ways Blame-Shifting in Relationship Harms It
9. Low self-esteem
Depending on your partner's personality, low self-esteem may be a bit difficult to spot out.
Emotionally immature people can easily mask their traits under a veil of cynicism/irritability/ego. However, with a careful look under what they show, you may find an insecure person.
Related Reading: 

How Low Self Esteem Affects a Relationship
10. Making you feel alone
Your feelings of loneliness could be because you have to put up with so much in the relationship; mood swings, emotional detachment, manipulation, etc.
One sign of emotional immaturity by your partner is that even when you are with them, it is almost impossible to bond and have a good time.
 

Related Reading: 

Are You Feeling Alone in a Relationship
How to deal with emotional immaturity in relationships
Developing emotional maturity is a necessary part of healthy relationships.
According to the APA Dictionary of Psychology, emotional maturity is a high and appropriate emotional control and expression level. In simple terms, a person is emotionally mature when they can control their feelings and the way they react, no matter the circumstances.
Emotional maturity in relationships is an important element, especially if your partner displays signs of emotional immaturity at first. As a result, it is necessary that you cut them some slack and give them an enabling environment to heal.
Here are a few steps to deal with emotional immaturity:
1. Identify the challenge and seek help
It is almost entirely up to your partner to take this first step. However, with the right/encouraging environment (created by you) and the constant reminder that you're with them in whatever they're going through, they may be able to identify that there's a challenge that needs fixing.
Part of their help can be to visit a psychologist who could help them get the emotional immaturity treatment they need.
2. Practice self-care
Your partner's immaturity might affect both you and your partner. If your partner is the one who's dealing with emotional immaturity, encourage them to practice self-care. Self-care will help them deal with anxiety and manage their stress levels (especially if they've been dealing with PTSD and stressors from their past).
You, on the other hand, could also use some self-care. Practicing taking care of yourself as individuals and as a couple will go a long way to eliminate these signs of emotional immaturity that threaten to tear your relationship apart.
Related Reading: 

Ways to Practice Positive Self Care in Your Marriage
3. Spending time together
Spend quality time together regularly, doing what both parties love. Spending time with your partner can help you build emotional intimacy and give them a way to get a hold of their emotions once again. Focus your attention on restoring emotional intimacy in your relationship.
Check out this video for understanding important tips about spending quality time with your partner:

4. Stepping back
Please understand that stepping back is just you, looking out for yourself. If you have tried everything and even gotten your partner to see a professional (and things aren't working out), you may want to consider the idea that the relationship may have to end.
Keeping a hold on your mental and physical health is essential. Hence, packing your bags and walking away isn't a crime.
Conclusion
Dealing with an emotionally immature partner is hard work, and as time passes, it starts looking impossible. Here we have looked at the signs of emotional immaturity, its causes, and how to overcome them.
Observe whether your partner is displaying the signs of emotional immaturity mentioned here. If yes, try your best to resolve them with help from trained psychologists. But if you notice no change, try to reassess your relationship status.
Remember that emotional maturity, regardless of what may have happened in the past, is possible. And relationships flourish when maturity is at its core.
Share this article on
Want to have a happier, healthier marriage?
If you feel disconnected or frustrated about the state of your marriage but want to avoid separation and/or divorce, the marriage.com course meant for married couples is an excellent resource to help you overcome the most challenging aspects of being married.
More On This Topic
You May Also Like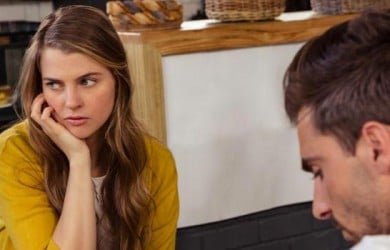 Popular Topics On Married Life