15 Things to Do When a Guy Ignores You After an Argument
No matter how much you love your man, there will be times when you disagree with him on some issues. This does not change your love for him, but disagreements in relationships exist because both partners have different mindsets and value systems.
Sometimes, what happens after an argument can be unpleasant for both parties. What do you do when a guy ignores you after an argument? There will be different thoughts running through your mind, and it might be challenging to conclude.
In this article, we will be helping ladies figure out various possible reasons for questions like "why is he ignoring me?"
Related Reading: 

How to Make Him Talk to You After a Fight
What does it mean when a guy ignores you after an argument?
Not everyone talks much after an argument because silence is their coping mechanism. It is important to find out if it is your partner's behavior and be patient with them. It might be challenging to deal with, especially if it is a long-distance relationship.
However, if you know that it is not their nature, you need to understand that he needs time to chill because the emotional trauma is still brewing in his mind.
In Peter White's book titled Why Men Go Silent, Ignore you, refuse or won't share their feelings.
He reveals various insights that allow women to know what is going on in their man's head when he ignores them.
Why does he ignore you after having an argument?
As earlier mentioned, an argument is bound to happen in a relationship. During this time, you and your partner might act distasteful towards each other and settle up later.
However, when he stops talking to you and takes a long time to settle, you need to find out the main issue. You need to understand that he is ignoring you for a particular reason, and you should be patient to communicate and resolve the problem with him.
Related Reading: 

My Husband Ignores Me– Signs, Reasons & What to Do
Do guys ignore you if they are hurt?
The truth is, not all guys will ignore you when they are hurt. Everyone is wired differently; some guys will lurk around even while they are hurt, while others will keep their distance.
If you have had previous fallouts in your relationship, your partner's behavior during those times is a valid pointer to if they will ignore you when they are hurt or not.
Related Reading: 

Things to Avoid After an Argument With Your Partner
10 Reasons for a guy to ignore you after an argument
Did you recently argue with your guy, and you ask why he is ignoring me after a fight? When you understand the reason for his behavior, you will better handle the situation and save your relationship.
Here are some possible reasons why your guy is ignoring you.
1. He has other commitments
Your guy might be ignoring you after your recent fallout with him because he has other commitments to attend to.
Even though he knows that attending to the issue in his relationship is important, those commitments will give him the needed space to cool off and think properly.
It would be best if you were patient with him without bringing up assumptions that might end up aggravating the issue.
2. He needs time to assess the situation
After every major disagreement, you will be angry with each other, and he might decide to keep his distance by ignoring you.
Your man might think it is better to ignore you so that he can carefully assess the situation and come up with a solution that favors both parties.
It might take some time for him to evaluate the situation, so you have to be patient with him.
3. He is pained by what you did
There is a chance that your role during the disagreement is hurting your man, and he has decided to ignore you. The possible reason for his decision in this context is, he hopes that ignoring you will make the hurt go away.
If you know you did some hurtful acts, and it is why he is ignoring you, you can warm up to him and apologize.
4. He is mad at you
One of the common reasons guys ignore their women is that they are mad at them, especially after having a hot argument.
In this case, the last thing he wants might be to keep to himself till he is over the matter. You can quickly tell from his disposition towards you, and if you notice he is mad at you, strive to make him calm down.
Also Try: 

Is My Boyfriend Mad at Me Quiz
5. His actions pain him
Your guy might be pained by the role played in the disagreement, and he could be feeling guilty for hurting you.
Hence, he can decide to ignore you to figure out the best way to apologize. So, when he goes silent after an argument, this is one of the possible reasons.
6. He is confused about the situation
It might be that your man is puzzled by the whole situation, and he needs time to assess the entire situation.
So, he might choose to avoid tackling the situation by avoiding you. He probably doesn't want future confrontations, and he might be trying not to hurt you because of his ignorance.
7. He doesn't want to make the situation worse
When he stops calling you, and he begins to ignore you, maybe he doesn't want to make the waters murky. Therefore, he has probably decided to avoid you so that the both of you can calm down and converse with a cool head.
You need to consider this if you are thinking of confronting him; you can consider this possibility.
8. The disagreement might look like a bit of an issue to him
If you notice that your man is ignoring you, it could mean that the issues are trivial. Eventually, you might discover that the matter is quite silly and appreciate his actions better.
He might be doing this because he doesn't want the both of you to fight again. Hence, don't be surprised when he approaches you lovingly one day to make you understand why.
Here is a video that gives you more insights into what a man is thinking when he ignores you:

9. He needs a break from the relationship
It is important to note that needing a break from the relationship is not the same as quitting.
Your guy might decide to take a break for a short while to assess the situation. It would help if you were patient with him till the break is over.
Related Reading: 

Taking a Break in a Relationship Rules for Couples 
10. He wants to end the relationship
It might be painful to realize this, but if you notice that he has stopped talking to you and he is ignoring you, he probably wants to call it quits.
He is most likely waiting for you to pick the hint and move on with your life. If he ignores you for a long time, approach him calmly and ask him what he wants.
Related Reading: 

Ways to Make up After a Fight With Your Partner
15 Things to do if a guy ignores you after an argument
After arguing with your guy, you need to avoid complicating issues by trying to pick up a fight; you should be after conflict resolution. When a guy ignores you after an argument, be careful of your actions because it determines how fast the issue would be resolved.
If you are wondering what to do when he ignores you after a fight, here is a list of some actions you can take.
1. Assess the situation
If you just argued with your guy, you need to assess the situation by first identifying the root cause and other elements of the fallouts.
You can discuss with a trusted friend to help you spot the aspects or patterns you might have skipped.
2. Avoid assuming and jumping to conclusions
Assumptions are the lowest form of knowledge; if you keep assuming and making conclusions from these, it can affect your relationship.
If you notice your guy is ignoring you, it is important to understand why before you start accusing him.
3. Give him the benefit of the doubt
You need to ask yourself if your partner repeatedly ignores you after an argument or a conversation.
If he does not, there may be something else bothering him. But, there is also a chance that he is trying to wrap his head around the issue.
4. Have a conversation with him
When you disagree with your guy, and he ignores you, one thing that should be on your mind is discussing it with him.
It would help if you were strategic about this action by first observing his efforts for a while before initiating the conversation. However, be careful not to start the blame game when conversing.
Related Reading: 

Conversations With Your Spouse: Dos And Don'ts
5. Try to acknowledge your faults in the argument
When there is a disagreement in a relationship, both parties have their part to play. So, you can approach your guy and let him know you are aware of your faults in the fallouts.
When you do this, it might spur him to do the same thing and resolve the issue.
6. Prepare his favorite meal
If your guy is ignoring you, you can get his attention by preparing his favorite meal.
With this, it might be difficult for him to ignore you because he will feel happy after the meal, and he will be ready to discuss.
7. Inform him that his silence is affecting you
No matter how mad a guy might be at you, deep down in his heart, he still cares for you.
So when you tell him that his actions affect you, he might be moved to make amends and join you in conflict resolution.
8. Create new memories or remind him of past ones
Sometimes, all you need is something to juggle his memory. Hence, you can suggest that the both of you go somewhere special with an ambient atmosphere.
Alternatively, you can perform some activities that remind him of memories the both of you have created in the past.
Related Reading: 

Ways to Create Memories with Your Partner
9. Reach out to his trusted friends and relatives
When your guy ignores you after arguing, and it isn't easy to communicate with him, you can share with his trusted pals and relatives.
If he has ignored you for a long while, there is a chance that his close friends and relatives might have noticed.
10. Reach out to a professional relationship counselor
A professional relationship counselor would have the knack for detecting hidden cracks in a relationship.
Hence, if you are wondering what to do when he stops calling and texting, you can contact a professional relationship counselor for help.
11. Apologize to him
If your guy ignores you, it is important to take time to check the situation, accept your faults and apologize. He may be waiting for your apology before he starts talking to you again.
If you don't know how to apologize, here are some words to use from Pauline Locke's book titled Heartfelt ways to say I'm sorry. You will learn the right words to use to get forgiveness from your man.
12. Keep yourself busy
When a man says he needs time to think after a fight and begins to ignore you, you keep yourself busy to prevent thinking.
Then, there is a chance that your man will reach out to you when he is ready to talk. So, you can focus on other aspects of your life and move forward.
13. Meet up with people who love you
Even though you are in a relationship, you still need the presence and acquaintance of those who love you, especially during hard times.
For example, when you observe and ask why is my boyfriend ignoring me after a fight, you might need to gain clarity from those who love you. These people will provide you with emotional support to keep you psychologically stable to not lose your mind.
14. Use other forms of communication
If you feel your boyfriend is ignoring you, you can use other forms of communication to reach out to him.
However, before you conclude on your boyfriend's behavior, you have to be sure if their action is deliberate or not.
15. Show him how much you love him
One of the reasons why guys ignore their ladies is insecurity. An insecure guy can decide to ignore you if he feels you can leave at any time.
If you need more insights on how to resolve issues in your relationship, you can check out Paul Shaffer's book: Conflict resolution for couples.
This bok comes with an extensive insight into having a healthy relationship by resolving conflicts amicably.
Related Reading: 

Ways Couples Can Repair Their Relationship After an Argument
Conclusion
When a guy ignores you after an argument, it is normal to feel worried or afraid because you are not aware of the unexpected actions from his end.
Hence, it is vital to be patient with your guy and treat him with love regardless. If you decide to ignore him too, it is disadvantageous because two wrongs cannot make a right.
When you notice it is the right time, you can start a conversation with him and find out why he is ignoring you.
Share this article on
Want to have a happier, healthier marriage?
If you feel disconnected or frustrated about the state of your marriage but want to avoid separation and/or divorce, the marriage.com course meant for married couples is an excellent resource to help you overcome the most challenging aspects of being married.
More On This Topic
You May Also Like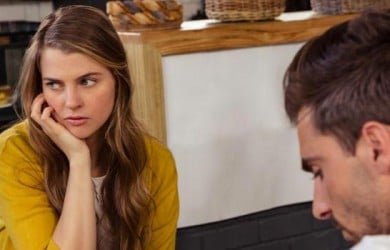 Popular Topics On Married Life