Taking a Break in a Relationship to Fix a Struggling Relationship
The idea of the relationship is fantasized in the popular culture to such an extent that singles are starting to question their personal existence.
Undeniably, a relationship with the right person would always make you feel on cloud nine.
Nonetheless, for what reasons, the phrase 'taking a break in a relationship' is misinterpreted by the majority as a lily-livered way to end a relationship.
For the uninitiated, what does taking a break mean in a relationship?
But often, in a conflict-ridden relationship, taking a break from a relationship becomes important for couples to helps them have room for processing their thoughts and emotions, and for thinking about their future.
Also watch:
But, if the break-span is taken seriously, it will generate fruitful results at the completion of the decided time frame. There are different stages of a relationship break and if done right, it can lead to self-discovery and growth.
Stop viewing 'taking a break' from your loved one as a deadly sin but rather, consider it as a supreme blessing.
So, does taking a break from a relationship work? While taking a break in a relationship may not prove to be a good thing always, for some, it can help in bringing a derailed relationship back on track.
In cases of an irreparably toxic relationship, a break works as a soft launch into a permanent break.
Nevertheless, here is why taking a break in a relationship to fix your problems is a good idea if you are both willing to work hard on saving the relationship.
1. It's healthy for both of you
At one point in time, relationships will get ugly and messy.
Couples will start to heap the entire blame on each other without giving a second thought. Mere assumptions, endless fights, nagging doubts will hover over your relationship.
At such a vulnerable point in a relationship, do breaks help relationships?
Rather than ending the relationship on a bad note which can seriously impair your overall well-being, it's better to opt for taking a break in a relationship.
Everyone needs solitude at one point. Hence, the break-span will give you room for self-reflection and will allow you to become more self-aware.
Separating yourselves from each other will allow you to think clearly without anything to cloud your judgment.
Always be mindful of the fact that in a relationship your mental health should be at peace first and then the rest, period. Taking a break from a relationship to find yourself is an act of self-preservation. This also answers the question, "are breaks in a relationship healthy?"
Related Reading: How to Recognize and Overcome a Struggling Relationship
2. Absence makes the heart grow fonder
Parting ways and going on a hunt for another significant other is not what taking a break in a relationship is.
Rather, it's about assembling your thoughts, reshaping your perspectives about your loved one, while taking a break from marriage or relationship.
So, do breaks in relationships work?
Being apart from each other for a while makes your heart grow fonder for your loved one.
Soon enough, the two of you will realize that you can't live without each other because how long will the couple go without exchanging stories over a cup of tea at the end of the day, playing with her hair, having a playful banter or making breakfast together on a Sunday Morning.
Spare a minute and think about elderly people saying ' One never realizes the importance of something/someone unless it's gone.
3. You get time to retrospect
The break-span will give the couples adequate room to get over exasperation and agitation. So, the answer to the question is taking a break in a relationship good, lies in the affirmative.
Stacking up bitter feelings and letting misunderstandings take root while being in a relationship will bring no good to either of the two.
When distanced from each other, the couples will able to focus on things which went wrong rather than jumping to conclusions.
This begs the question, how to make a relationship stronger after a breakup?
Talking is the key to eradicate barriers.
Therefore, the distance, space and time, while taking a break in a relationship, will refuel love and tenderness in both of the parties, which will let them talk it all out in a calm and composed manner.
Being good listeners, a better understanding of the significant other and engaging in stimulating conversations will become a part of the relationship again, because of the fondness, which has been rekindled.
4. You can discover who you are
When the two parties cut off communication; there is a temporary stop on tagging each other on memes, calling each other when anything happens or looking forward to a candle-light dinner.
So, what to do during a break in a relationship? Get to know who you are as a person, separate from your identity as a partner in a relationship. Pursue your interests, explore new hobbies and visit your friends and family.
Alongside this, aim at taking time apart to strengthen the relationship by figuring out if and how your relationship problems can be resolved.
Most importantly, make a few relationship break rules and abide by them.
Taking a break from marriage while living together or a close long-standing relationship requires a couple to come to terms with mutually agreed-upon rules on how to take a break in a relationship.
Whether it is communication during a relationship break, sex, or money following the mutually negotiated basic guidelines can teach couples to try and stay together by giving them a taste of the alternative.
While taking a break in a relationship, the realistic time-frame and distance will make you realize what you want.
Is being in a relationship with your significant other healthy for you?
Is this the person you want to spend the rest of your life with?
Are you setting the bar too high for your loved one?
Is the relationship making you stressed instead of destressing?
The two parties will come to terms with themselves and will explore their true inner self during this break.
Take a break not to play around and look forward to getting in bed with other people but rather, scrutinize yourself in a better way.
Share this article on
Want to have a happier, healthier marriage?
If you feel disconnected or frustrated about the state of your marriage but want to avoid separation and/or divorce, the marriage.com course meant for married couples is an excellent resource to help you overcome the most challenging aspects of being married.
More On This Topic
You May Also Like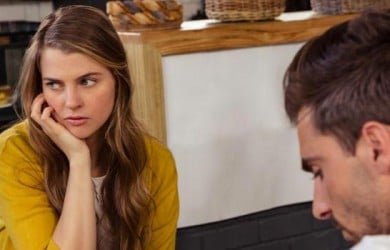 Popular Topics On Married Life