What to Do When It Feels Like the Spark Is Gone
You don't feel the same passion in your relationship anymore. It doesn't excite you, and you don't feel wild like you used to. The magic is gone. Simply put, there is no spark left in your relationship. Now the question comes, what to do when the spark is gone?
What is the spark?
Remember how you get butterflies in your stomach when you talk to someone you like. How wild you want to be when you're with them.
The magical show you witness when you're in love. Well, that's the birdie we call spark, those butterflies, that wildness, and that pretty magic.
Keep reading to know how to get the spark back in a broken relationship.
Related Reading: 

Tips to Reignite the Romantic Spark in your Relationship
What makes the spark disappear?
Now you know what spark is, and now you know if there is the spark in your relationship, or you're pretty sure that it's gone. But the question is, what makes it disappear?
There can be a lot of reasons for lost connection in a relationship. Some of them are listed below:
You two are taking each other for granted.

You have shuffled your priority list, and now your partner is out of it.

Less or no communication about your feelings with your better half.

You don't feel attracted to them like you used to.
Reasons your relationship has lost its spark
Many relationships go through tough times and revive, but some things can hurt your relationship and turn it into a passionless relationship.
Here are a few reasons that might be the reason why there is no spark in your relationship now:
True love and intimacy are about being honest. If you are not entirely yourself with your partner, you will hold things back from your partner. Dishonesty can leave a noticeable scar on trust and can wound your relationship.

If you do not have enough action in the bedroom, you might lose that spark sooner than you estimated. You need to keep things hot there.

You are not spending enough time with your partner. You are not making any valuable or happy memories with them.

You have accepted your relationship as it is, and you have stopped trying to do anything new for a breath of fresh air.
Related Reading: 

The Ins and Outs of a Passionless Relationship
Watch this video to know more tips about keeping your relationship healthy:

Signs that the spark is gone
There are pretty high chances that you're not even sure if you have lost the spark in the relationship or it's just you overthinking everything. So to help you out, here are some signs of not being in love anymore:
You two lovebirds don't go on dates anymore. Yes, dates do matter.

You two don't hold each other's hands. Those gentle and sweet touches have gone 'poof.'

You criticize each other on every little thing.

Your sex life is wilting like its winter out there.

You don't make an effort to make each other happy.

You'd instead appreciate the idea of having fun with your friends rather than your partner.
Now that you have read the above signs, below is what to do when the spark is gone.
Related Reading: 

How to Revitalize a Relationship- 10 Tips
10 Things to do when the spark is gone
You want that passion back. You want to reignite the spark in your relationship. So here are some tips on what to do when the spark is gone.
1. Don't blame yourself
If you want to get back in love with your partner, you have to quit overthinking and blaming yourself.
Was it me? Did I do something? Or maybe I didn't do enough!
It's widespread that you'll feel this way. But it's nobody's fault. Rekindling love takes time, patience and focus on improving things.
2. Accept the truth about your relationship
No relationship is always rainbows and unicorns. Like us, relationships too grow with time.
You have to accept that it's not always going to be the first lovey-dovey month of your relationship. Your relationship is growing, and so should you.
Instead of thinking about how to get the spark back and do things as you did in the past, do something new to ignite the love flame.
3. Try to understand your feelings
Before you go running to your partner with a heavy head, you should understand yourself first. Listen to your heart.
Draw a clear picture of your feelings, and then discussing it with your partner will be a lot easier.
4. Now it's time for you two to have a conversation
Every healthy relationship needs a constant and open chit-chat. Remember the picture you drew above. Now is the time when you share it with your partner. Tell them what's on your mind.
Don't try to complain, instead put it in a concerned way. But don't forget that your partner is also a part of this relationship. They, too, will have a picture to share.
Related Reading: 

10 Conversations Every Couple Needs to Have for a Better Marriage
5. Take a break
Go on a vacation. There's nothing like a carefree and fun vacation. Utilize that time by understanding and loving each other.
Being alone away on holiday will give you some space to focus on each other and talk your hearts out. It can bring back the spark.
6. Reignite the bedroom
Try something new in bed. Try to ignite new flames. Everyone loves it when it gets a little spicy.
If you can get it back in the bedroom, it's a good start.
7. Spend some time
Share some quality time while indulging in some common hobbies or activities. Take bike rides, visit an old friend, or take out old pictures over drinks and there will be lots of good things to share.
However, you feel comfortable, keep an honest conversation between you now and then.
Related Reading: 

11 Ways to Have Quality Time With Your Partner
8. Show gratitude
Appreciate each other's presence. Sometimes all that your partner wants to hear is 'I Love You.' These three words are magical.
9. Clean up for your partner
Go on a movie date or a dinner date. Surprise them with little gifts.
If you don't usually do it, then dress up for them. These little things are more than little. They make a notable impact, which could be good for your relationship.
10. Don't set false expectations
More importantly, always remember that not every day will be magical. Somedays, you will feel tired, or your partner will feel down. And that's the time when they'll want you to understand them and support them.
Relationships are dynamic. They'll need your continuous attention and effort. Don't let the movie world tell you otherwise.
Related Reading: 

20 Ways to Restore the Passion in the Relationship
Conclusion
Once you know the problem, it's time to work upon it. Decide together a way to solve it. So stop thinking about what to do when the spark is gone. Get working on your relationship.
Share this article on
Want to have a happier, healthier marriage?
If you feel disconnected or frustrated about the state of your marriage but want to avoid separation and/or divorce, the marriage.com course meant for married couples is an excellent resource to help you overcome the most challenging aspects of being married.
Learn More On This Topic
You May Also Like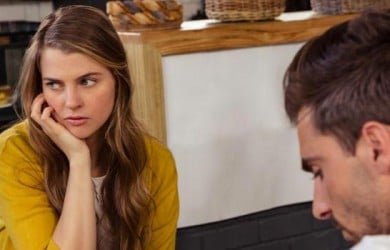 Popular Topics On Married Life