The Ins and Outs of a Passionless Relationship
The ins and outs of a "Passionless Relationship.'
Almost half, if not less, marriages end in divorce. This does tend to put a damper on the whole "till death do us part" narrative.
However, it is not the institution that is at fault. Rather, it is the people blindly running towards the said institutions, either way, too early or dragging their unwilling partners with them. Many times, a couple is found saying that they are left with no passion in a relationship anymore.
Due to this lack of enthusiasm, with time, and as the honeymoon period ends and responsibilities start to take a toll, there comes when there is no passion in marriage.
The lack of passion does not have to mean an absence of love or any sexual drive. It can best be explained as if the person is sitting on a couch watching a homemade movie rather being part of the actual event.
One loses the willingness to be a part of their family's life anymore. The interest, curiosity, and the drive – all gone because you have realized that you are in a passionless relationship.
How important is passion in a relationship?
A passionless relationship is like an elephant in a room. It is difficult to hide and even more difficult to ignore. Be it a fling, relationship, or marriage without passion, it directly influences the people around you.
If you are still looking for how to reignite the passion in marriage, before reading and researching, try to research a bit about your partner.
Try paying attention to them.
How to bring passion back into your marriage
Do you wonder how to get passion back in your marriage?
1. Pay attention
The main thing to any relationship is to pay attention to each other.
Focus on each other. Change and alter a few things here and there.
The point that if you like it, stick to it, does not work always. Try a few things once in a while, surprise each other, plan date nights, and gift each other sweet little things and knick-knacks to turn things around.
2. Do not play the blame game
Whatever you do, do not play the blame game, saying that it is all just because of your passionless relationship.
So, the main question that arises is that, "Can a marriage survive without passion?' And if there isn't any passion left in a marriage, how to reignite the passion in your marriage?
Searching for lost passion in a relationship is a must.
3. Never give up
One should never give up on their partners, spouse, or feelings. Work on your life to get the passion back in your marriage, and start building passion in your relationship as the alternative is seldom what one desires.
The alternative is usually a long and lonely road.
True, that with time, people and their lives change, their priorities change, and so does their likes and dislikes. Just because there is no passion in your marriage anymore, should one call it quits?
If you are still thinking that can a relationship survive without passion? If you would just put one foot after another, and hope for the best then maybe, just maybe, it will work maybe, as no one can be certain for the future.
However, learning to fall in love is much easier and kinder than to try and fool your partner, and spend an eternity in a passionless relationship. But, with the changes, one should work on their life and their family.
Building passion in a relationship can seem like a daunting task at or before the beginning, but can easily be achieved by paying attention, focus, and due love to one's partner or spouse. After all, you were filled with passion and love for that person, no?
Emotions can never dissipate completely. They lessen or weaken with time.
4. Do things for your partner
As per researches were done, relationship without passion cannot survive if you are not willing to do things for your partner. If you are not willing to sacrifice your priorities for them, do you think that your relationship can prosper? It becomes a vacuum that sucks out the life from the relationship.
A passionless marriage is no one's cup of tea or something that a teenager or a young person dreams about.
But, unfortunately enough, dreams do not always come true, or dreams are not always served to you on a silver platter. Sometimes, you have to work hard for it, sometimes you have to become a better version of yourself, prove yourself to be worthy before you can achieve that certain dream.
Every relationship requires work, time, and effort — work towards igniting that long lost passion, work towards a better, happier, and healthier life. Lack of passion in a relationship or lack of passion in marriage does not mean the end of the world.
One can work for or towards it, and with a little bit of luck, you can achieve your happily-ever-after life.
Recognize your honeymoon period for what it is. Wait for the initial high to blow off. And even if you find yourself knowing in your heart that you are meant to be, discuss the harsh reality of life before you go bursting through the doors of marriage.
As it is not always easy, and not everyone can will themselves to ignite passion or fall in love all over again. At times, a single passionless relationship can ruin more than just two lives.
Share this article on
Want to have a happier, healthier marriage?
If you feel disconnected or frustrated about the state of your marriage but want to avoid separation and/or divorce, the marriage.com course meant for married couples is an excellent resource to help you overcome the most challenging aspects of being married.
More On This Topic
You May Also Like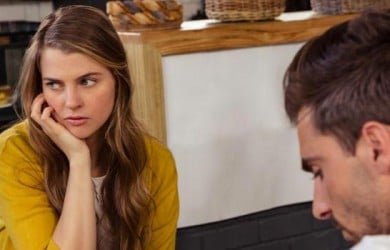 Popular Topics On Married Life