How to Revitalize a Relationship- 10 Tips
Are you losing your spark as a couple, and do you want to know how to revitalize your relationship? Keep reading this article to learn how.
Generally, life is full of ups and downs, and romantic relationships are no different. No relationship is a bed of roses. Love is sweet and refreshing, especially at the beginning. You have finally found someone who makes you happy. It feels like the experience should keep going. The reality is, it can't.
As you live through life, you and your spouse will witness everyday life experiences. These include success-failure, financial constraints, job loss, stress, sickness, children, and so on. These issues distract you from your relationship and cause loss of interest or dissatisfaction.
That is no fault of anyone. You can't be battling with financial pressure and worry about your relationship, at least not at the moment. The issues and challenges you face in your relationship are normal. Life itself is full of issues; talk more to increase love in a relationship.
The good news is you can revive marriage or fix a dying relationship. Clinical Psychotherapist Barabara Bartlein, in her book 'Marriage Makeover,' sheds light on the easy ways with minor changes a complacent relationship can be into a healthy one.
With proven methods, you can learn how to revitalize a relationship and bring the happiness back into your life. To know how to revive a relationship, check the following:
10 Ways to Revitalize Your Relationship
Relationships flourish as long as you are willing to invest new energy and make changes for the better. It is when couples start taking things for granted and become complacent that relationships become unhealthy.
Here are some effective ways in which you can improve and revitalize your struggling relationship:
1. Communication
Communication solves lots of relationship issues between couples. Knowing how to revive your relationship can begin with as little as talking to your partner.
Couples feel unhappy when the spark is no more in their relationship. They may not talk about it quite often, but they know. If you notice the bond between you and your partner is breaking gradually, it is time to revive your relationship with open communication.
Research suggests that effective communication of different kinds can play a significant role in relationship satisfaction. Start by calling your partner's attention to it. Let them know your concern and ask if they have observed the same thing. Communicate your wish to revive the spark in the relationship
It doesn't matter who speaks first. The most important thing is for you to know how to revive your relationship and bring solutions. Once your partner is aware, you will work out a way to revive a dying relationship.
Related Reading: 20 Ways to Improve Communication in a Relationship
2. Spend time together
To know how to revitalize a relationship, you must be willing to spend more time together. Importantly, you must make it a priority in your relationship. Reviving a relationship goes beyond going on a few dinner dates. Instead, it would help if you devoted meaningful time to your partner.
Understand that life won't stop coming at you in different forms. However, you can still create some meaningful moments with your partner that enhance your bond together.
Aside from dinner dates, go on romantic dates ideas with your partner. Take them on a random window shopping or just a casual stroll around the town. These are activities you have probably been doing before. What changes now that you want to revamp your relationship? You are intentional!
Spending time with your partner can even involve setting a roaster for the activities you want to do with your partner. Yes! It means your relationship is vital to you, and you will do anything to learn how to revitalize a relationship.
3. Create time for intimacy
To learn how to revitalize a relationship, you must make time for strong intimacy. Obviously, right? Isn't that what couples do? Of course! This time around, however, you want to fix what is broken in your relationship.
To revive the spark in a relationship, reassure your partner of how much you love them. It's easy to be overwhelmed with business, jobs, children, and other activities tied to survival. However, making time to nurture chemistry is key to reviving a relationship.
If you fear you will forget, set a reminder on your phone. For instance, you can set a 6 am alarm for kissing your partner on the cheek every morning. Before you blink, it will already become a habit and help you showcase your devotion to your partner.
Related Reading: When Is the Best Time to Have Sex and Its 15 Benefits
4. Make some compromises
Here is another common strategy to revive a relationship. If you hardly see your partner due to work or other time-consuming activities, it will affect your relationship. If you want to learn how to revitalize a relationship, you must make some sacrifices.
For example, if you bring office work to your home, you can spend more time in the office during the weekdays. That gives you more time during the weekend to spend quality time with your partner.
Similarly, people in a long-distance relationship might have to make some compromises, including finances and creating time to be together. Try to make the effort to showcase and build on your feelings.
Related Reading: 6 Compromises in a Relationship Needed for a Healthy Marriage
5. Understand your partner
To know how to revitalize a relationship, understanding your partner is necessary. A romantic relationship involves two individuals with unique personalities, backgrounds, and exposure. With these features, your partner will act differently based on their experiences.
Understand that your perspective differs from your partner's, and it doesn't mean your way is the right way. Accept that a successful relationship demands working together to achieve a common goal – growth, love, fulfillment, and happiness. Knowing who you are dating can unimaginably fix love.
6. Express your feelings
Have you ever talked to yourself about an issue? How did you feel? Relieved? Bet you did. Expressing your feelings out has a way of lifting a burden off your shoulder. Now, imagine you tell your love interest about your squash and happy feelings.
To know how to revitalize your relationship, you should learn to describe your emotions more. Sometimes, all you need are sweet, kind words from your partner. Your partner doesn't have to solve your problem. They are only to be there for you when you need them the most.
Also, encourage them to discuss their issues with you. Reviving a relationship is a collective activity. Tell them you love them constantly or leave a little love note in their bag. These little gestures strengthen bonds by learning how to revitalize a relationship.
Related Reading: 

How to Share Your Feelings With Your Spouse
7. Take care of yourself
Most ways on how to revitalize a relationship center on the two individuals. What most people don't talk about is the well-being of the individuals separately. How have you been lately? Are you happy?
The stress of work and other activities can take a toll on you. If you don't take care of yourself or aren't happy, it will be challenging to reinvigorate your marriage. And research conducted on medical students has shown a positive link between indulging in self-care activities and a better quality of life.
Examine yourself to see how you are doing. Take meditation and exercise often. Whatever problem you have, understand it's just a matter of time. All you need is to focus on the solution. Once you are happy with yourself, reviving love in your relationship becomes easy.
8. Fight respectfully
Every couple in a successful relationship out there experiences a fight once in a while. The problem is the fight itself or frequency, but how you fight. It is vital to fight fair if you want to fix a dull relationship.
Make room for arguments and disagreements in your relationship. You are two unique individuals; you can't possibly be on the same page every time. You can fight but not disrespect each other in a healthy partnership.
Explain yourself carefully without attacking the other person. Understand your partner's perspective, and reciprocate. No matter how bad the situation is, there are one or a couple of lessons to learn. You can learn how to revitalize a relationship by fighting without emotions.
Watch this video to learn how to fight respectfully with your partner:
Related Reading: 

10 Reasons Why Fighting Is Good in a Relationship
9. Show interest
Another way to revitalize your relationship is to show interest in your spouse's activities. If you have not been paying attention to your spouse, now is the time. Reviving a relationship involves being together. To be together, you must be engaged in some activities.
You don't need to adopt your partner's hobbies. Take an interest, and you'll see how excited they will be. Suppose your partner loves football. You can show interest by asking who a particular player is. Watch them tell you the player's background story.
Similarly, you can show interest in your partner's activities by asking why they apply a particular lipstick instead of another. These little actions have a way of reviving relationships.
10. Make changes
One way to fix love or learn how to revitalize a relationship is to modify your usual way of doing things. When partners spend time together, it is easy to predict each other. However, you can learn how to revitalize a relationship by doing something different.
Spruce up your romantic life by surprising your partner at work with flowers. They are going to appreciate this. First, they might not expect you to do anything. And they are not expecting flowers.
Think of more unusual but lovely ways to revive your relationship. It might not be flamboyant like going on a trip. It can be as little as visiting a historically haunted house together but ensure an enjoyable time together.
You can try any activities or gestures that will excite and engage your partner. Just make sure they are not your regular.
Conclusion
If you want to know how to revitalize a relationship, you must work with your partner to achieve it. Relationships aren't rosy like the fairytales we read and watch on television. Relationships demand work to achieve success.
When it gets boring, it is best to revive the spark in your relationship. You can do this by communicating, spending time together, sharing things, fighting right, and solving issues together. If you can do these, you can revive a dead marriage or relationship in no time.
Share this article on
Want to have a happier, healthier marriage?
If you feel disconnected or frustrated about the state of your marriage but want to avoid separation and/or divorce, the marriage.com course meant for married couples is an excellent resource to help you overcome the most challenging aspects of being married.
More On This Topic
You May Also Like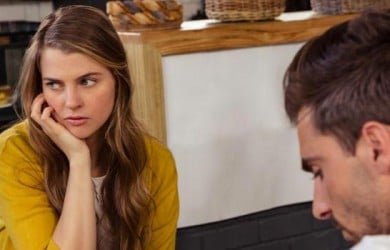 Popular Topics On Married Life