10 Best Valentine's Day Ideas For Parents
Valentine's Day is always a good opportunity to remind people who matter in your life how much you love them. Therefore, beyond expressing love to your romantic partner or best friend, you can also show love to your parents.
This article will show some Valentine's Day ideas for parents that can make their day special.
Natalie Rosinskys book, Valentine's Day, is an insightful piece that informs you on the origin of this special day and other related facts. Reading this book can evoke some valentines gift ideas for your parents.
How to make Valentine's Day special for parents
One of the ways to make Valentine's Day special for parents is to be thoughtful with your ideas. You can explore several ideas, but you need to be sure that it is what they would enjoy.
For instance, booking a movie or outdoor restaurant date might be ideal if your parents are outgoing. If you understand your parents, it could become easier to make their Valentine's Day special for them.
5 things to do for your parents on Valentine's Day
If you're wondering what to get for your parents on Valentine's Day, remember that some of these things might not be physical gifts. Instead, you may do something memorable to show that they are very dear to your heart.
Also, it would be a good chance for your parents to express love to each other and remind themselves why they stuck by each other despite the challenges. Here are some gift ideas or things you can do for your parents on Valentine's Day.
1. Decorate the house
One of the amazing things you can do that will serve as valentines gifts for parents would be to decorate their house. You can tell them that the decorations are your little way of letting them know how much you love them.
If you can't handle the decorations, you can hire someone to do it for you. The primary goal is to make your parents' house look beautiful and different.
2. Get some custom-made gifts
Another way to make Valentine's Day special for your parents is to get custom-made gifts. You can look up some gift ideas on the internet or indirectly ask them what they would love to have.
Getting Valentine's Day gifts for parents is another avenue to remind them of how much they mean to you. It would also be fun to see them unwrap those gifts and express their gratitude to you.
3. Tell stories of your early days as a family
Reminiscing old memories of your family is one of the Valentine's Day ideas for your parents. You can gather the family around and have each person mention their favorite moments while growing up. Telling such stories allows everyone to bond and to be grateful for one another.
It would also teach each person to appreciate the presence of family in their lives. Consider telling these stories over a delicious dinner in a well-lighted room where everyone can see one another's faces.
4. Work on a fun yet small project together
Working on some impromptu projects as a family can be one of the Valentine's Day ideas for parents that you can consider. When you research online, you will see several fun projects that parents can do together. However, you might have to consider their interests so they won't get bored at some point.
When your parents work on perfecting the project, it allows them to enjoy their presence and value each other more. You may decide to guide them or allow them to have all the fun they need unsupervised.
5. Go through old photo books together
Another idea to explore is to go through old pictures together. Doing this is important because it helps everyone to have a glimpse into their old lives. Your parents will see some of the old events they attended and enjoyed. They will also see places that have been out of their mind for a long time.
Going through old photo books is healthy because it strengthens family relationships, memory, and love. Sometimes, it is always good to go through past activities, people, and places to help your parents remember what they once enjoyed.
In this superb piece by Harold Bloomfield and Leonard Felder, you will learn how to enrich your relationship with your parents. This book is titled Making Peace with Your Parents and contains the key to improving your bond with your parents.
10 best Valentine's Day ideas for parents
Anytime Valentine's Day is around the corner, many people focus on romantic partners and friends. However, not everyone remembers that parents need love too. If you have parents, there are some Valentine's Day ideas for parents that you can explore to make them feel happy and young in love.
Here are some things to do for your parents on Valentine's Day
1. Make a dinner reservation for them
One of the ways that you can make Valentine's Day special for your parents is to make a dinner reservation for two. You can look out for fancy and cool restaurants near your parents' residence.
They shouldn't have to travel long distances to have a dinner date. Ensure that the restaurants have a good ambiance and lighting, which would be great for pictures. After making the reservation, send all the details, including the address, as a text or an email.
You can also hire a professional photographer or content creator to take pictures and videos of them while they have a nice time on their date.
2. Treat them to a romantic dinner at home
If your parents prefer to stay in rather than go out, consider preparing dinner for them, as this is one of the cool Valentine's Day ideas for parents. When it's Valentine's Day, you can ask your parents to take the day off while you treat them to their favorite meal for dinner.
You may ask them to request what they want while you get it done. Then, when you're done with the meal preparation, you can allow them to have their privacy. Treating them to a nice romantic dinner is one of the ways for your parents to remind each other of the love and affection that they share.
Related Reading

: 

40 Romantic Dinner Ideas at Home for Couples
3. Get movie tickets
Another Valentine's Day ideas for parents would be to watch romantic movies on Valentine's Day. You can check online for the nearest cinema to your parents and get movie tickets so they can have a nice time.
You can make the booking private so they can have the cinema room themselves. Remember to also pay for snacks they can munch on while watching the movie. If you need clarification on their movie preferences, you can ask them what they would like to have.
4. Plan a trip for them
If it's been a long time since your parents went on a trip, one of the great Valentine's Day ideas for parents would be to plan a getaway or vacation for them. The primary purpose of this trip or getaway would be for them to unplug from the demands of life and focus more on each other.
You can help them take care of some pending engagements on their table so they won't be distracted on their trip. Additionally, you can encourage them to document their experiences on the trip with pictures and videos so they can always relieve those memories.
5. Invite some of their old friends for a small party
Sending an invite to some of your parents' old friends or close acquaintances is one of the awesome valentine ideas for parents that you can consider. Doing this would be a good chance for your parents to reunite with old folks they had not seen in a long time.
Even though they might have communicated with some of them over the phone, nothing beats seeing your old friends face to face. Ensure this is done as a surprise so that your parents will not see it coming. Do well to plan a nice party for them that will help to relieve their youthful days.
6. Help them recreate their first date
One of the nice Valentine's Day ideas for parents is to remake their first date. You can ask them to give you insights into what they did on their first date, and you would help them recreate it. Doing this will help them smile or laugh over old memories that have been stored a long time ago.
During their date, ensure you give them all the privacy they need to spend time with each other over good food, drinks, music, or even movies.
Related Reading

: 

100 First Date Ideas to Make Your Date Memorable
7. Organize a game session for your parents
Regarding what to do on Valentine's for parents, consider organizing a game session. Depending on your parents' preference, you might hold it during the day or at night. Playing games together allows them to have fun, laugh, share some jokes, and work as a team.
8. Plan a small family hangout at your parents' house
Working towards having a small family hangout at your parents' house is one of the Valentine's Day ideas for parents that you can consider.
You may invite some of your family members and have them come around to spend time with your parents. This might surprise your parents, who may not have seen some of them in a long time. When you have the family together in one place, it gets easier to plan activities like cooking, playing games, etc.
Watch this video on how to strengthen the family bond:
9. Plan an outdoor picnic
Having an outdoor picnic is one of the interesting Valentine's Day ideas for parents that you can plan. With this picnic, your parents can spend quality time with each other without having to bother about other things.
During the picnic, they will have lots of time to converse with each other and have fun. They can picnic alone or with a few family members or friends. You can decide to host the picnic outside their house or somewhere quite a distance from home.
10. Book a spa session
You can consider giving your parents a treat at the spa, so they can enjoy the benefits of having a spa day. Booking a spa session is one of the Valentine's Day ideas for parents that you can plan. Going for a spa session will help them de-stress and relax better.
Additionally, if they've been experiencing pain and aches, a spa session helps relieve them. Ultimately, coming out of a spa session brings inspired confidence, and they are likely to have better nights of sleep thanks to your awesome valentines ideas for parents.
Some commonly asked questions
Valentine's Day can become a beautiful moment spent and a memory that you cherish for a lifetime. But it can also be pressurizing when there are a lot of expectations that someone has from this day.
Can we wish Valentine's Day to parents?
Many people believe that Valentine's Day is especially for people who are romantically involved with each other. However, it is important to note that you can also extend the show of love to other special people in your life. Your parents should not be excluded when expressing your love and care.
When you wish your parents a happy Valentine's Day, it could be a subtle reminder of their love.
What is the best Valentine gift for parents?
There are many thoughtful Valentine's Day gifts that you can consider getting for your parents, as there is no specific best gift. However, you might get something they have been longing to have.
So, if you've been wondering what to get your parents for Valentine's Day, be more attentive to their needs, and you will get the right gift inspiration for your parents.
Isabella McCluskey's book titled How To Make Your Parents Happy is an insightful guide that you can explore when thinking of valentine day ideas for your parents. This book contains some agelong secrets children use to make their parents happy.
Final takeaway
After reading through this article on Valentine's Day ideas for parents, you will discover that these ideas are centered on making your parents feel loved and express it to each other.
If you feel that the love between your parents has become frosty, and you want to make Valentine's Day special for them, consider going for relationship counseling. This will help you know how to rekindle the flames between them.
Share this article on
Want to have a happier, healthier marriage?
If you feel disconnected or frustrated about the state of your marriage but want to avoid separation and/or divorce, the marriage.com course meant for married couples is an excellent resource to help you overcome the most challenging aspects of being married.
More On This Topic
Recent Articles
You May Also Like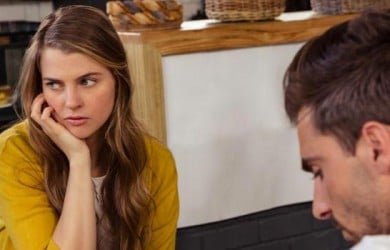 Popular Topics On Married Life