5 Essentials to Cultivate Physical and Emotional Attraction
Which is better, emotional attraction, or physical attraction? What comes first? Which one is more powerful? The truth is, they both have their place.
Some people need to feel a physical attraction to be interested in someone, while others feel attraction based on an emotional connection.
Then again, other people need a combination of both physical and emotional attraction to develop feelings for someone.
We're here to posit a new idea. There doesn't have to be a competition between physical and emotional attraction. Why not have both?
With the right attitude and a healthy dose of authentic self-confidence, you can inspire a fully intimate relationship, both emotionally and physically. You're at your best when you feel your best, and other people see that, too.
Let's take a look at the advantages of cultivating a strong sense of self-esteem and a positive body image to increase your physical and emotional attraction.
The combination will draw you closer together like moths to a flame. It's not a magic trick, but we're going to explain how it works—and how it can work for you, too.
1. Looking as phenomenal as you feel
Wondering what makes someone attractive and how to make yourself more attractive?
It doesn't take a rocket scientist to put together this idea. When you look good, you feel good. When you feel good, then you automatically look better, too.
It doesn't hurt to take matters into your own hands, either.
Sometimes a little improvement here and there can make all the difference in how you feel, and give you just the boost you need to reach out and draw your partner closer.
As you walk down the street, passersby will notice you. If you walk with your head held high, your shoulders squared, and your self-confidence radiating, then they will notice you in a positive light.
In some ways, it doesn't matter how you look. A few extra pounds or crow's-feet won't matter as long as you strut your stuff like you know how charming and gorgeous you are.
People, especially those already close to you, will feel an increased, irresistible pull toward you.
They'll want to know what puts the smile on your face and what's going on behind your eyes to make you exude appeal and confidence.
2. The confidence factor
Let's focus on confidence for a moment. Confidence is pivotal for how to become more attractive and how to have an attractive personality.
Self-confidence enhances your outer beauty and hints at your inner beauty.
You yourself know what it's like to come across someone who's completely self-assured and happy with themselves. Being around someone like that is invigorating and mesmerizing. You want to be around that person all the time. Everyone does.
It can happen to you, too. No matter what your insecurities or perceived flaws are, a self-confident attitude can erase all of it and make you closer to your partner. When you stride into a room feeling sure of yourself and amazing, everyone else takes notice.
When you exude it, people notice your sparkle. They see you as someone who believes in yourself and broadcasts it. That automatically makes you come across as more physically attractive, as well. You're a total package, and everyone craves a total package.
Also watch: The kind of confidence men find sexy.

3. Learn to love yourself
Want to know what makes a person attractive and how to be more attractive? It all starts with self-love.
If you can't love yourself, how are you going to love somebody else? We're paraphrasing RuPaul here, but we're behind the sentiment.
Taking it a step further, if you don't love yourself, then how can you expect anyone else to love you?
Folks are generally enamored by people who love themselves. There's something special about a person who's completely comfortable in his or her own skin.
When you love yourself from the top of your head to the tips of your toes, it shows. In addition, it's easier to give of yourself, which undoubtedly increases intimacy.
As long as your attitude proclaims that you're a stellar, stunning human being with a kind heart, a sharp brain, and a wicked sense of humor, people will respond to that.
Again, conventional beauty standards don't equal a passionate relationship. You have to believe that you are everything, and show love to every inch of yourself—even the inches you don't like as much.
4. A good attitude is the best aphrodisiac
On the subject of physical and emotional attraction, there's nothing sexier than someone with a positive attitude. You know that folks respond to generosity of spirit, a hilarious sense of humor, and wit.
Those traits can make someone fall in love irrespective of physical appearance. Combine the two, however, and you have an irresistible combination.
When you have a good attitude, a sunny disposition, and an attractive exterior, you can't go wrong.
You automatically come across as fabulous, fierce, and flawless to those around you. The only secret is that you have to believe in yourself, your physical attractiveness, and your personality.
5. How to carry yourself
Physical attraction is subjective. Everyone is attracted to something special and unique. There's no way you can appeal to every single person out there—or can you?
Strutting your stuff will convince the people around you that you're someone worth knowing.
However, you can't walk around with your shoulder slumped and your eyes downcast. That gives off a vibe that you're not open to connect.
The way you carry yourself matters. Work it all day, every day, no matter what you're doing. Combine your confident strut with charm, a vivacious personality, and a megawatt smile, and you'll have an effect on everyone you meet.
Emotional attraction and physical attraction aren't mutually exclusive. The way you carry yourself can affect how others view you. If you walk around like a perfect 10, then people will respond to that.
So, are you ready to change your outlook?
Share this article on
Want to have a happier, healthier marriage?
If you feel disconnected or frustrated about the state of your marriage but want to avoid separation and/or divorce, the marriage.com course meant for married couples is an excellent resource to help you overcome the most challenging aspects of being married.
Learn More On This Topic
You May Also Like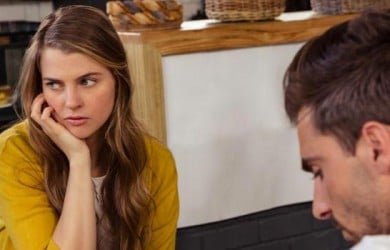 Popular Topics On Married Life