Top 30 Turn-Offs for Women
If you want your partnership to last long, it is vital to be conversant with the common turn-offs for women.
When it comes to dating, there are traits potential partners look out for in each other before proceeding. When some people don't understand their partners, they complain or lose interest in the relationship. Thankfully, they now realize strong and sufficient women play a crucial role in relationships these days. But these women don't come on a platter of gold.
They often set standards for themselves and are vocal about their intentions, needs, and wants. Therefore, keeping a relationship with them requires knowing what turns off a woman or what turns a woman off sexually. The following is the list of the top 30 turn-offs for girls or women.
Top 30 turn-offs for women
Here are top 30 behaviors and habits that can potentially turn off women.
1. Ignoring a woman
One of the biggest turn-offs for women is when they are being ignored. After making your intention to date a woman known, she expects you to give her 100 percent attention. Anything short of this is unacceptable.
Every woman out there wants to be loved and cared for. Call it what you want, but an average woman wants attention from their man. If you aren't giving that, it turns a woman off sexually.
Related Reading: 

When a Woman Feels Neglected in a Relationship: Signs & What to Do
2. Unfaithful partners
Unfaithful partners appear to be one of the biggest turn-offs for women. A strong and self-confident woman will never share her man with another. If she does, it only means she never loved the man in the first place.
Knowing their partners are faithful gives women peace of mind. It also propels her to put more effort into the relationship. When someone finds it difficult to stay loyal to one woman, it repels women, and that's a turn-off.
3. Lying
Don't we all hate the act of lying? While lying is a universal immoral act, it is a more grave offense in a relationship. A typical relationship consists of partners who are truthful to each other and aren't afraid of being vulnerable. When you see your woman as unworthy of the truth, it turns a woman off sexually. It shows dishonesty in a guy, and that's enough to break off the relationship.
4. Actions not matching words
Like lying, another turn-off for women is when a man's actions contradict his words. Words are easy to weave together to pass a particular message across. The best way to get across to a woman is to communicate eloquently. However, some men have trouble keeping to their words. To them, sweet and alluring words are only a means to an end. Therefore, they find it challenging to follow up with the right actions. Again, this shows a lack of manners and dishonesty in a guy.
5. Mixed signals
Mixed signals occur when an individual shows actions or feelings that are very confusing in a relationship. When someone shows mixed signals, they may display their best attitude today and switch to being a jerk the following day. For many women, this is a very wrong signal.
You are either in the relationship or out. You either want them fully or not. Most women hate putting up with such an attitude, showing a lack of manners or dishonesty. Therefore, giving mixed signals is one of the biggest turn-offs for a woman.
Also Try: 

Am I Giving Him Mixed Signals?
6. Taking decisions alone
When someone focuses only on themselves, it turns women off. Again, when you are in a relationship, you become one with your partner. That means you need to involve your partner in everything. Taking decisions without involving your partner shows you have no value for her. For instance, moving from one location to another without informing your partner is wrong. Inadvertently, you are telling her she is unworthy of the relationship.
Related Reading: 

How Being Too Independent Can Destroy Your Relationship
7. Partners who only talk about themselves
It's normal to love yourself too much. Don't we all? However, a relationship demands that you consider your partner as well. When a man focuses too much on himself in a conversation, it pisses off a woman.
She may not show her displeasure, but she is already thinking of getting out of that situation. Communication should be a two-way thing and not one.
Related Reading: 

How to Stop Being Self-Centered in a Relationship: 25 Ways
8. Partners who talk too much
Some people wonder if there is anything like talking too much. Of course, there is. Women are generally known to talk a lot, but such is unheard of with men. Talking about everything without giving your partner some time to process the information is a big turn-off.
It's enough to turn off a woman sexually. Instead, focus on essential topics unless she asked you one in particular.
9. Lack of communication
Women love it when their partners communicate fluently and clearly. There is no point in keeping to yourself and not expressing your feelings. Also, a lazy conversation with your spouse means you are bored or find her uninteresting. This is one of the turn-offs for women who value themselves and their time.
Related Reading: 

What Are the Effects of Lack of Communication in a Relationship
10. Bragging
Bragging is an act most people hate. Boasting about your achievement or possession is one of the biggest turn-offs for women. A man who does this shows pride and insecurities about himself. While you intend to impress a woman, it turns a woman off sexually. Besides, it is considered a lazy conversation with your spouse. Instead, highlight the things that matter and let her find out the rest on her own.
11. Lack of a job
Every woman desires a responsible man who is capable of handling some bills. Don't be deceived; money is significant to make a relationship work. The dinner dates, vacations, and parties won't fund themselves, and you can't afford them nm without a stable job. Even if you don't have one at the moment, your actions should show you are working hard on it.
12. Lack of goals or ambitions
Having a good job is essential, but you also need to have specific goals you want to achieve. If your relationship is thriving as expected, your woman expects you to have some plans for the future. That shows you are serious and ambitious.
13. Not creating time
One of the turn-offs for women is when their partner doesn't create time for them or the relationship. Your job may come with many responsibilities that take up your time, but you should find time for your partners. No matter how little, find a suitable time for your relationship. It tells your woman you value her.
14. Not prioritizing time
A woman doesn't expect you to be perfect, but prioritizing your time and others' shows you know what is valuable. When you don't prioritize your time, you won't prioritize hers. That shows your lack of organization and basic etiquette.
15. A rude partner
Typically, the first date with a potential partner is an avenue to assess each other. Most women look for your composure and behavior, especially to the staff. If you mistreat workers or others, it shows rude behavior socially. That can make a woman call the relationship off immediately. Rude behavior shows a lack of manners and little regard for others. If you can do that in her presence, a woman assumes you will do worse behind closed doors.
Related Reading: 

20 Signs of Disrespect in a Relationship and How to Deal With It
16. Lack of self care
Your woman expects you to be the best version of yourself every time. It doesn't take much from you. Whether it's brushing your teeth as soon as you wake up or taking care of your skin, you need to take care of yourself.
Even if you care for your partner often, she wants to see you do more for yourself. That way, she feels confident going out with you. This article highlights the importance of self-care and what it means.
Related Reading: 

The 5 Pillars of Self-Care
17. Poor grooming habits
Similar to taking care of yourself is proper grooming habits. Poor grooming habits are one of the biggest turn-offs for women. It can make a woman turn you down without listening to your words or offer. Grooming is the general practice of keeping a tidy appearance. That includes neat and ironed clothes, well-cut hair, well-trimmed hair, and so on. Men with these qualities look presentable and organized.
Watch this video for some grooming tips that can change the game for you.
18. Someone who shouts
Naturally, some people have loud voices. For others, it's a habit they have unconsciously developed. When you go out with your woman and speak so loudly that people that are feet away from you hear you, it turns a woman off sexually. Aside from this, it isn't delightful for everyone to listen to your conversation in a public place.
Related Reading: 

Yelling Does Not Help: Don't Shout It Out, Write It Out
19. Someone who doesn't believe in safe sex
When you refuse to practice safe sex, especially with a new partner, it turns a woman off sexually. Partners aren't always together every time. Also, there are situations where partners don't live or stay in the same place. If your partner asks that you practice safe sex when you eventually meet, it's only standard that you comply. It doesn't mean your partner doesn't trust you. Instead, it's for your benefit.
20. Bad sense of humor
One of the things that make a woman fall head over heels in love with their partner is when they make them (the women) happy. Women have varying requests from their partner, but some only want to laugh and have fun. Your words, actions, and reactions to them show you have a good sense of humor. A bad sense of humor, on the other hand, turns off women. You shouldn't have to explain every joke whenever you talk – it's exhausting.
Related Reading: 

10 Reasons Why Sarcasm in Relationships Is So Damaging
21. Boring pickup lines
For decades, great pickup lines have helped many people get their desired partners. Other people have either recycled the pickup lines or gotten creative with their own. However, uninteresting pickup lines can turn off a woman and make her reject your proposal.
Also Try: 

How Flirty Are You Quiz
22. Not respecting the wishes of others
Even when people make the wrong decision, you must respect their wishes. Showing you are more intelligent or forcing your opinion on others can turn a woman off in a relationship. Instead, see from their perspective and understand that it's what they want. They might fail or make mistakes, but they will learn from them.
23. Not supporting your partner
Many women are now getting involved in one activity or the other to sustain a living. Sometimes, these activities might be overwhelming for them. Therefore, helping your woman with her business, house chores or taking care of the house is a gesture she will appreciate.
However, ignoring and showing it's none of your business only makes you unattractive. Having a partner who helps out or shows up often makes the whole process easy.
Related Reading: 

20 Steps to Becoming a Supportive Partner
24. A person who isn't bold
It's a huge turn-off for a woman if their partner does not stand up for themselves. Being bold doesn't mean being aggressive. Instead, it means courage or high self-esteem. You meet all kinds of horrible people who might want to step on your toes intentionally.
Ignoring this or acting unconcerned might pass the message that you are weak. It also shows you won't defend your woman when the time comes.
25. Staring at other people
It's highly disrespectful to ogle at other people, whether in the presence of your woman or not. That doesn't mean you should shut your eyes whenever a woman passes by. Instead, you should focus on your woman without looking at other people to the point that either gets uncomfortable.
26. Men who act like narcissists
One of the biggest turn-offs for women is a man who behaves like a narcissist. A narcissist only sees himself in a relationship. Such men have this tendency to gaslight and shift blame.
They also lack empathy and the ability to recognize their women's needs. It's overwhelming dating a narcissist as nothing you do is right. Therefore, being a narcissist is a turn-off for women.
27. Oversensitive partners
Oversensitive people can act like eggs that can break easily. If you are easily bothered or offended, it will be hard to please a woman. Also, over-sensitive people may worry about little things. For instance, instead of focusing on solutions to a problem, oversensitive people dwell primarily on the issue. That often turns a woman off sexually as it becomes hard to have a normal conversation.
Related Reading: 

Am I Too Sensitive in My Relationship Quiz
28. An insecure
Most women love a partner who gushes over them and adores them. It is an essential love language to many women when their partner only has eyes for them. However, when someone goes overboard to restrict their woman from meeting other people or restricting their freedom, it turns off a woman. That shows insecurities about himself and low self-esteem.
29. Being late to events
Coming late once in a while may be acceptable, but it turns off a woman when it becomes frequent. Waiting for you for hours makes a woman look stupid and cheap. No woman likes to ever feel that way; hence, when a woman notices you are usually late, they lose interest in you.
Related Reading: 

6 Key Tips to Stop Being Insecure in a Relationship
30. Not being initiative
At the beginning of a relationship, it's typical to communicate your preference, interests, needs, likes, and dislikes. However, there are certain things a woman expects her partner to find out on their own. You should read your partner's body language, signs, and behaviors. That will allow you to know more about her. For example, observing how your woman dresses might give you a hint of potential gifts for her.
Conclusion
If you take note of the turn-offs for women as discussed above, you have a high chance of keeping a healthy relationship. Knowing the biggest turn-offs for women or biggest turn-offs for a girl can help you understand your woman better. It can also help you avoid conflicts in the future.
Share this article on
Want to have a happier, healthier marriage?
If you feel disconnected or frustrated about the state of your marriage but want to avoid separation and/or divorce, the marriage.com course meant for married couples is an excellent resource to help you overcome the most challenging aspects of being married.
More On This Topic
You May Also Like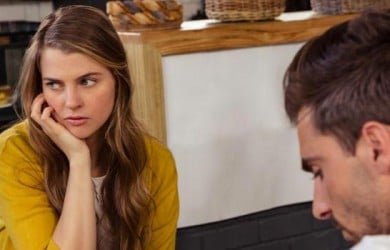 Popular Topics On Married Life