Relationship Advice for Couples Who Are Just Starting
When two people are at the very beginning of their relationship, you can hardly see them seeking advice for couples on how to keep things going. However, it is precisely at the beginning of a relationship when everyone should give a few basic principles a thorough consideration and apply relationship advice for couples. Because, if you step off on a wrong foot, it is usually just a matter of time when the relationship is going to dissolve. This is why this article will remind you of the basics of a successful relationship, and, maybe, a foundation of a good marriage.
Be truthful
Regardless of how obvious this relationship advice for couples is, it is the most difficult one to follow. It sounds pretty straightforward, but once the nuances of any relationship come to play, it becomes apparent how hard it is to balance everything out. But, let's start with the obvious. Ideally, you and your partner will never commit to anything that you would be tempted to lie about. Ideally, you will never be unfaithful, for example.
However, with infidelity, same as with any other thing, if it does happen, be frank about it. Many people who do commit adultery still love their partners. And because of this, they tend to fear losing them. They also don't want to hurt them. This is why many people lie in relationships. However, in adultery same as in any other transgression, you should not take it upon yourself to determine whether they should know it or not.
In other words, if you did do something you believe will hurt your partner or make them angry, let's face it – you shouldn't get to decide what's best for them. And by not telling them the truth, you are treating them as a child, as someone who is incapable of addressing difficult facts of life. You are not respecting your partner, and they deserve your respect. So, whatever you do, just be (sensitively) honest about your desires, needs, wants thoughts, and actions. That's the only way a relationship makes any sense.
Be assertive
We already outlined the next tenet of any successful relationship, and that is good communication. And what is good communication? Assertiveness. By being assertive, you are treating both yourself and your partner with respect. You are respecting their right to their emotions and opinions, and you are not suppressing yours.
People are born assertive. Just watch the babies. They will always let you know what they want when they want it, and how badly. In their unarticulated manner, of course, but they will express both satisfaction and love, and discomfort and need with equal directness. Until they begin to learn the ways of society, which are, unfortunately, mostly suppressive of assertiveness.
In relationships, same as in other areas of life, people are mostly aggressive or defensive, rather than assertive. But, even though there are marriages that last for decades with partners being in an unhealthy symbiosis of a dominant and passive partner, this isn't the way to go. If you want your relationship to thrive, you should learn how to be assertive instead. In short, this means always expressing your emotions and needs, while not taking the right to the same from your partner. This also means not using accusatory sentences or tone, rather talking about your personal experience. It means proposing solutions, and not pushing for them. And, it means understanding yourself to the core, too.
Be empathetic
Be empathetic to your partner. That's the most important of all relationship advice for couples. With truthfulness, respect, and assertiveness also comes empathy. Because when you don't focus on achieving your own selfish goals in a relationship, you begin to see that your partner isn't a means to your happiness. Your partner will, hopefully, bring you immense joy in life. But, they aren't put into this world to do this for you. They have their own emotions, their own viewpoints, and their own experiences. This means that what you and your partner experience will often differ. But, this is when they true empathy for someone you love comes to play.
Your partner will sometimes, possibly, make you mad. They will get sad about something you just can't understand. They will withdraw at times or lash out at others. This is what isn't on your minds when you are freshly in love. But it is these moments that make a difference between a true love and an infatuation. Because you need to have empathy for your partner even when you don't agree with them. That is what builds rock solid relationships.
Share this article on
Want to have a happier, healthier marriage?
If you feel disconnected or frustrated about the state of your marriage but want to avoid separation and/or divorce, the marriage.com course meant for married couples is an excellent resource to help you overcome the most challenging aspects of being married.
More On This Topic
You May Also Like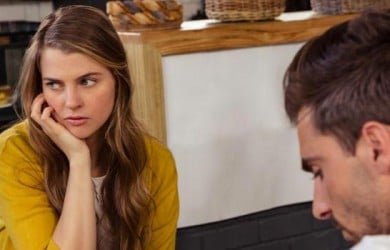 Popular Topics On Married Life