25 Biggest Turn-Offs for Men That You Should Be
Going through the world of attraction can be both thrilling and challenging. It's a realm where preferences and perceptions intertwine, shaping our connections in profound ways.
In this exploration, we embark on a journey of empathy and insight, seeking to understand the biggest turn-offs for men. These aren't judgments but rather signposts on the road to connection.
We'll offer a compassionate lens through which to view the intricacies of what can, at times, dim the sparks of affection. By embracing understanding, we hope to foster healthier, more authentic relationships for everyone involved.
What is a turn-off?
A turn-off is any habit you find unappealing, embarrassing, or disgusting. Seeing this habit regularly is enough to make you lose interest in someone, especially someone you are already developing feelings for.
Turn-offs can be both physical and psychological, encompassing a wide range of factors such as poor hygiene, negative attitudes, arrogance, or incompatible values. They are highly subjective, varying from person to person, as what one individual finds unattractive, another may not mind or even find appealing.
Understanding turn-offs is vital for building and maintaining healthy relationships.
What are turn-offs in a relationship?
Turn-offs in a relationship are habits your partner displays that make you angry, jealous, or sad. Naturally, your mood can change instantly when these habits come to light. The truth is your partner cannot satisfy you fully.
Therefore, it is important to have honest and open conversations about some of these turn-offs, and you should also strive to manage some of them.
In this study by Peter K. Jonason and other authors, you will learn more about the turn-off meaning in relationships. This study is titled Relationship Dealbreakers, highlighting what most people don't appreciate in potential mates.
25 biggest turn-offs for men
Regarding romantic relationships, some traits attract men, and some attributes send them away. So, if you want to land a man, here are some turn-offs for guys.
1. Dishonesty
When a man discovers someone is not honest, it can put them off or make them uninterested. But, on the other hand, men love it when their potential partner shows they can have their back when needed.
Therefore, when they discover any potential trait of dishonesty, they can begin to keep their distance.
2. Cheating
Cheating is closely related to dishonesty, which may be one of the biggest turn-offs for guys. A common saying is, "Once a cheater, always a cheater ."
When a man finds out you are a cheat, it puts him off, and he would not want to be in your life anymore.
3. Reckless behavior
If you have been wondering what are turn-offs for a guy, reckless behavior can be one of them.
Being reckless is one of the turn-offs for men that they don't mess with. When a man discovers someone is reckless, it may scare them because they are likely to replicate such behavior if they marry.
Men will likely keep their distance and cut ties with them to prevent that from happening.
4. Rudeness
Nobody likes rude people. This could be a common turn-off for guys when choosing a romantic partner or a friend.
Some people think being rude is the new cool, but many men don't like it, especially when it becomes a habit. That's why this is one of the key things that turn guys off in a relationship.
5. Social media addiction
When a man is with someone, he may prefer it when they give him their attention instead of always being on their phone.
So, if they are always on social media platforms, spending lots of time there without giving a man the needed attention, it may be one of the turn-offs in a relationship.
6. Frequent complaints
Another behavior that is one of the turn-offs for men is frequent complaints. Men don't like it when someone complains too much.
They prefer it if you use some of your initiative to solve some problems without complaining to them. So they try to stay away when they observe the complaints are getting too much.
7. Being disrespectful
When someone does not respect a man, it can put them off. Not being respectful is on the list of turn-offs for a guy. Many men want to date people who respect them and make them feel good. If you don't respect a man, you might not be in his good graces.
8. Being too dependent
When someone is too dependent on a man for their needs, they may easily put him off, which is one thing that turns guys off. Even though men love to spend on the people they have a crush on or love, they appreciate it when they are quite independent.
They even love it more when they can make good decisions without informing them initially.
9. Desperation
There is a thin line between being "in love" and desperate. One turn-off for men is when they notice that you are desperate for them.
If you want to be with a man badly, you must be strategic about it. When a man notices you cannot control yourself, it may put them off.
10. Not appreciative
When someone lacks the act of appreciating, it might be a turn-off for guys. When a man does something for someone, he expects them to show gratitude no matter how little it is.
However, if you don't show appreciation for his actions, he might not be motivated to do anything again.
11. Entitlement
Being entitled is one of the turn-offs in a relationship. Most men may not appreciate it when you begin to show a sense of entitlement when they try their best to make you happy. Some might begin to avoid you when it becomes a regular feature because it stresses them.
12. Selfishness
When it comes to love, dating, and relationships, both parties are supposed to satisfy each other in their own little way.
However, when the man observes that you don't do anything for him, but he is always getting you things, he can get discouraged.
Many men loathe selfishness, as it is one thing that turns guys off in a relationship.
13. Lack of sexual initiative
Many men take sex seriously when it comes to relationships. If you don't try to be conscious of his sexual needs, he might lose interest.
The lack of effort in bed is one of the main turn-offs for men. All you need to do is make him feel wanted, and he will likely keep coming back for more.
14. Irresponsible friends
When a man wants to be with you, he needs to be sure that your friends are responsible and not responsible for chaos. If he notices that your friends are not responsible, and they nudge you to make reckless decisions, it can be one of the turn-offs for men.
A guy might begin to keep his distance because the reckless decisions of those around you may irritate him.
15. Laziness
Another undesirable trait that turns men off can be laziness. Men may need someone who will motivate them to get better. They don't want someone lying on the couch all day, doing nothing but chatting with people online.
On the other hand, men love it when their partners are diligent in everything they do.
16. Playing hard to get
Mostly, men are expected to chase people they are interested in. When the person knows they have feelings for a man, they give them the green light. However, if they keep playing hard to get and frustrating the man's efforts, he might lose interest in them.
17. Flirting with other people
What turns a man off in a relationship can also cover the flirtatious behavior of their partner.
Men might not appreciate it when their person gives other men attention to the point where they are head over heels for them. They understand that their partner can have other friendships, but it should not get to the point where they begin to flirt with them.
18. Poor hygiene
Another habit that may put men off is poor hygiene. Men likely love it when their partner takes extra care to make them look good. This ranges from having a nice body smell to keeping clean fingernails, hair, etc. When a man sees your hygiene game is not up to par, he can leave your life.
19. Unfriendly to friends and family
Friends and family are usually important to a man, and anyone who sees them as a threat might not stay in his life. If a person does not like a man's friends and family, it is a big turn-off for him, as he might be on his way out of their life.
20. Lack of empathy for less privileged
Men are known to pay attention to how their potential partners treat other people. So, even if you treat a man right, the ultimate test is how you behave toward others, especially those not up to your social status.
21. Behaving like a parent
Some men can be put off when their partner treats them like a parent would. They need a companion, a partner, and a friend in their partner, not another parent.
If the partner behaves like a parent, they may boss him around, which many men fear. Therefore, when men observe that a person has this habit, it turns them off, and they may leave.
22. Not concerned about their work/career
One of the things many men look forward to is having a partner who supports their career or work. When a person does not care about his or her career, it can put him off.
He most likely wants someone who will be there for him during the highs and lows of trying to build a wholesome career.
23. Close relationship with exes
When a person is too close to their ex, it can put a man off. It can be seen as a chance that their partner might get back with their ex if care isn't taken.
People don't usually like sharing their love interest with anyone. They want to be sure that you are full with them or not. Hence, when you show signs that you cannot cut ties with your ex, they may prefer to leave your life.
24. A negative mindset
One of the common turn-offs for guys can be a negative mindset that refuses to see hope or positivity in any situation.
When someone is more pessimistic than optimistic, it can piss many men off. But, on the other hand, men may love it when their partner has a positive approach to life, even when things look bleak.
It gives them the hope that if you become their partner, it will be easier to weather the storm together. However, someone with a negative mindset would be a big turn-off for most men.
Watch this video to learn some ways to get rid of negative thoughts:
25. Demanding every minute of his time
One of the things that turns guys off in a relationship is the relentless demand for all their time and attention.
Even though men may love spending time with the person they love, they get tired when all their time is demanded. They expect their partner to have their own life and other things that might take their attention.
For more insights on turn-offs in men, read Prentice Prefontaine's book titled Stop His Vanishing Act. It teaches you to learn his secret turn-offs and get a commitment.
5 physical turn-offs in a man
Men are not left out regarding physical habits that turn others off. Physical turn-offs can vary from person to person, as individual preferences and attractions differ. What one person finds unattractive, another may find appealing. However, here are five physical turn-offs that some people may mention:
Here are some of the common physical turn-offs in a man:
1. Poor posture
Poor posture can be a turn-off because it can convey a lack of confidence and self-assuredness. Slouching or having bad posture can give the impression of disinterest or insecurity, which may be unattractive to some individuals.
Good posture is often associated with a more confident and attractive presence, making it an important aspect of physical attractiveness for many people.
2. Poor self-care
Self-care is a big deal when people look for what they like in a person. They expect men to do basic self-care activities each day.
This increases the man's chances of being with someone because people notice when he is not concerned about his self-care.
3. Poor grooming
Grooming is similar to self-care. It involves keeping a good and tidy physical appearance that would make you attractive. Some important grooming habits that people look out for in men are keeping clean hair and body, neat clothes, use of cologne, etc. These habits keep men presentable and attractive.
4. Dirty or unkempt clothes
There is a negative impression created when someone wears clothes that are visibly dirty, stained, or torn. This can convey a lack of care or effort in personal appearance and hygiene, which may be unattractive to some people.
Keeping clothing clean and in good condition is a basic aspect of grooming and can influence how others perceive someone's overall self-presentation.
5. Poor fashion and style
Some people may find it unattractive when someone does not put effort into their clothing choices, wears inappropriate attire for the occasion, or neglects personal style altogether.
While fashion preferences vary widely, dressing thoughtfully and maintaining a sense of personal style can enhance one's overall attractiveness to others.
Steve Harvey's book Act Like a Lady, Think Like a Man is one of the best go-to books for understanding how men think and everything they love and dislike.
It's essential to remember that physical attraction is subjective and personal, and what one person finds unattractive, another may find appealing. Building a healthy and lasting relationship often goes beyond physical appearance and includes emotional, intellectual, and personal compatibility.
Commonly asked questions
Here are some pressing questions that can give you more clarity regarding turn-offs for men in a relationship:
What are some common misconceptions about men's turn-offs?
Misconceptions about men's turn-offs often revolve around stereotyping their preferences. Contrary to common beliefs, men's turn-offs vary widely and are not solely based on physical appearance.
Assuming that all men are attracted to the same traits or behaviors is a misconception. It's essential to recognize that individual preferences, values, and priorities greatly influence what might be a turn-off for any given man.
Do men find excessive possessiveness unattractive?
Excessive possessiveness is generally considered unattractive by most individuals, regardless of gender. It can indicate insecurity and a lack of trust in a relationship, which can be detrimental to its health.
While some men may tolerate possessiveness to a certain extent, it is not a desirable trait in any healthy partnership. Open communication and trust are essential for maintaining attraction and a strong connection.
How can I know if I'm a turn-off to a man?
Understanding if you're a turn-off to a man can be challenging since preferences vary greatly. However, signs may include decreased interest, avoidance, or changes in communication patterns.
It's crucial to engage in open and honest conversations with your partner or the person in question to address any concerns and gain clarity on their feelings and needs.
What can I do if I'm a turn-off to a man?
If you suspect you might be a turn-off to a man, it's essential to communicate openly and honestly. Listen to their feedback, and if necessary, make changes in behavior or appearance that align with both your values and their preferences.
However, it's vital to strike a balance between self-expression and trying to conform excessively, as authenticity is attractive. Ultimately, healthy relationships are built on mutual respect and understanding.
The takeaway
With the information in this piece on the turn-offs for men, you now know the habits to stop so that you won't scare suitors and even your partner away.
If you are in a relationship, and some of your partner's habits turn you off, it is important to communicate this with them. You can also attend counseling sessions or take courses to help you navigate this path.
Share this article on
Want to have a happier, healthier marriage?
If you feel disconnected or frustrated about the state of your marriage but want to avoid separation and/or divorce, the marriage.com course meant for married couples is an excellent resource to help you overcome the most challenging aspects of being married.
You May Also Like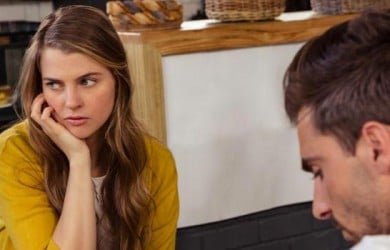 Popular Topics On Married Life