How Lies in a Relationship Can Tear Apart Even the Closest of Couples
Little white lies to save your partner's feelings, or to encourage them to do something that you want them to do are all good and well.
Such 'white lies' are often a necessary part of communication and negotiation for married life. However, things can turn very sour when a couple experiences real lie in their relationship or too many white lies.
The effect of a lie in a relationship can have a profound and destructive influence on both partners and also the relationship itself.
How do you tell whether your lie is destructive or not?
Simple, a good rule of thumb is to assume that all lies in a relationship are destructive.
Even lies and secrecy about how you spend money, where you were when you 'popped out' even if you were faithful, how you feel about your partner, the relationship, sex, the children and daily life.
Telling lies in a relationship, whether they are innocent or not will have a consequence.
Even if you don't notice the effects of lies too much at the time. If your partner realizes you are lying, at best they may not take you seriously all of the time, and at worse, it leads to destructive patterns.
Why are their lies in a relationship
Most people will assume that lies in a relationship will usually stem from one partner cheating on the other, but there are so many other reasons why lies appear in relationships such as;
The lying partner is a compulsive liar which has developed from their past experiences in life.

The lying partner is a narcissist.

There is cheating.

Lying can occur about your sexual preferences, needs and wants.

Couples might lie about how they feel about their spouse and their relationship.

One partner might not be as good with money and financial issues as the other.

Different parenting styles.

Lies in a relationship present to avoid the controlling or needy behavior of one partner.
One partner has an avoidant attachment style and lies to create space for themselves.
While this is not an exclusive list, you can see how there are so many ways that lies can creep into a relationship.
How lies in a relationship are destructive
1. Lies in a relationship reduce trust
As a child, you surely had the lesson from your parents or teachers about how trust takes a long time to build, but you can lose it in seconds. It's a valuable life lesson, that's for sure. And it holds true in relationships.
Any lie in a relationship will reduce the trust levels that you have as a couple.
A small lie might not make a significant difference to the amount of trust you have in the relationship, but lots of little lies can reduce that amount in a heartbeat.
Larger, more destructive lies will drain the pool of trust right away leaving you in a situation where you have to do a lot of work, over a long period to repair the damage caused by lies in a relationship, if it's possible to do so.
2. Lies in a relationship sabotage the intimacy a couple experiences
Without trust how can you experience intimacy? How can you be vulnerable enough with a lying spouse to trust them to have your best interests at heart, or to be able to express your openness and vulnerability to them?
The answer is, you can't. Lose trust and the intimacy which is the glue that holds a relationship together turns to dust.
3. Lies in a relationship can be difficult to maintain
Lies can be difficult to remember, over time the lying spouse will forget what they lied about and what they didn't – leaving clues for their partner which will start their alarm bells ringing.
These alarm bells will cause the spouse who isn't lying to become suspicious, the trust and intimacy in the relationship will reduce, and the lying spouse will now be on the back foot unless they either step up and explain honestly or continue creating more lies to dig themselves out of a very big hole.
Ideally, if you find yourself in this situation, the best solution is, to be honest – not continue lying!
4. Promotes paranoia for both partners
The lying partner is paranoid about getting caught and resorts to sneaky, suspicious and untrusting behavior; the honest spouse becomes paranoid about why they have alarm bells ringing all over the place.
Paranoia can breed and cause both parties to feel stressed, anxious and uneasy but only one partner will understand why further compounding the paranoia that the unaware partner is experiencing.
5. Allows guilt and subsequent avoidance to creep into the relationship
The lying partner begins to develop a sense of guilt about what they have done to their relationship and their partner, and so sometimes can resort to avoidant behavior to counter their lies and protect themselves.
Some avoidant behavior can be aggressive or aloof, for example, the lying spouse attempts to hide they lie by causing arguments to avoid being caught in a lie.
Which can also breed guilt for the honest partner as they may take responsibility for their part in the argument – when it was not their fault at all.
6. Shame and blame can develop
Allow this situation to develop over time, and now the lying spouse is at risk of feeling shame for what they have done, and for how they have treated their partner, not just for the lies but the aloof, aggressive, avoidant behavior and the anxiety that is undoubtedly present for the honest spouse too.
Shame can turn to blame, and the resulting situation leads us to our final point.
7. Lying in a relationship can bring on mental anguish
There's no need to explain how we got to this state when you consider the secrecy, blame, guilt, shame, stress and loss of intimacy, trust and even respect.
Lies have now dug a bottomless hole in the relationship that both partners have now fallen into.
The couple's only chance for escape is if the lying spouse starts to spill the tea!
When you read the consequences of lying in a relationship, you can see how even one or two small lies can be extremely destructive. It's much easier to face your relationship issues, or personal needs head-on with your spouse so that you both have the opportunity to work through it together – in a healthy non-destructive manner.
Share this article on
Want to have a happier, healthier marriage?
If you feel disconnected or frustrated about the state of your marriage but want to avoid separation and/or divorce, the marriage.com course meant for married couples is an excellent resource to help you overcome the most challenging aspects of being married.
Learn More On This Topic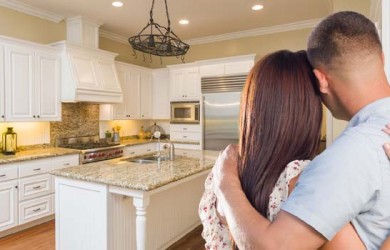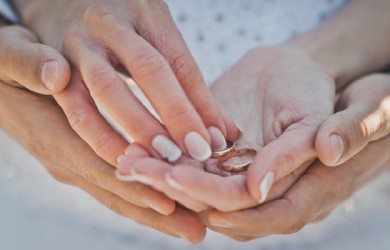 You May Also Like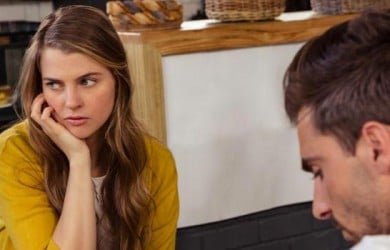 Popular Topics On Married Life