How Being Too Independent Can Destroy Your Relationship
For the most part, everyone loves an independent partner; the type that's driven and motivated has a mind of their own and can make decisions for themselves, and the one that can step in for them when they aren't readily available.
Although we would rather have this type of partner, it leaves a significant question in most people's minds. "Can being too independent in my relationship become a problem for me?"
Here's the thing. Answering this question may not be easy, because there are several sides to this equation. However, we would do our best to examine this in this article carefully.
By the end, you would understand what being independent in a relationship truly means, and you would find out if you (or your partner) are too independent for a relationship.
We would also examine the concept of interdependence in relationships and how to make this work for you.
What does it mean to be independent in your relationship?
Being independent in your relationship is a situation in which you have learned and mastered how to be your own person (function as a separate entity that is capable of rationality), even though you're in a relationship with someone.
It is your ability to think your thoughts, make your decisions, and even maintain your personality without letting these get in the way of your romantic involvement with your partner.
Can too much independence hurt your relationship?
Here's a fact!
Some level of independence is necessary if you want to have a healthy relationship. However, being too independent can hurt your relationship.
So, this is the simple answer to the question.
"Yes. Although independence (to some extent) is important for any healthy relationship, being too independent can hurt your relationship."
Here are a few ways through which this can happen.
A. It affects communication
Communication is vital in every relationship and to make this work, there's a level of vulnerability that is required of all partners. Effective communication requires that you bring down some of your walls and let your partner in.
However, being too independent can greatly affect this because when you're too independent, you may shut your partner out emotionally.
B. It can affect your partner's self-esteem
When you're too self-reliant, there's every possibility that you may be excessively firm in your decisions and you may reject some help that comes from your partner.
When, over a significant amount of time, you make independent decisions (especially over issues that affect both yourself and your partner), and you find it difficult to accept their care and attention, they may interpret the message the wrong way. This may put a strainer on your relationship.
Now we have figured out how being too independent can affect your relationship, what can you do to handle it?
6 Steps to achieving interdependence
Interdependence (also known as mutual dependence) is the solution to excessive independence in a relationship. It is considered a safe ground between too much independence and excessive dependence/clinginess in a relationship.
Interdependence occurs when there's a balance between oneself and their partner in a relationship. An interdependent relationship is one in which two strong and independent individuals are romantically involved, but do not sacrifice themselves in the process or lose their individuality.
In an interdependent relationship, all partners believe in themselves and their abilities, but they also know where and how to draw the line.
Check out this video that explains the journey from independence to interdependence:

To achieve interdependence, here are the 6 steps to follow.
1. Begin by taking ownership
This could mean taking ownership over your emotions, your actions, and the way you react to your partner. In this stage of the interdependence journey, a self-appraisal would be necessary.
2. Trace it down to its roots and deal with it
The challenge you may be experiencing with being too independent could be directly related to something in your past.
When you have done this, you may have to exert some pressure on yourself (emotionally and mentally) and teach yourself that it isn't wrong to accept some care and attention from your partner. Also, listening to them isn't a sign of weakness, but of strength.
3. Communicate with your partner
The journey from being independent to interdependence in your relationship can be a difficult one, especially if your partner isn't aware of what you may be going through.
Under these conditions, one of the best things you can do is to open up to them and let them in on the struggles you may be having.
Not only does this help them understand you and cut you some slack, but it can also boost their self-esteem greatly.
Related Reading: 

8 Essential Tips to Communicate and Connect with Your Partner
4. Open your mind to the possibility that what you seek is attainable
Since your plan is to have an interdependent and healthy relationship, conditioning your mind to accept this as a reality is vital. One way to do this is the practice of visualizing yourself as being in the ideal kind of relationship you want. Your imagination will play a major part in this step.
Related Reading: 

How To Know What You Want in a Relationship
5. Decide on what's acceptable in the relationship
This should be done with your partner.
Having a clear understanding of what's acceptable to both of you in the relationship will help you keep up the knowledge that there are boundaries that are respected by all parties, even while you work on breaking out from being too independent in your relationship.
In addition, you may have to commit to refraining from taking crucial decisions alone. If it is a decision about something vital, all parties should be involved in the decision-making process.
6. Constantly remind yourself that it is okay to depend on your partner
As much as you may not want to admit this, you need a constant reminder that it is okay to depend on your partner for a number of things. It is okay to be taken care of by your partner, to be on the receiving end of their love and attention, and also being vulnerable with them isn't a sign of weakness.
Every day, remind yourself of these and watch yourself become less appalled by the idea of maintaining interdependence in your relationship.
Conclusion
While you live your life as a single person, it is easy to get to a point where you become super independent and too ambitious for a relationship. This could be because of many reasons, including societal pressures and environmental conditioning.
However, when you step into a relationship, it is necessary that you learn how to work with your partner to build an interdependent relationship.
Being too independent can hurt your relationship. However, if you follow the steps we discussed in this article, you would find a way to strengthen your relationship by allowing your partner in.
Share this article on
Want to have a happier, healthier marriage?
If you feel disconnected or frustrated about the state of your marriage but want to avoid separation and/or divorce, the marriage.com course meant for married couples is an excellent resource to help you overcome the most challenging aspects of being married.
Learn More On This Topic
You May Also Like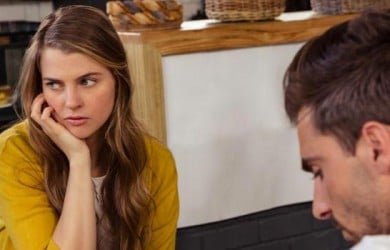 Popular Topics On Married Life