8 Things to Consider if You Are in Love With a Married Man
You may not have planned to fall in love with a married man, but there are times when even the wisest among us are overwhelmed by their emotions.
A finding from a study suggested that women do not make mate choices independently, and favor males having previous associations with other females, a phenomenon known as mate copying.
The study does shed light on why women like to date older married men.
Dating a married guy can take you over the moon, but it can be painful too.
Surely you have tried to resist it, but your emotions got the best of you. We are not here to tell you to "end it" or make you feel worse about your choice.
Instead, we want to help you handle dating a married man and protect yourself from getting hurt, which is highly likely.
Things to consider when dating a married man
1. You are not his priority
Dating a married person means coming to peace with the fact that his family is his priority. He can make you feel special and irreplaceable, which you are, but you are not a priority.
When it comes down to choosing who to be there for in a crisis, he will choose them.
Having an affair with a married man means coming to terms with not being able to count on his support unconditionally.
2. Be careful about trusting him
Although you are in love with a married man and he says he is in love with you, be careful. Can you trust someone who is choosing to deceive someone else?
Especially if they lied or hid from you the fact, they are involved. Although he can seem remorseful, take into consideration that you might not be the first one.
Be mindful of how he speaks about his wife, as that says more about him and his character than it does about her.
3. Keep your options open
Being in love with a married man can be thrilling, and for some time, which may feel more than enough. However, dating a married man can leave you feeling ashamed, alone, and isolated.
When you need them, they might not be there. Hence, it can be wise to keep your options open and keep dating. They are, so why not you too?
This can save you feeling utterly hurt when it ends and allow you to meet someone you can have a future with.
4. Don't settle for vague answers
If you are in love with a married man, you need to be on the lookout for unclear or ambiguous answers.
If they promise to leave his wife, ask when and ask for proof. Words alone shouldn't be enough.
5. If he divorces, your relationship will change too
Falling in love with a married man is different than being in a relationship with them after the divorce.
They will be confused, ashamed, relieved probably, but overall processing a lot. This will affect your relationship with them; hence it won't feel the same as it did initially.
6. Very likely he won't leave his wife
Feeling attracted to a married man can have you unconsciously increasing the odds of you being together. The truth is that his marriage is, for a long time now, is a unhappy marriage, yet he is still in it.
Yes, you might be the turning point. However, if he is not ending it within a few months of getting together with you, his chances of leaving his partner decrease more and more as time goes by.
Also, ending his marriage might effectively end your relationship too. If either of you were giving him all he needed, he wouldn't need both relationships.
This might hurt to hear, but it can help you prepare for what is to come.
Also watch: Why there is no future in loving a married man

7. Their marital problems are not all on her
Being in love with a married man doesn't let you know him for real, cause you know how it is to be with the married him, not the single him.
Although he might put the marital problems on his partner, he has a share of the responsibility. Have that in mind when picturing the future with him.
8. Be honest with yourself
Surely, falling for a married man wasn't in your plans. Beating yourself about it won't help you resolve the situation.
Be honest with yourself and ask yourself some difficult questions so you can plan and protect yourself.
What is the best scenario that could happen? How likely is that?

What is the worst scenario to happen? How likely is it?

What kind of future do you see for yourself? Is it compatible with his?

What will you do if a year from now nothing has changed?

Are you willing to sacrifice your future to stay with him?

How long can you keep this up?
Preparing yourself for a relationship with a married man
At any point, your relationship with him might end. His wife might find out and give him an ultimatum.
He might get bored with the relationship, find it is too much work, or have a change of heart. He could be tired of lying and sneaking around.
Where does that leave you? Preparing for such a situation can save you from a world of hurt.
Whether you are ready to end it or not, try imagining how it would be. What would you miss the most? What wouldn't you miss from being in love with a married man?
Write down things you crave having while still with him, such as not being able to plan for the future or having him stay overnight.
When the pain of losing him kicks in, and you start blowing your relationship with him out of proportion, this list can be your first aid kit.
Final supportive and words of caution
The unthinkable happened – you are in love with a married man.
At first, loving a married man is thrilling and electrifying. Then guilt, shame, and isolation kick in. You wonder, will you ever get out of it and be the same when you do.
There are things to consider when in love with a married man.
Should you trust him, does he give you vague answers, how does he speak about his wife and your future together? Although he paints it that way, his marriage is not unhappy due to his wife alone.
Regardless of that, he most likely won't leave her, but your relationship with him will change even if he does.
Finally, he is still married, so you should keep your options open and date other people.
Consider these things when you are in love with a married man to prepare yourself and prevent as much hurt as possible.
No one can shield you from all the pain, but if you start getting ready sooner, you will be able to handle the relationship and the end of it better.
Share this article on
Want to have a happier, healthier marriage?
If you feel disconnected or frustrated about the state of your marriage but want to avoid separation and/or divorce, the marriage.com course meant for married couples is an excellent resource to help you overcome the most challenging aspects of being married.
More On This Topic
Recent Articles
You May Also Like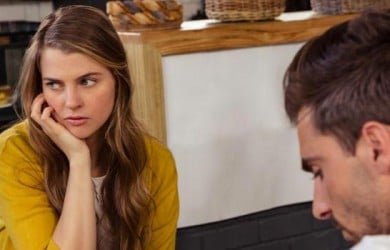 Popular Topics On Married Life