Can You Ever Stop Loving Someone? 15 Ways That Might Help
Can you ever stop loving someone you truly loved?
If you (or someone you know) have ever dealt with the aftermath of a breakup, there's every possibility that you may have asked yourself this question. Maybe once. Maybe one million times.
The pain that comes from recalling all the wonderful memories you made with them and all the ways they made you feel as though you were the center of their world (while your relationship lasted) is enough to make you want to crawl into your bed and break down in a fit of sobs.
The truth is this. Getting over someone you once loved (when the relationship is clearly over) isn't easy.
One thing that makes it harder is if the person seems to be doing just fine without you in the picture (if they can walk out the doors and find another person to be with almost immediately).
Although it is difficult, letting go of someone you love who can't be with you is the smartest choice you can make.
This is because it comes with many benefits for you (physical and emotional benefits as well). In any case, this article will show you exactly how to stop loving someone you can't have.
Can you ever forget your love?
How to unlove someone you truly love?
For a long time, the question of whether can you ever stop loving someone (or not) has gone unanswered. The absence of a simple answer to this question didn't, in any capacity, take away the fact that breakups happen and that they can sometimes be nasty.
According to the American Psychological Association research, almost everyone will experience the breakup of a romantic relationship in their lives.
Unfortunately, most people will experience breakups multiple times. This study revealed that breakups could lead to many negative feelings, including depression, loneliness, loss of self-esteem, and many other side effects.
One of the most prominent challenges that follow breakups like these is the nagging question of if you can ever stop loving your ex. So, if you are at that point where you are wondering if you can ever forget your love, a simple answer to this is "yes."
Note, however, that this depends on the person in question. While some people seem to never have a hard time letting go of unrequited love, others may need some more hand-holding and time to completely let go of someone they used to love.
If you can follow the steps we will outline in this article and commit to taking your life one day at a time, you will discover after a while that you may have been able to move on and heal from the hurt of experiencing unrequited love.
Also Try

:

 

True love quiz - find out if you have met your one true love
Why is it so hard to stop loving someone?
Is it possible to stop loving someone?
It can be hard to stop loving someone because emotions are complex and deeply ingrained in our psyche. Love involves a powerful mix of chemicals, hormones, and neurotransmitters in the brain, which can create intense feelings of attachment and bonding.
When a relationship ends, the brain can continue to produce these chemicals and make it difficult to let go of those feelings. Additionally, memories, shared experiences, and a sense of comfort and familiarity with a person can make it hard to move on.
People may also hold onto hope that the relationship could be rekindled or fear being alone. Letting go of someone we love can be a difficult and painful process that takes time and effort to heal.
15 ways to stop loving someone?
Loving someone can be a beautiful experience, but it can also be painful when the love is not reciprocated or the relationship has ended. Letting go of someone we love can be a challenging and emotional journey, but it is necessary for our own mental health and well-being.
Here are 15 ways to stop loving someone:
1. Accept the reality of the situation
The first step to letting go of someone is to accept that the relationship has ended or that the person is not interested in being with you. This can be a difficult reality to face, but it is essential to move forward.
2. Allow yourself to feel the pain
It is normal to feel sad, angry, or hurt after a breakup or rejection. Allow yourself to feel these emotions and express them in healthy ways, such as through writing or talking to a trusted friend.
3. Cut off contact
Thinking how will you ever stop loving someone? Delete the contact first.
If possible, cut off contact with the person you are trying to stop loving. This means unfollowing them on social media, avoiding places where they hang out, and not responding to their messages or calls.
4. Delete reminders
Remove any physical reminders of the person, such as gifts, photos, or letters. This will help you avoid triggers that can bring up memories and emotions.
5. Stay busy
Keep yourself occupied with hobbies, work, or social activities. This will help you take your mind off the person and focus on other areas of your life.
6. Practice self-care
Do you ever stop loving your first love? Maybe through self-pampering.
Take care of yourself by getting enough sleep, eating healthy, and exercising. Self-care can help boost your mood and reduce stress.
7. Seek support
How to stop loving someone you can't have? Why not ask a professional or choose couples therapy?
Reach out to friends, family, or a therapist for support. Talking about your feelings with someone who understands can help you process your emotions and feel less alone.
8. Practice mindfulness
Mindfulness meditation can help you stay present and calm in the face of difficult emotions. By focusing on the present moment, you can reduce anxiety and stress.
9. Challenge negative thoughts
When you find yourself dwelling on negative thoughts or self-criticism, challenge them with positive affirmations or counterarguments. For example, if you think "I'll never find someone better than them," remind yourself of your positive qualities and the potential for new relationships.
10. Set boundaries
If the person you are trying to stop loving is still in your life, set clear boundaries around what you are willing and not willing to tolerate. This can help you maintain your self-control and get a hold of your emotions.
Related Reading: 

15 Ways of Setting Boundaries in a New Relationship
11. Remember the negatives
Wondering, 'can you unlove someone?' Try remembering what brought closure.
Sometimes we focus too much on the positive aspects of a person or a relationship, which can make it harder to let go. Instead, try to make a list of all the negative aspects of the relationship and reasons why it ended.
Remind yourself of them when you start to feel nostalgic.

12. Prioritize yourself
This is different from self-care. It is more about assertiveness over practical matters that benefit you as an individual. Invest your time, energy, and emotions in things that can bring you satisfaction and material benefit.
13. Share with someone
Speak your heart out with someone you trust. They can be from your family or friend circle. Sometimes, it helps to be vulnerable about your feelings with someone who is close to you and understands you.
14. Count your blessings
How do you ever stop loving someone? Focus on the positives.
This helps every time you're going through a rough phase of life. No matter how hard the situation gets, there are always things that make you feel fortunate like family, goals, skills, and things we are passionate about. Think about them whenever you feel low over your last relationship.
15. Let go of resentment
Sometimes, it's the grudge in our hearts that keeps pulling us back to the person we were dating. Maybe the relationship ended on a bad note or you saw your ex moving on with someone else. This can create a sense of anger and hurt.
You need to let go of this feeling of resentment first in order to stop loving them.
Here are some psychological tips on moving on from someone you love. Watch the video:

Frequently arising questions
Do you still have questions about moving on from a previous relationship or partner? Read this next section where we are trying to answer some of these common questions.
How does someone fall out of love?
Can you stop loving someone? Seems like 'yes'
Falling out of love is a complex process that can be triggered by a variety of factors. It can happen gradually or suddenly, and it can be different for each individual.
Some common reasons why someone may fall out of love include changes in personal values, goals, and interests, conflicts, and disagreements, lack of communication or emotional intimacy, and infidelity.
Over time, these factors can erode the emotional connection between partners, leading to a decrease in feelings of love and attachment. Falling out of love is a natural part of the relationship journey, and it can provide an opportunity for growth and new beginnings.
Is it normal to struggle to move on?
It is entirely normal to struggle to move on from a relationship or someone we love. Letting go of someone we care about can be a difficult and emotional process, especially if we share many meaningful experiences and memories with them.
We may feel a range of emotions, including sadness, anger, and confusion, and it can take time to process and heal from these feelings. Additionally, everyone's journey is unique, and there is no set timeline for moving on.
It is important to be patient and kind to ourselves as we navigate this process and seek support from loved ones or professionals if needed.
Every change takes time
Moving on from your ex-partner doesn't always mean that you stopped loving them. It could just mean that you prioritize your emotional well-being and that you love yourself more than to allow their rejection to keep you away from living your best life – filled with love.
So, can you ever stop loving someone with whom you have built a strong relationship?
Although it can be difficult, it is possible. Learning how to move on from someone you used to love can be challenging, especially within the first few weeks or months.
However, if you can follow the steps outlined in this article and commit to taking one day at a time, you can find yourself free of past guilt and stronger than you have ever been.
Also, time would play a significant role as you seek to get over a lost love.
Share this article on
Want to have a happier, healthier marriage?
If you feel disconnected or frustrated about the state of your marriage but want to avoid separation and/or divorce, the marriage.com course meant for married couples is an excellent resource to help you overcome the most challenging aspects of being married.
More On This Topic
You May Also Like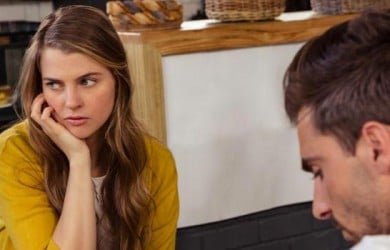 Popular Topics On Married Life