15 Signs a Man Is Falling in Love With You
Dear lady, there are so many signs a man is falling in love with you. While this is great news, it is also important to note that the signs may not always be there, and this means that he may not be as crazy for you as you may have wished.
For one, the body language of a man falling in love with you is different. The actions of a man falling in love reveal that he is. Then again, there are many secret signs a man loves you.
This, however, is where the challenge comes in.
Despite these, many ladies do not know what to look out for and how to interpret these signs if and when they see them. In addition to the physical signs he is falling for you, there are also other psychological signs a man is falling in love.
These are what you would learn by the time you are done reading this article.
By the time you are done with this, you should be able to successfully identify the signs a man is falling in love with you.
Related Reading: 

30 Signs You're Falling in Love
What makes a man fall deeply in love with a woman?
This is one question that may not be quite easy to answer because of the multifacetedness of any answer you would try to give it.
How do you know a man is in love with you? Is it because of how he treats you? What he does for you? Or how he lets you be yourself around him?
However, the major question we seek to answer right now is the question of the things that make a man fall in love with you.
1. Fulfilment
Research has shown that men tend to fall in love with people who somehow meet a need in their lives. This is one of the first reasons why a man will fall in love with a woman; if there is a major need in his life that she meets consistently.
2. Mystery
Have you ever met a man who keeps going after a woman who he shouldn't be, by any means? Men are wired to go after women (or partners) who they find mysterious. Something about a man's love interest should excite and interest them.
3. Requited feelings
Nothing is more frustrating than giving off signals to another person who isn't willing to be in a relationship with you or fall in love with you. This is why, most times, men fall in love with women who have shown that their feelings aren't one-sided and who are ready t be in a committed relationship with them as well.
4. Similarity
Is he falling in love with you?
If you are asking this question, you may want to find out if there are similarities between both of you. Do you hold the same values? Do you have similar goals, objectives, and life's vision? If this is the case, he may just end up falling in love with you.
Also Try: 

Am I Falling in Love Quiz
How does a man in love behave?
There are so many signs a man is falling in love with a woman. First of all, his behavior toward her changes.
The way he speaks to her is affected and also, the way he reacts to her becomes better and more strategic. When a man is in love with you, his thoughts and actions become magnetized toward you.
We will talk more about these signs in subsequent sections of this article.
15 signs a man is falling in love with you
These are some of the signs a man is in love with you. When a man is in love with you, you'll begin to notice these.
1. He begins to talk about a future with you
This is one of the early signs he's falling for you. When a man is only interested in you because of sex or the desire to have fun, he makes many moves, does all he can to take you to bed, but would hardly talk about his future plans with you.
When a man begins to discuss his future plans with you (especially delicate future plans), and even finds a way to include you in those plans, that's how to tell he's in love with you.
2. Your needs come first
Research has proven that on average, men tend to be more selfish than women. This research was backed up by the amounts of money that women donated to charity causes, as opposed to the amounts men donated. While this may be generally true, it ceases to be the case when a man is falling in love.
When a man is in love, he places the needs of his love interest before his needs. He allows you to make a pick of the things that matter, like where to relocate to, the perfect spot for a dinner date (even if he hates that restaurant), and he may even sacrifice his comfort to make you happy.
Related Reading: 

What Does a Man Think When He Falls in Love- 10 Signs
3. He is happy when you are happy
In addition to being selfless, one of the signs a man is in love is that your happiness makes him happy. When he sees you smile, he becomes delighted and this makes him go out of his way to do the things that keep you happy.
4. You are beginning to fall in love with him
While this may not always be a worthy teat of love (because feelings can always be one-sided), one of the signs someone is falling in love with you is the fact that you may also be developing feelings for him as well. Humans have a way of spotting genuine emotions and returning them to their source.
If you feel yourself beginning to develop feelings for him, you may want to look more closely at what you are feeling.
5. He has become more comfortable around you
Cast your mind back to the beginning of the relationship and think about how meticulous he used to be. Can you recall how he used to be interested in cleaning up after himself, taking the dishes to the dishwasher, and taking off his shoes before stepping into the foyer?
If he has suddenly become more comfortable around you (and probably doesn't do all these things again), it could be a sign that something is beginning to brew within him and he is no longer as interested in keeping up impressions as he used to be.
Related Reading: 

How Men Fall in Love: 10 Important Factors
6. His language morphed from "I" to "we."
One of the signs a man is falling in love is the use of language. If he still sees you as just a friend or anything less, he would speak about himself more than he speaks about the team. This may not be because he is a bad person, but could be because he is yet to see you as a part of his future.
However, when this begins to change, you would start hearing him using more "we" than "I." It isn't unusual because strong-knitted couples tend to see themselves as part of a unit and not just as individuals who are up against the world.
7. He is putting much more effort int the relationship
When a guy falls in love and is ready to make the relationship work, one of the first things you would notice is that he begins to commit more time and resources to not just you, but to the realtionship as well.
This is backed up by scientific research where it is posited that people are more likely to commit to a relationship when they are satisfied with their partner or believe that their partner is the best choice for them.
If your man feels these ways about you and the relationship, it is only natural that he would begin to commit more to the relationship.
8. He looks at life from the bright side
One of the signs a man is falling in love is that he suddenly becomes a huge beam of sunshine, even on the darkest days. You would find out that love is one of the most powerful optimistic forces in life because even if he used to be unnecessarily brumpy at first, he would start becoming less grumpy as these emotions get a stronger hold on him.
This is also backed up by science as a recent survey revealed that being in a fulfilled and committed relationship helps young people to reduce their levels of neuroticism and cynicism, generally becoming better people to be around.
9. He's taking extra care to be a gentleman around you
So, here's the thing.
A guy wouldn't make himself uncomfortable to please and satisfy you if he doesn't seek to pursue a committed relationship with you. However, one of the signs a man is falling in love with you is that he does his best to leave a good impression on you every time you meet.
So, he goes out of his way to say the right things, look the perfect way, and also treat you like the queen you are – simply because he has feelings for you.
10. He is present every time you want to talk to him
One thing that may be a bit too hard for guys to do is to be present every time you are trying to hold a conversation with them. If that topic is something that holds minimal interest to them, you may even watch them zone out on you.
One sign a man is falling in love with you is that he pays attention to everything you say, regardless of how ridiculous they sound or how boring the topic may be.
This is not just because he wants to impress you, but because he understands the value of these tiny conversations and would give anything to keep them going.
11. He makes out time to talk to you
There is a popular saying that everyone is busy until there is something or someone they truly care about. This is no exception. Another sign he has it in for you is that he makes out time to talk to you and to also be with you. \
If you see him going out of his way to communicate with you; he calls you regardless of his busy schedule at work, shots a quick text in-between meetings, and just makes out time to hear from you, those are clear signs that he may want more than just a casual fling.
Related Reading: 

8 Essential Tips to Communicate and Connect with Your Partner
Suggested video: Communication in relationships: 7 keys to effective communication in relationships.
12. The sex has gone beyond just being a physical activity
How does it feel when he takes you to bed? Does it feel like it is just a mad race to the finish line or does it feel like he takes his time with you?
One sign a man is falling in love s that the physical activity begins to feel more intense. It is no longer about getting off but an activity geared toward establishing a deep emotional connection with you. As opposed to just having sex, he wants to make love with you. It s at this point that he becomes more aware of your physical needs and would do anything to meet them in bed.
13. He is no longer afraid of eye contact
One of the quickest ways to know if a man is interested in pursuing something serious with you is to look out for the frequency and quality of his non-verbal communication. Cues like making deep and meaningful eye contact can subtly let you in on what he truly feels.
Mere eye contact is not enough. If he makes these contacts when having a serious conversation or during sex (when he is being vulnerable), it could be a sign that he has opened his heart up to you.
14. His attention is constantly on you
Walk into a room full of people and he will somehow find you out and gravitate towards you. If his attention is always fixed on you, that is a clear sign a man is falling in love with you.
15. You have met the important people in his life
One sign a man is falling in love with you is that he is not ashamed of letting you meet the people that matter to him. While these may not be official 'meetings,' you can't deny that they have happened and that they mean something important.
So, take stock of the stakeholders of his life that you have met. Have you met his parents, siblings, and other close friends? That may be his way of telling you that he sees himself committing to something bigger with you.
How do you tell if a guy is slowly falling for you?
How do you know a man loves you?
The answer is simple. Take a look at the 15 signs we discussed in the last section of this article and be objective with yourself. Do you see the signs?
Then again, you may want to consider talking to him and asking him to define exactly what he feels for you. This way, you eliminate ambiguity and avoid getting heartbreaks from misconstrued signs.
Summary
Being able to spot the signs a man is falling in love with you is an important skill you must get as a woman who wants a long and steady relationship. This is because when you have this, you can see men for what they truly feel and run away from people who would just want to take advantage of you.
When you spot these signs, communication will further help you define what he feels and prepare you for the next steps. So, don't take these signs as the ultimate proof of a man's love for you.
Share this article on
Want to have a happier, healthier marriage?
If you feel disconnected or frustrated about the state of your marriage but want to avoid separation and/or divorce, the marriage.com course meant for married couples is an excellent resource to help you overcome the most challenging aspects of being married.
More On This Topic
You May Also Like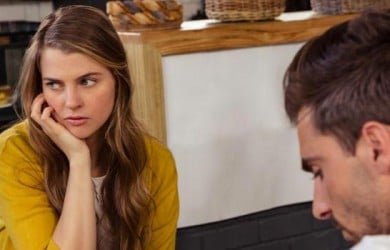 Popular Topics On Married Life