15 Signs She Isn't Into You
When you catch feelings for someone, it's quite a journey to determine whether that person feels that way about you. It's like a constant guessing game of whether she likes you in that way or not.
Signs she is not into you? Is it effortless to figure out whether the girl you're pining after has feelings for you? Well, there are sure signs she is not into you.
A few of these signs are pretty subtle, whereas some are quite direct. Although unrequited love is a harsh reality that you may have to deal with, it's better to hurt a little now than spend a lot of time drowning in confusion.
The pain of one-sided love and identifying the signs she is not into you is difficult undoubtedly, but what's more confusing is if you're in a situation where the person you're interested in has shown some interest in you. Still, the signals (from the girl) are hot and cold.
Another equally challenging and confusing situation is if you're already with someone and the question "is she still into me?" bothers you.
The decision to express your feelings, propose a relationship, and potentially invest time and effort into being with someone needs to be well thought out.
So, if you're in a situation where you're getting mixed signals from a girl you have feelings for, continue reading.
15 Signs that she isn't into you
As mentioned earlier, if you're already with someone and feel like they've lost feelings for you or you've had a hunch that a lady you're interested in doesn't reciprocate those feelings for you, verify with the following 15 signs she is not into you:
1. Flaking on plans is a common thing for her
Is she always swamped, or is she not interested in hanging out with you? Ask yourself this hard-hitting question.
Think about the times when you've made plans, and then you find her flaking in the last moment? Is she busy? Or is it one of the signs she is not into you?
Understandably, sometimes urgent situations come up, but how often does it happen with the women you're like? And do these emergencies happen precisely when you two decide to meet?
Related Reading: 7 Ways to Maintain Love in Married Life
2. She doesn't maintain any communication with you for days at a time
As mentioned earlier, as people grow up, with the increasing responsibilities, life gets busy. So, maintaining constant communication with someone you have feelings for isn't possible.
But, taking some time out every day or often to talk to that special person is manageable. One of the main signs a woman is not interested is when she doesn't want to put in the effort to do this.
3. She only communicates with you whenever it's convenient for her
On the rare occasion that you get to communicate with the woman you like, does it always happen when convenient for her?
If so, it may indicate that she doesn't feel any excitement or urgency to meet you or talk to you.
This is another one of the signs she's not interested in.
Related Reading: 15 Ways on How to Communicate in a Relationship With a Man
4. She leaves you behind in group settings
When you're hanging out with your crush in group settings with your friends or acquaintances, how does she behave? To be precise, how does she treat you?
Does she give you extra attention in group settings, or does she ignore you? Do you find her chatting a lot with your friends or acquaintances and completely ignoring you? It may be another of the signs she is not into you.
5. You haven't met anyone in her circle
This is probably one of the more direct indications of her lack of interest in you romantically. The thing is that if she considered you to be special to her in a romantic sense, she would probably make her close friends or loved ones meet you.
Also Try: When Will I Meet My Soulmate Quiz
6. She never takes the initiative to hang out with you
Are you the only one making all these elaborate plans to spend time with her (which she probably flakes on)? How many times has your crush taken the initiative to make any plans to hang out with you?
If your crush hasn't taken any initiative, it may be due to the lack of interest on her end.
7. She emphasizes the fact that you two are just friends
How to know if a girl is not interested? She'll keep on emphasizing the fact that she and you are just friends. And she may probably be saying this to you and others who ask.
Using this term too loosely may be a prominent sign of her lack of interest (romantically) in you.
Watch this video to know if you have been friendzoned and how to get out of it:

8. She avoids physical contact with you
Physical intimacy acts are a part of budding relationships. That shy kiss or that hug that lasted too long or small physical touches like brushing the shoulder, etc., are important.
These gestures show mutual interest. But if your crush avoids most forms of physical contact (excluding that enthusiastic high-five from time to time), she might not be romantically attracted to you.
If you're in a relationship and you see your significant other avoiding physical contact with you, it may be one of the signs she doesn't like you anymore.
Also Try: Intimacy Quiz- How Sexually Intimate Is Your Relationship?
9. Terse and blunt replies to your texts
This is one of the direct signs she is not into you. Monosyllabic replies to your texts (irrespective of the text content) are a tell-tale sign that she doesn't have feelings for you.
10. You often find her telling silly lies to you
A big reason she may not reciprocate your feelings for your crush is that she's very busy with work or not ready to date yet. And that's alright. But if she isn't honest about these things, it shows a complete lack of interest on her end.
Also Try: Is My Boyfriend Lying to Me Quiz
11. She isn't at all concerned about her physical appearance in your presence
It's good to slowly feel comfortable around one's significant other.
However, in the beginning stages of romantic relationships, women usually put some effort into looking together for people they're romantically interested in.
12. Prefers to primarily spend time with you with other familiar friends
Another one of the direct signs she is not into you is that she doesn't reciprocate your feelings for her if she only agrees to hang out with you in group settings. She probably only sees as a friend.
When a woman has romantic feelings for a person, she will try to make plans to spend time with that person alone. Although group settings are great, some privacy is also important.
Also Try: Should We Stay Together Quiz
13. She does not commit to any plans with you
Have you tried to suggest fun plans to hang out with your crush, which involves going to concerts or amusement parks or a road trip or a getaway? What was her response?
Did she seem very unsure about any plans related to the future? Well, it's one of the signs she is denying her feelings.
This is also relevant if you're already in a relationship. If your beloved isn't quite willing to commit to any plans at all, she may have lost that romantic interest in you.
14. Her behavior towards you changes according to the setting or situation
If your crush has expressed some degree of interest in you, but it's a hot and cold situation with her, observe how your crush behaves in group settings and when she's alone with you.
Suppose you see her being rude or completely ignoring you or treating you just as a friend in group settings. She probably isn't quite interested. This is applicable even if she's nice to you when you two are alone.
Also Try: How Does He Feel About Me Quiz
15. She's indirectly mentioned to you that she isn't interested in you
Consent is important. If you've heard her say stuff like "relationships aren't my thing" or "we're just friends" or other indirect phrases that express her lack of interest in a relationship, take it as a sign.
She isn't interested in you: What to do next?
If quite a few of the signs she is not into you have matched for you, don't worry. Maybe you want to know what to do if your girlfriend doesn't love you anymore.
Try following these tips to cope:
Limiting the amount of time you spend with your crush is important.

Try to engage in minimal texting with your crush.

Try not to stalk your crush on various social media platforms.

Consider temporarily muting their notifications on social media (if feasible).

Consider taking a clean break from your crush if your feelings for her are very intense.
Conclusion
Heartbreak and unrequited love can be arduous to deal with. You may be feeling down right now. But remember to stay open to the possibility of finding love from someone else! Someone exceptional!
Share this article on
Want to have a happier, healthier marriage?
If you feel disconnected or frustrated about the state of your marriage but want to avoid separation and/or divorce, the marriage.com course meant for married couples is an excellent resource to help you overcome the most challenging aspects of being married.
You May Also Like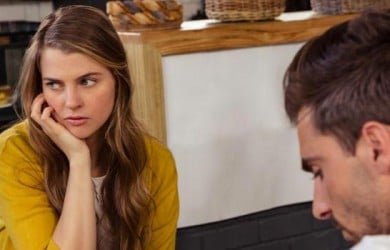 Popular Topics On Married Life