What Does It Mean to Have Feelings for Someone
We start having crushes as early as primary school, we all know the feeling. Their presence brightens our day, we want to see them all the time, and we feel jealous if they pay attention to someone else.
We go through our teenage days no longer confused about this feeling. We become selfish and want to form an intimate relationship with that particular person. We also go through puberty at the same time and curious about sex. A lot of people confuse those feelings with lust.
You can imagine what happens, we all have been through high school.
As we grow older, some of us still feel that "butterflies in our stomach" about a particular someone, but what does it really mean?
The puppy love
We all feel a sense of attraction to someone. That cute guy on TV, the pretty girl in the coffee shop, that hot and responsible boss, and that naughty neighbor. It happens even when it's a complete stranger we saw on the bus.
Why do we feel something weird when we encounter those people?
First off, it's natural.
Infatuation happens to everyone. It's just a matter of how we react to it, and as we grow older, we learn more about society's norms.
Those norms guide us on how we are supposed to react. But it's our choice if we want to follow it. Most of us build our own set of guiding principles that we follow based on what we learned and experienced.
So based on our principles, what is that attraction? Is it love or lust?
It is neither.
You're brain is just saying this person if your type. Nothing more, nothing less. We touched on the topic of guiding principles because it is what will tell you what you should do next. Some people do nothing, others go for it, while there are people who do something inappropriate.
So a crush on a random stranger is worth next to nothing. Unless you find it in yourself to get to know the person.
You get a funny feeling about someone you know
This depends on a hundred different factors. According to Freud, our psyche is divided into the id, ego, and superego.
Id – The id is the impulsive and instinctive component of our psyche. It is the powerful basic drives we have as a biological being. It's the thing in our mind that makes us want to eat, procreate, dominate, and other things living beings need to survive.
Ego – The decision making faculty.
Superego – Part of our psyche that tells us to follow the norms and morals of society.
What does the Freudian structural model have to do with the person you like?
Simple, that person could be taboo (Your Family, Your Girlfriend's sister, A happily married woman, Same gender, etc) or you are committed to someone else, and most societal moral norms say you can't have more than one intimate partner.
The funny feeling is just your Id telling you, you want the person, your superego will tell you whatever morals you follow, and your ego will be the decision you eventually make.
The id doesn't think, it just wants. Everything else is a different story. Regardless of how you interested you are, it's all about what your ego does that personifies what you really are.
So what does it mean to have feelings for someone?
It means you want to have an intimate relationship with the person, whether you should, is a different story.
It would mean you can either be a person of honor, class, or someone with a weird fetish. It depends on the choices you eventually make.
Your superego agrees
What does it mean to have feelings for someone and your superego agrees with you?
Let's assume you don't have any weird fetishes that suppress your superego. Then it means you found a potential mate. We wouldn't say it's love at this point, but you definitely met someone you could love.
You are not in love with anything unless you are willing to give you life for it. It can be a person, a child, or an idea.
Developing and strengthening your bonds is necessary to fall in love. There are hundreds of couples in the world that started without funny butterflies, but they ended up together for a long time.
So deepen your bonds with the person, they may be your type now, but things change when you get to know someone. They either get better or they take a turn for the worse.
So after the psyche lesson, what does it mean to have feelings for someone?
It means absolutely nothing. Until you do something about it. The original author used butterflies in the metaphor because like butterflies, those feelings come and go, they are fleeting moments.
Love is more powerful, it can engulf a person's being and known to drive people to do crazy things.
If you continue to meet with the person and build your bonds, then someday you may fall in love. We cannot say that the person will love you back, just because your psyches are all working together to do your best, that doesn't mean the other party will reciprocate your efforts.
As long as they don't despise and avoid you, you have a chance.
So what does it mean to have feelings for someone? Does it mean that it's worth nothing until I do something about it? Yes.
What you think and feel, is yours alone.
What you say or act is for the world to judge. Only when you speak or do things that personify your thoughts and feelings, only then will it have meaning.
It doesn't matter if you feel angst, rage, wrath, hatred, love, affection, yearning, fondness, adoration, or lust.
Until it is put into action by your ego. It is all just your private thoughts. Be careful, just because your intentions are good (for you). That doesn't mean that other people will respond favorably.
But doing nothing will guarantee that your feelings will lead to nothing. So talk to your id and superego. Then make the right choice.
Share this article on
Want to have a happier, healthier marriage?
If you feel disconnected or frustrated about the state of your marriage but want to avoid separation and/or divorce, the marriage.com course meant for married couples is an excellent resource to help you overcome the most challenging aspects of being married.
More On This Topic
You May Also Like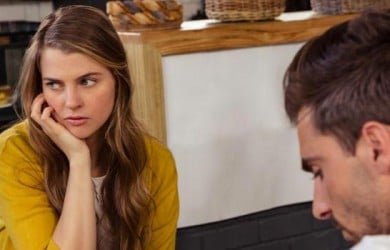 Popular Topics On Married Life