Reciprocity in Relationships: Importance & How to Practice It
When the word "reciprocity" is mentioned, almost everyone has an idea of what it means. Reciprocity is the act of exchange for mutual benefit. To explain better, it means exchanging things with someone or a group of people to get something in return.
Reciprocity exists around us, and it would be interesting to mention that even in relationships, you will find reciprocity either in play or in need. In this guide, we have extensively explained what reciprocity means and everything that a reciprocal relationship entails.
Let's explore more about reciprocity in relationships and how it can be practiced.
What does reciprocity in relationships mean?
What is reciprocal relationship meaning?
In a relationship, the ideal answer to "What is reciprocity?" is: reciprocity means the act of balancing giving and receiving. One of the reasons why reciprocity is established in a relationship is to create a healthy relationship that is mutually beneficial to both parties.
It is important to mention that there is no specific yardstick as regards reciprocal balance in a relationship.
However, it is the sole reserve of both romantic partners to create their reciprocity model tailored to their relationship. In a relationship where love is reciprocated, each partner experiences physical and emotional safety with each other.
Also, both parties will be ready to develop themselves in all ramifications for the relationship to be beneficial. They will always communicate their needs, intent and reciprocate feelings to their partner. Overall, both parties will strive hard to preserve the relationship's health, thereby fulfilling the true purpose of reciprocity.
What are the types of reciprocity in a relationship?
The norm of reciprocity explains that if someone does something worthwhile for you, it is normal to feel obligated to pay them in their coin.
Generally, there are three types of reciprocity, namely: Generalized reciprocity, Balanced reciprocity, and Negative reciprocity.
These types of reciprocity were outlined by an anthropologist in 1965 named Marshall Sahlins. He observed that these types of reciprocity occurred in all human societies around the globe.
1. Generalized reciprocity
Generalized reciprocity in relationships is an exchange involving no value calculation or instant repayment. Usually, you will find this form of reciprocal relationship among family, friends, and close acquaintances. In a generalized reciprocal relationship, no form of favor is expected even though you know they will return the goodwill.
Also, someone who caters to the homeless is said to exhibit generalized reciprocity. The reason is, they are aware that they cannot be repaid both in cash and in kind.
However, they are doing it because it is their little contribution to making the world a better place. The satisfaction that comes with this is enough repayment for them.
2. Balanced reciprocity
Balanced reciprocity in relationships is a form of social reciprocity that involves the value calculation of services or goodwill within a fixed time frame. One of the relatable forms of balanced reciprocity in society is gift-giving.
When you give someone, you expect them to return the favor either at that time or in the future. This is what social psychologists refer to as the Law of reciprocity. When paraphrased, the law states that when a good gesture is made to you, there is a psychological urge to repay the favor.
For example, if you give your husband a birthday present, there is a big chance that you will get yours when it's your birthday. This is what a balanced reciprocal relationship means.
3. Negative reciprocity
Negative relationship reciprocity is a situation where one party acts in their interest because of profits or other material benefits. It is correct to state that negative reciprocity is the exact opposite of generalized reciprocity.
It is a selfish attempt to get everything and give either little or nothing in return. For instance, a student who helps his professor with tasks outside academic activities so that they can access test questions is displaying a negative reciprocal relationship.
Why is reciprocity important?
When it comes to reciprocity, one thing that first comes to mind is a romantic relationship. However, it is vital to mention that reciprocity comes to play in our interaction with other people. Hence, you and everyone around you can gain from reciprocity.
Reciprocity helps you to be more sensitive and less selfish. You will understand people from their point of view, instead of always thinking about yourself.
Reciprocity is a two-way street, and it is best functional when both parties are willing to give their all, not minding what they stand to gain or lose.
How can you practice reciprocity in your relationship?
Practicing reciprocity in relationships is one of the best ways to keep the relationship moving. If you don't practice reciprocity, it would be challenging to understand what your partner wants. Also, it would be difficult for them to see your point of view regarding any issue.
Here are some ways to practice reciprocity in your relationship.
1. Discuss honestly and openly
In a relationship, an important principle of reciprocity is being honest and open with your partner because you trust that they have your best interests at heart. If you are afraid to communicate openly and honestly in a relationship, you might be dealing with toxicity.
Hence, you should always be free to discuss with your partner at any time, not minding how strange it might sound.
Similarly, when you discuss with your partner, there is no need to edit the content of your discussion because you don't want to be judged. Also, if you want something in the relationship, you don't have to be shy about it.
One of the excuses people give when they cheat is that their partners did not live up to expectations. In some cases, the cheating partner failed to discuss their partner's shortcomings with them, which is wrong.
For a relationship to work out smoothly, you should be ready to communicate and share your feelings, intents, needs, and wishes with your partner.
2. Learn to give each other space
How to reciprocate in a relationship? By Respecting your partner's personal boundaries.
Many people often misinterpret the original intent of giving their partners space. When it comes to giving space, it is not aimed at ending the relationship.
Instead, it is helping us get in touch with our individuality. In a relationship, it is normal to get involved with many things that make you forget about yourself. This is one of the reasons why people feel drained without knowing why.
In a relationship, another important reciprocal rule to practice is understanding when quality time begins to lose its meaning. Quality time is important, but it becomes an obsession if you want to be by their side 24/7.
When you or your partner find it challenging to give each other space, you might be entering a toxic relationship. A healthy reciprocal relationship is one that respects the need of both partners to have their private time to keep to themselves.
This is usually the perfect opportunity to strategize, make goals and plan big! The truth is, if you are always around your partner without giving each other breathing space, you won't have ample opportunity to appreciate them.
3. Trust one another
Trust is crucial to embrace reciprocity in marriage or relationships.
One of the primary ingredients of a reciprocal relationship is trust. A relationship not built on trust cannot stand the test of time. Life will test your love for each other in a relationship, and it takes attributes like trust to keep defying the odds and staying together as partners.
Trust should not be one-sided in a relationship because it can be frustrating to the partner who is not being trusted. And one of the ways to build trust is by keeping honest and open communication.
When both parties trust each other, a safe and healthy space is created to build a stable relationship and integrate other attributes like confidence, patience, loyalty, etc.
4. Be committed to one another
Another feature of a reciprocal relationship is staying committed to your partner. When there are ups and downs in your relationship, can your partner trust that you will be there to support them?
A number of times, partners are fond of ghosting off when things get bad with their partner. In comparison, when the going is good, they pretend to offer their best support.
One of the ways that true commitment is tested is how partners react when the relationship threatens to hit the rock. If you always show commitment and your partner shows little or no commitment when it's their turn, there is a big chance that the relationship is non-reciprocal.
Commitment is beyond being physically present; it involves showing support when it is needed. When your partner needs you to be there for them, they should not be forced to look outside because they are not receiving your support.
5. Equal show of love and care
Love and care are two important factors of a reciprocal relationship. Even though love and care should not be measured, both parties should put in their best to ensure their partner gets enough dose.
If one partner notices that the love and care given out far outweigh the one they receive, it can lay the foundation of resentment. No one likes to be treated unfairly when they go out of their way to show love and care in a relationship.
It is important that you meet the emotional needs of your partner, and showing love and care is the major way to achieve this.
You have to understand that reciprocity in terms of showing love and care is one of the simplest acts to do. With a sufficient and equal show of love and care, you can transform your relationship into one where satisfaction, commitment, and happiness abounds.
In a book by Jennifer Filzen titled The Give to Get Principle, she outlines some reciprocity techniques that made marketing in small businesses successful. Some of these techniques can also be applied in romantic relationships to make them blossom.
Watch this video to know more about reciprocity in relationships:

What is the positive effect of reciprocity in a relationship?
Why is reciprocity important in a relationship? When reciprocity exists in a relationship, it improves respect, communication, love, and boundaries. It will be evident that both partners care for and understand each other.
Here is what you need to know about the importance of reciprocity in relationships.
1. Mutual respect for each other
One of the most crucial characteristics of a healthy relationship is mutual respect. When people spend some time in a relationship, they tend to be careless with their words, behaviors, and actions. Reciprocation in relationships can promote mutual respect.
When both partners consciously exhibit reciprocity, they will be milder and more pleasing with their acts towards each other.
Since you claim to love your partner, it is important to make them feel like an integral part of your world. Lack of reciprocity in relationships prevents mutual respect for each other.
2. Total commitment
With reciprocity comes commitment. When you know what is a reciprocal relationship, you understand what it takes to be committed.
People who are not mindful of reciprocity would not be committed to the relationship because they will be mindful of themselves instead of their partners.
However, when reciprocity exists in a relationship, your actions will be hinged on the ripple effect it would have on your partner. Before you make any major decision, you will consult your partner first to know what they think.
3. It is easy to forgive
The ability to forgive naturally can be one of the reciprocal relationship examples.
In a relationship, your partner will have behaviors that will irk you. If you react to every behavior, it means you do not accept your partner unconditionally, and your relationship might not last. When reciprocity is in the picture, it would be easy to forgive and not bear grudges.
Even though forgiveness looks impossible sometimes, it is vital to mention that people who have long-lasting and healthy relationships forgive each other.
Forgiveness doesn't equate to accepting abusive behaviors from your partner and overlooking them. You need to be aware of toxic and abusive behaviors in your relationship. If you speak up and these behaviors continue, it will be best to part ways.
4. You are sensitive to each other's love expression
Everyone wants to be loved, but we don't get loved the same way due to our preferences; this is where love expression comes in. For instance, if you prefer words of affirmation but it is not your partner's strong point, you have to communicate with them.
When there is reciprocity in the relationship, you will see the need to inform your partner if you are not loved the way you want.
Similarly, to reciprocate love to your partner, it is vital to know what makes them tick. And one of the best ways to know this is when you communicate with them. When you know what your partner enjoys, it is easy to be more affectionate and loving.
Mr. Lacy E. Wright mentions the need to find balance with your partner which is a direct ripple effect of reciprocity. With the keys mentioned in this guide, it becomes easier to understand the importance of reciprocity in a relationship.
Common questions
Building reciprocal relationships is essential for fostering meaningful connections and mutual support. Let's explore a relatable example and some practical tips for cultivating these valuable relationships.
What is an example of a reciprocal relationship?
An example of a reciprocal relationship is a close friendship where both individuals genuinely care for and support each other. They take turns listening, providing advice, and offering a helping hand, creating a balanced exchange of kindness and understanding.
How do you build a reciprocal relationship?
Building a reciprocal relationship involves active participation and empathy. Invest time in understanding the other person's needs, be a good listener, offer support without expecting anything in return, and be open to receiving help and reciprocating their kindness. Mutual trust and understanding are key.
Giving and receiving the same amount of love
Keeping a reciprocal relationship is one of the profound ways to keep your relationship stable. It shows mutual commitment from both parties because a solid foundation is being built in the process. As mentioned earlier, reciprocity allows for trust, which is a crucial ingredient for a long-lasting and successful relationship.
Share this article on
Want to have a happier, healthier marriage?
If you feel disconnected or frustrated about the state of your marriage but want to avoid separation and/or divorce, the marriage.com course meant for married couples is an excellent resource to help you overcome the most challenging aspects of being married.
You May Also Like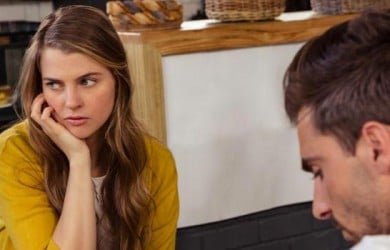 Popular Topics On Married Life