Why Is She Ignoring You? 15 Possible Reasons
In matters of the heart, few things can be as perplexing and disheartening as being ignored by someone we care about. Whether it's a close friend, a romantic interest, or even a family member, the sudden silence can leave us wondering and searching for answers.
While it's easy to jump to conclusions or feel hurt by their behavior, the truth is that there could be a myriad of reasons behind her decision to ignore you.
Understand that the question, "Why is she ignoring you?" and many others you ask are valid in such a situation. We all want our love interest to reciprocate the love we show.
In this article, we delve into the enigmatic world of human emotions and relationships to explore possible reasons why she might be giving you the cold shoulder.
From internal struggles and personal issues to external circumstances and miscommunications, understanding these potential factors can shed light on her actions and help you navigate through this perplexing situation with compassion and clarity.
If, however, you find yourself asking why she is ignoring you, it is time to know the reason and work towards solving it. If you would like to know what to do when she ignores you, read this article to the end for a comprehensive answer.
15 reasons why she is ignoring you
When you like someone, it can make you extra sensitive to their reactions and their response to you. This is what makes them ignoring you truly painful, confusing, or frustrating.
So, have you been wondering why is she ignoring you? Here are some reasons why it could be happening:
1. It took you a long time to make a move
She could be ignoring you because you waited too long before asking her out. Yes! You have realized she is the one for you a long time now, but you decide to wait a bit, or you thought you would be acting fast if you asked her out then. In essence, you are trying to play it safe.
Wasting time is one of the worst moves a person can make. While you are there giving her time, another man is asking her out. So, when she ignores you, it means another man has already taken your place.
2. You don't give her space
What does it mean when a girl ignores you?
When a girl ignores you, it could mean you don't give her space. If you reveal your insecurity way too early in a relationship or would-be relationship, you decrease your chance of dating.
You love her and want to be with her all the time. However, she needs some breathing space and time to think about it. You can't even get angry at some of her actions because you want her to say yes. This is very dangerous and can make her ignore you.
3. You are pushy
Why is she avoiding me?
When a girl ignores you but likes you, it could be that you are too pushy.
Even if she wants to be in a relationship with you, making some decisions quickly can make her anxious. Your love interest might be someone who loves to take it slow. If you don't observe her personality, you may appear to be too forward, and that can make her ignore you.
4. She is bored
If you have asked, "Why is she ignoring me for no reason?" She ignores you because she is bored. If your effort to make the relationship work has become a routine, it can make the relationship boring.
For instance, if you take her to the same restaurant every time and on the same day, the spark and thrill that were once there will disappear.
5. You are shy
When a girl ignores you but likes you, the reason could be your shyness. If she notices that you hardly communicate your feelings and emotions, it can get frustrating. She may also think you are no more interested in her if you don't speak or act freely around her.
6. You don't show up
If you want the answer to the question, "Why is she ignoring me?" The problem could be that you are inconsistent with your actions. You claim you love her but hardly stay around, or you don't fulfill your promises. This action can turn off a woman who values her self-esteem.
7. She has another man
When a woman ignores you, what does it mean? It could mean that she has a boyfriend. This situation happens more times than you can imagine.
If she hasn't given you a specific answer yet ignores you, most times, it means she might just be occupied with her boyfriend. This is another likely situation when a woman ignores you but likes you.
8. She doesn't feel the relationship
Why do women ignore me?
In some cases, your love energy might not match up to her. You can be willing to give her all your love and make her happy. Yet, she might not feel the spark like you do. So, when she ignores you like this, it means life happens. Some things don't just work out.
9. She is not interested in you
Is she avoiding me because she likes me? No, she is avoiding you because she is not interested in you. Let's face it. We all have our type, and most times, you won't meet someone that fits your criteria. You are not just the kind of person your love interest wants.
10. She is busy
Your love interest might be busy with responsibilities both at work and at home. Frankly, having so much responsibility can make you ignore your partner, especially if you are both not putting in the right effort.
11. She is angry at you
Another way to answer why she is ignoring me is to check if you have done anything wrong in the past few days. Your partner may be giving you the silent treatment until she is ready to talk or you figure it out.
12. She is cheating on you
If you have asked yourself, "Why is she avoiding me?" She might be cheating on you. She may be too occupied with the new partner and might also feel a sense of guilt which makes her avoid confrontation.
13. You are giving her mixed feelings
When a girl ignores you but likes you, it might be that she is not sure of your intention. If you shower her with love and even call her one day but withdraw the next day and keep to yourself, your love interest will think you are playing games with her.
14. She is playing games
Why is she ignoring you? Unfortunately, she might be ignoring you because she loves the thrill of being chased.
Some people like it when they are chased, and someone runs after them and pesters them for a relationship. So, she ignores you so you can keep coming.
15. She has fallen out of love
When she ignores you all of a sudden, she probably no longer has feelings for you. This situation happens when there is a distance between two people in a relationship. She doesn't know how to tell you, so she sets a barrier between you, hoping you understand her message.
5 reasons she is ignoring you, despite liking you
It is possible for someone to ignore you even if they like you. People's emotions and behaviors can be complex, and there can be various reasons why someone might choose to ignore someone they have feelings for. Here are five possible reasons:
1. Fear of rejection
One common reason someone might ignore you despite liking you is the fear of rejection. They might worry that if they show their interest, they'll be vulnerable and might not receive the same feelings in return. By ignoring you, they can protect themselves from potential emotional pain.
2. Past experiences
Previous negative experiences in relationships or friendships could make someone cautious about showing their feelings openly. If they've been hurt or betrayed in the past, they might prefer to keep their distance to avoid getting hurt again.
3. Mixed signals
Sometimes, people send mixed signals unintentionally. They might like you, but their actions or words might suggest otherwise. In such cases, they might withdraw and ignore you as a way to cope with their internal conflicts.
4. Personal issues
Why is she ignoring you?
External factors such as stress, family problems, or personal issues can affect someone's behavior. Even if they like you, they might be dealing with their problems and may not want to burden you with their struggles, leading them to withdraw and ignore you.
5. Playing hard to get
In certain situations, some people might play "hard to get" as a dating strategy. They believe that by appearing less interested, it will make the other person desire them more. This behavior is more about the chase than genuine disinterest.
It's essential to remember that everyone's situation is unique, and these reasons may not cover all scenarios.
Communication is key in any relationship, so if you feel someone is ignoring you despite liking you, consider talking to them about it and try to understand their perspective. Open and honest communication can help clarify misunderstandings and pave the way for a healthier relationship.
9 things to do when she ignores you
There is no certain way you can know why a woman ignores you, but if you want to know what to do when a girl ignores you, check below:
1. Don't force your partner to talk
If you want your relationship back, don't force your partner to talk. Pestering her might look like you are desperate. Rather, wait till she is ready to talk.
When she ignores you, do something exciting like taking her to a new restaurant or going to a new interesting place.
2. Give her time and space
Sometimes, when a woman ignores you, she needs space and time to figure out her life, relationship, and responsibilities. So, even though you might be tempted to contact her, realize that time away from each other can be helpful.
3. Be patient
Remember not to send them repeated messages asking, "Why are you ignoring me?"
If you don't know what to do when a girl ignores you, the best is to be patient. You might want to lash out at her and tell her to make up her mind quickly. However, none of this will work.
4. Don't apologize
Not knowing what to do when a girl ignores you is fine, but you can't apologize. Why would you? You don't even know what you did wrong. When someone is ignoring you, blaming yourself can be a misplaced assumption in which you blame yourself.
5. Don't flirt
Have you been contemplating thoughts like, "Why she ignores me but doesn't block me?"
One question that may come to your mind when a girl ignores you is, "Should I ignore her if she ignores me but talks to everyone else?" If this ever crosses your mind, ignore them. It is okay to be tempted to flirt with other women, but it might not last.
6. Be yourself
It is difficult to be yourself and act normal when the question that comes to your mind is, "Why is she ignoring me?" or "Why do women ignore me?" However, you will help yourself if you don't think about it much. When a girl ignores you, it is just a phase that will pass sooner or later.
7. Engage in other activities
Distract yourself with hobbies, friends, or activities you enjoy. Keeping yourself busy can help take your mind off the situation and prevent you from becoming too fixated on her silence.
8. Avoid making assumptions
Don't jump to conclusions about why she's ignoring you. Making assumptions can lead to misunderstandings and unnecessary drama. Instead, try to communicate openly and honestly when the time is right.
Watch this video to learn more about making assumptions:
9. Know when to move on
If her ignoring you becomes a consistent pattern, and your attempts to communicate go unanswered, it may be time to accept the situation and move on. Sometimes, people's feelings and priorities change, and it's essential to respect that.
Commonly asked questions
Here are the answers to some pressing questions that can help you deal with things if you find that the person you like is ignoring you:
How long will a girl ignore you?
The duration a girl may ignore you can vary significantly based on individual circumstances. It might be a brief moment due to a misunderstanding or a busy schedule, or it could extend for an extended period if there are deeper issues.
Respect her need for space, but if it persists for an unreasonable time, consider gentle communication to address the situation and seek understanding.
How to attract a girl who ignores you?
To attract a girl who ignores you, focus on being genuine, kind, and considerate. Demonstrate your interest through thoughtful gestures and active listening.
Give her space to process her feelings, but subtly show her your positive qualities. Engage in shared activities and common interests to build a connection. Patience and understanding play a vital role in gradually breaking down her barriers.
How long should I wait before reaching out to her again?
The appropriate time to reach out to her again depends on the context and your previous relationship. Give her some space initially, but don't wait indefinitely. A few days to a week is usually reasonable.
Pay attention to any signs she may give, and when you sense the time is right, approach her gently with a friendly message to reinitiate communication.
Should I try to make her jealous to get her attention?
No, using jealousy as a tactic to get someone's attention is not a healthy or respectful approach. It can create unnecessary drama and hurt feelings. Instead, focus on building a genuine connection by being yourself and showing interest in her as a person. Manipulative tactics are not a solid foundation for any relationship.
Should I confront her about why she's ignoring me?
Confrontation may not always be the best approach. Instead, consider having an open and honest conversation with her. Express your concerns calmly and respectfully, allowing her the space to share her perspective as well.
Avoid accusatory language and be willing to listen and understand her point of view. Effective communication can lead to resolving misunderstandings and strengthening your bond.
Final thoughts
It can be frustrating to love someone, but she doesn't reciprocate. This often brings questions like, "Why is she ignoring me for no reason?" It is even challenging when a girl ignores you but likes you.
A woman can ignore you because of your actions, her actions, or for no reason. Knowing what to do when a girl ignores you can be hard. But the best is to observe and be patient when a woman ignores you.
Share this article on
Want to have a happier, healthier marriage?
If you feel disconnected or frustrated about the state of your marriage but want to avoid separation and/or divorce, the marriage.com course meant for married couples is an excellent resource to help you overcome the most challenging aspects of being married.
Learn More On This Topic
You May Also Like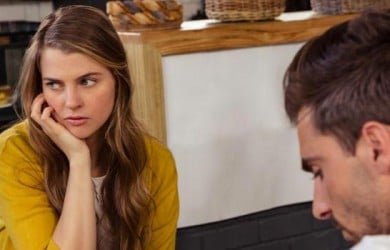 Popular Topics On Married Life