20 Signs a Player Is Falling in Love
So many things happen when a player falls in love. For one, their attitude towards the person they have developed an affection for begins to change. Although this can be precarious, falling in love with a player is possible, especially when they are charming and possess many positive qualities.
In this article, we will closely examine the signs a player is falling for you.
You will understand the top 20 signs to look out for, discover how to spot a player from a mile away, and learn exactly what to do if you figure out that a player is falling in love with you.
First things first, what does it mean to be a player?
What does being a player mean?
Over time, this word has come to be associated with many definitions. On the one hand, many people believe that anyone with a past full of exes is a player. On the other hand, other people think that for a person to qualify as a player, they must intentionally set out to move from one relationship to another with the speed of light.
These leave us with a pertinent question – what is the actual definition of a player in a relationship?
A player is a man or woman who fakes a serious level of romantic interest and commitment to a relationship while having other relationships simultaneously. A player makes you feel they are committed to you and the relationship at hand, while they have other people by the side with whom they are also in 'relationships' simultaneously.
Because healthy relationships demand trust, honesty, and mutual respect from both parties, being with a player can become a challenge immediately after their cover is blown.
Then again, because of how smooth they can be, you may soon find yourself trying to figure out how to make a plate fall in love with you, which can be exhausting.
Regardless of how manipulative they can get, a player can change and decide to commit to you. However, do not bank on that!
20 signs a player is falling for you
Now that we have established that a player can indeed fall in love, here are the signs a player is falling for you.
1. They become less secretive
One of the ways to tell that your partner is hiding something from you is that they tend to be secretive. They hide their phones and emails from you, take calls in your absence, and just act in ways that look suspicious.
Because secrecy has been associated with loneliness, it is only a matter of time until it places a strain on any relationship. However, one of the signs a player is falling for you is that they start becoming less secretive. They may even take the passwords off their phones!
2. They suddenly want to spend more time with you
Another sign of a player in love is that they suddenly start showing an affinity for being with you. Before now, you would have known them always to take the slightest excuse to leave you.
However, when a player begins to fall in love, they enjoy your company (more than they would readily acknowledge) and would start looking for the most ridiculous reasons to spend time with you.
Related Reading: 

11 Ways to Spend Some Quality Time With Your Partner
3. They start digging deep into your life
And they don't do this in an annoying way.
One of the ways to know that someone is with you for a short time is that they refuse to have important conversations. It would feel like they are only interested in surface talk and would never want to know the real you.
However, when a player in a relationship begins to fall in love, they would try to start getting deeper into your life. They would want to know the real you, understand how you think, and be available whenever you need them.
4. They want to meet the people that matter to you
Another of the many signs a player is falling for you is that they start moving to meet the people that are important in your life. Even if they don't actively move to meet the people important to you, they become less edgy when you suggest that.
So, when a player in a relationship starts falling for you, they may not be opposed to the idea of hanging out with your friends and family for a while.
5. They start opening up to you as well
Before now, they were always shady. They would come to you only when they wanted to and never let you see the natural person underneath the facade. However, one of the signs a player likes you is that they start to open up to you.
They may start sharing their plans, dreams, aspirations, and fears with you. They won't be afraid to be vulnerable with you – because they are sure of your loyalty.
Related Reading:

 Open Communication In a Relationship: How to Make it Work
6. Something about sex with them becomes almost… enchanting
Before now, you used to have sex to scratch an itch. It was more like a chore you had to get through because there was no real emotional connection between you. But now? Sex with them almost feels divine. It feels like an emotional connection cherished by both of you and an experience you want to last for a long time.
7. They might even want to hang around after sex
Although sexual compatibility and attraction seem to be the basis of many relationships, being with a player. Players generally cannot get out of bed and your house fast enough. Immediately their urges have been satisfied.
This might make it difficult to establish the emotional connection attached to pillow talk. However, one of the signs that a player is falling for you is that they might start hanging around for much longer after sex.
Who knows? He may not even rush out of bed immediately afterward – like he used to!
8. They want you to meet their closet people
One of the signs of a womanizer falling in love is that they want you to meet their family and closest friends. They were all about keeping it casual when it was just a no-strings-attached situation. Now? Don't be surprised if they casually invite you to 'hang out with their parents.'
9. They come back, even when you fight
One of the things you would notice about a player is that they don't want the emotional baggage that comes with relationships – including the fights and quarrels. As a result, it is not unusual to find a player backing down immediately after a fight.
However, if they stay around, even when you have just gone through a fight, it may be because they are now more committed to you than they have admitted.
What are the three magic words to fix a fight? Watch this video to know more.
10. He's there when you need him
Players are generally selfish and manipulative. They wouldn't give their time or resources to anything that doesn't directly profit them.
However, one of the signs a player is falling for you is that they are there when you need them, even if it is an emergency. They wouldn't mind dropping everything they're doing just to be with you when you call.
This is unusual for a player, and a big sign that their feelings have started going deeper.
11. They use the "L" word
Using the "L" word is the player's worst nightmare. How in the world do they profess their feelings for you when doing so is likely to make them lose out n all the extra fun they have been getting on the sides?
Pay close attention when a player begins to tell you that they love you. It could signify that they are ready for much more than 'just having fun.'
12. They want to take you on dates
Dates are another big nightmare for the average player. This is because they tend to believe that dates are only for those deeply in love. Then again, players are selfish and deeply manipulative. So, why should they spend their time and money taking you on dates?
However, when a player is suddenly interested in taking you on dates and spending quality time with you, it could be because they have started catching the feels for you. While this may not be a standard measure, please do not discard the signs.
Related Reading: 

How to Date Someone: 15 Best Dating Rules & Tips
13. They admit that they miss you
Another strategy the player uses is that they never admit that they have missed their partner. This is because they believe that doing so makes them weak, and their partner can easily take advantage of them.
So, if a player begins to admit that they have missed you when you are apart, it could be a sign that they have missed you. Again, this isn't one of those signs you want to consider in isolation.
14. They want your approval
Before now, they used to take arbitrary steps and have you figure out what they have done much later on. This is because they cared less about your opinions and judgment. However, one of the signs a player is falling for you is that they are no longer afraid of seeking your permission before they do things.
A player in love will strive to impress you with all the decisions they make. Brace yourself because you'd soon start offering a lot of advice.
Related Reading: 

Relationship Advice for Couples Who Are Just Starting
15. Expect random calls
These happen at odd hours of the day and may not even be for a strong reason, except to say hello and hear your voice.
When a player decides to settle with you, they are likely to take all that charm they have been distributing across relationships and invest them all in 1 person. As a result, you may find yourself at the receiving end of a lot of attention.
So, expect random calls for no reason.
16. They start eliminating other options
The strength of a player lies in the fact that they have other options; that is, a pool of people they can easily swing over to if one relationship doesn't work out.
When a player is ready to settle with you, however, they would begin to eliminate all those options. They may reduce how they flirt with others, and this would, in turn, increase the amount and quality of attention they give you.
17. He's honest with you
When a guy is only interested in getting into your pants, chances are that he would do and say anything just to achieve his aim. Many times, this would include sugarcoating the truth in a bid to make you feel good.
The player isn't immune to this.
When it goes beyond just having sex with you, however, you'd notice that they would become more honest with you. They'd tell you the truth you need to hear, even when it hurts. This is because they are now committed to you as a person, not just to having a fling with you and moving on with their lives.
18. They start making an effort to be better
You would notice that they begin to make an effort to become better. They start paying more attention to their hygiene and grooming (if they weren't at their A-game before), harnessing their communication skills, and even being more observant.
They do these because they now see themselves in committed relationships and understand that they must be better people to do these work.
19. They remember the tiny but important details
Things like your birthday, other important dates, and how you like your coffee become important details to them. One of the signs a player likes you is that they store the tiny yet important details about you somewhere in their minds.
Once the necessary situations arise, the speed with which they'd satisfy you may keep you wondering.
So, don't be shocked if he orders your favorite meal from your favorite restaurant, only to ask you to stay back and see your favorite movie soon enough.
20. They become protective
This change in the relationship dynamic is because they have decided that they want to commit to you. As a result, they would become protective of you in every sense of the word.
They'd want to make you happy and satisfied and may even get a bit jealous when they feel like there's someone else who's trying to take your attention away from them.
How can you spot a player?
There are so many effective ways to spot a player. These 10 ways to spot a player will help you better understand the person you are with so that you can decide the best course of action you must take.
In summary
This article has covered the top 20 signs a player is falling for you. However, the decision you make when you suspect they are falling for you completely depends on you. Don't feel compelled to commit if you are not ready to.
Players can fall in love and decide to commit. However, the decision to reciprocate their decision to commit is completely up to you.
Share this article on
Want to have a happier, healthier marriage?
If you feel disconnected or frustrated about the state of your marriage but want to avoid separation and/or divorce, the marriage.com course meant for married couples is an excellent resource to help you overcome the most challenging aspects of being married.
More On This Topic
You May Also Like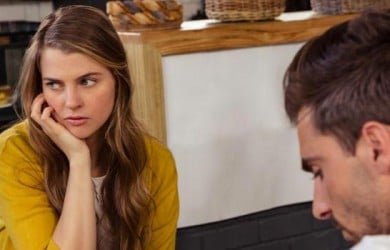 Popular Topics On Married Life