What Is a Womanizer? 11 Tips for Dealing With One
Women by now might think that they could spot a womanizer. After all, television shows, movies, and even shocking headlines about some people misbehaving terribly would be more than enough education about warning signs of a womanizer who's falling in love.
Yet, if you are in an intimate relationship, it is too easy to ignore or minimize the warning signs that your partner might be a womanizer. After all, look what could be at stake if you opened your eyes: You might lose the relationship or get physically harmed—and feel so "gas-lighted" that you don't trust your judgment.
So, I hope that the following questions, information, and suggestions from the thousands of women I've counseled are helpful to you.
Who is a womanizer?
Men who are womanizers come in many appealing disguises. Still, they share the following characteristics:
In general, a womanizer is a man who lies, charms, misleads, cheats, disrespects, and—surprisingly–has a low sense of self-worth and high fear of emotional intimacy with woman.
Womanizers have chronic, unfulfillable needs to be—and be seen—as a powerful, important, influential man in charge of his life and work –and of you. They need to be liked and revered. Unlike misogynists, they do not hate women. Instead, they need women to revere them.
What are signs that a man might be a womanizer?
So, what is a womanizer? Is he a womanizer? Pay attention to the following signs to understand what a womanizer is:
1. He likes attention
These men thrive on personal and public adulation. Often, they can be easy to spot. For example, they seem to thrive in the spotlight. They love being seen on television, mentioned in the newspapers, and awarded an assortment of community and charity honors.
Photos of him typically show him with a gorgeous, rich, and influential woman on his arm. Or, in contrast, these men can also be seen with a wife whose behavior clearly shows how much she adores him. For example, she seems to beam and smile too much. She can never take her eye off him.
2. He tends to get in and out of relationships
These men often tend to have many divorces and marriages. No woman seems "good enough" for him. Yet, because of his power and accomplishments, the public often "forgives" him for his divorces—and for his numerous, habitual affairs with women—married or single!
In fact, these men need this recognition. They cannot live without it. This respect is like fuel and food to him, and he secretly fears that one day the supply of esteem will run out.
3. He prefers submissive women
No wonder these men must have radar for spotting women who are submissive and who will overlook his cheating–and then forgive and forget his bad behavior. His best prey are women who need to be rescued from an unhappy life and who need to be with an enormously "good catch."
Check out more signs of a womanizer below:
Why are womanizers like this? What is wrong with them?
In a twist on a popular phrase, womanizers are sheep in wolves clothing. They feel compelled to be in charge, to look and be—and believe—that they are endlessly powerful, and esteemed.
But deep inside, these men come from families where being weak was dangerous and disrespected. Survival depended on swift assessments of people and situations. They are compelled to be rich, successful, and in charge of life. Failure is not an option—even if they have to cheat, lie, break the law, or abuse someone.
The details of their upbringing may vary, but their family life included at least a few of the following experiences.
One or more of their caregivers were abusive physically and verbally. When future womanizers were children, they felt powerless, frightened, unloved, poor, frightened and determined to never be a victim again.
Remember that scene in the movie, Gone with the Wind, when Scarlett raises her fist to the sky and vows that she will never go hungry again? Well, those words could be the anthem for womanizers. They have to be in control—and revered by an endless number of people—most especially their romantic partners.
When mothers and other female caregivers revealed their disappointments in their male partners, they sowed the seeds of anger, fear, and resentment of women in their sons. These women openly criticized and belittled their male partners.
They browbeat them to make more money, compared them to other men, withheld affection, often sleeping in another room. As a result these sons often grew up either being men who were passive and afraid of failure—or men who controlled, mistreated, disrespected and cheated on women.
What is the appeal of a womanizer?
Men who are womanizers have charisma, charm, and success. While in a relationship with a womanizer, they make a woman feel safe, secure and attractive. Women who grew up in families with lower income or losses of a caregiver or parent found these men irresistible. These women suffered from the curse of too much gratitude.
And even if a woman grew up with an abusing parent—especially an abusing father—these women felt that they could excuse or tolerate a womanizer because of all the other goodies that the man provided.
Women who grew up in wealthy or prominent families were often expected to marry well. These daughters were often drawn to a man who could offer a successful life—but not necessarily a loving husband.
And yet, even daughters who grew up in secure and happy or happy enough families could still be drawn to these men. In fact, it was hard for the most level-headed woman to turn down all the perks.
Of course, in the best of families there are other variables such as loss, illness, and downturns in income that can make a daughter drawn to a womanizer. Too late the woman discovers that beneath that charm and success lurks emotional pain.
How do womanizers tend to manipulate?
These men have already "sized up" their women. They know how to "read" them. As a result, these men take liberties. They cheat and have multiple affairs, they lie, they criticize, abuse, and recast their behavior as normal—as just "being a guy."

When the man gets caught cheating, being addicted to pornography, and lying, he charms his partner by apologizing, going away on trips together, being great with their children, buying gifts, acting lovingly and blaming his behavior on his career demands.

He also knows his partner's emotional issues and

past relationship

history, and he uses this knowledge against her.
For example, he might say something like: "You are too sensitive." "You sound like your parent who is always complaining and bossing everyone." "You are mixing me up with your past partners who were losers and not half as successful as I am. We live the good life that we have because of me."
And it works! And when his behavior reverts to his womanizing self, his wife or partner is soon caught in the cycle of being unhappy, abused, frightened and then forgiving and apologetic for not understanding.
These womanizers know this cycle, and so they can exploit it over and over. Often, the woman does not recognize this cycle. Awareness comes too late—much like the way a live lobster is tossed into a pot of cold water and only realizes too late that the water is going to boil.
Related Reading: 

What Is a Womanizer's Weakness? 10 Surprising Cons of Being One
How can women recognize a partner who is a womanizer?
In the support groups I had with women who were with womanizers, they found the following suggestions helpful.
Start by paying attention to you and honoring your feelings and thoughts. Ask yourself the following questions:
Does he compliment women in front of me and tells me that is how I should look if I want to please him?

Is my partner always picking on me about my weight, cooking, handling of money, parenting, and the lack of order in our home—and then often comparing me to other women we know who are attractive and competent?

Does he make lewd or crude remarks about women he sees on television, on the street or in gathering with our friends?

Does he defend his sexual remarks about women in front of my children—and then defend it by saying that he is "teaching his son and daughter about life?'

Do I suspect that he is cheating on me because he comes home late, does not answer my calls or text messages?

Does he spend lots of time on the Internet—and does not want me to know or comment about it? And do I avoid asking him what he is doing?

Do I ignore what my friends are telling me about him and his behavior to me?

Does he not want to spend much time with my parents and other relatives?

Does he not tell me about office holiday parties that spouses and partners are invited?
What to do when you are in a relationship with a womanizer?
Check out how to deal with a womanizer when you are in a relationship with one:
1. Trust your gut
One way of how to win over a womanizer is to start by developing trust in your own reactions, observations, thoughts and feelings. Since one of the main blocks to detecting what is a womanizer is not trusting your judgment, the women in my workshops used these following suggestions. You can try all of them or choose the ones that you are most comfortable doing.
And you might discover your unique ways that boost your trust in yourself.
Related Reading: 

Gut Instinct in Relationships: How to Trust Your Intuition
2. Keep a private diary about the incidents that upset you
One way to boost your awareness and self-esteem is to keep a private diary or just a list about the incidents that upset you. Do not keep this diary in your phone. Find a place where your partner could not easily find it. Some of the women, for instance, kept it in the laundry room behind the supplies. You don't have to write long entries.
Your goals are to recognize and validate these incidents and your thoughts and feelings. For example, you can just jot down reminders to understand the psychological characteristics of a womanizer such as:
"Made lewd remark about how much he could please a woman we know"
"Picked on our daughter for being smart and telling her that men do not really like smart, career-oriented girls or women and that her job is watch her weight and learn about what men want sexually."
3. Identify if someone around you has gone through this
Identify someone you trust in your life who has witnessed your partner's reactions and ask this person how it made him or her feel.
4. Get in touch with online support group
Connect online with women's groups about how to detect and deal with womanizers.
5. Gather information
Read articles online or read books about how to deal with the issue. However, make sure you find a way to erase your online behavior on your phone or computer. If you do not know how, ask your friends who have technical skills.
If they ask you why, you can tell them that you are looking for birthday or holiday gifts for your family, and that you did not want them to find your activity.
6. Get in touch with religious organizations
Seek help from your clergy and trusted members of your religious organization. The women in my groups said that this suggestion was the easiest because they could camouflage their actions under the guise of working with others during holiday season or attending talks or helping out as a volunteer.
The women also used these explanations to hide that they were actually going to counseling agencies such as Catholic Charities or Jewish Family Services.
7. Make safe changes
Unless you fear for your safety or the safety of your children, take your time before making any big changes all at once.
Start with a change that you feel you can handle such as telling him that you don't like a comment he made about a woman. Focus on what and how you want to say something. Tell a trusted person about your idea and listen to their comments and suggestions.
8. Analyze your fear
Ask yourself, on a scale of one to ten, with ten the highest, how you would rate your fear of physical violence from your partner. You can also recall incidents when you felt that fear. Keep a count of how many times you feel threatened and what he did.
Even one incident or feeling is powerful enough for you to seek counseling. You can ask your clergy to help you make and manage those appointments.
9. Seek help from a marriage counselor
If you do not fear for your physical safety, suggest to your partner that you would like to see a marriage or relationship counselor. You might want to consider bringing your diary.
Related Reading: 

3 Good Reasons to Seek Marriage Counseling
10. Work on your reaction
If you see progress in your partner's behavior, you could try focusing on how to react to his comments.
For example, if your partners says things such as: "You agree?" Or "Cat got your tongue?", you can just make a sound that could be interpreted as yes. You can also just say that you were busy thinking about something else at the time.
11. Reflect on your relationship
Take a "long view" of your relationship. For example, do you see improvement in your partner's behavior? Is he spending more time with the family? Is he catching himself before he finishes an inappropriate comment? Is he taking an interest in the children and treating them better? Is he being attentive and kind to you?
Conclusion
Reread all the information in this article and in any books that you have read about abusive, controlling or womanizing partners. Most importantly, take your time to trust in your feelings and assessment of your situation and ability to leave him.
If you fear that your partner could become violent, seek advice from an agency in your town that deals with domestic violence.
And remember, you deserve to be happy in love.
Share this article on
Want to have a happier, healthier marriage?
If you feel disconnected or frustrated about the state of your marriage but want to avoid separation and/or divorce, the marriage.com course meant for married couples is an excellent resource to help you overcome the most challenging aspects of being married.
More On This Topic
You May Also Like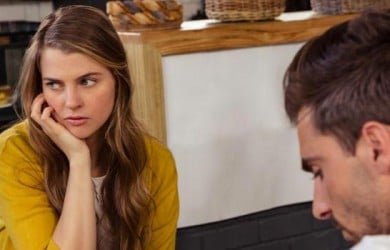 Popular Topics On Married Life