5 Common Reasons Why Do We Fall in Love?
A question that gets a lot of attention and is still left unanswered (for most parts) is why people fall in love.
Now, this complicated question has many different answers; you can answer it scientifically, you can answer it via human nature, or you can explain it with a simple fact that God creates man and woman in pairs and so they belong together.
When we are young, the last thing that comes to our mind is the Godly logic. We tend to consider love as a feeling, as an emotion that makes us want to go crazy. Small things such as holding hands, getting back rubs, eating chocolates on Valentine's Day, and carving names on tree trunks are all considered to be signs of love.
However, as you grow old, you start to grasp the idea that love is not a feeling but is a choice. You choose to stay when things get hard, you choose to take responsibility, and you choose to honor your vows.
Science has tried and explained love in many ways, and the answer to this question keeps on changing depending on the person who is in love.
Some common reasons why people tend to fall in love are mentioned below. Keep on reading to find out.
1. You want to expand beyond yourselves
Usually, most people fall in love with a person who they not only find attractive and appropriate but also someone who likes them back.
This creates an environment/situation where you find a new opportunity to self-expand.
The fact that this person likes you back offers you a significant chance to figure yourself out, to change yourself, and to expand your thoughts; when you recognize this chance, you feel a surge of excitement.
2. Good eye contact
Maintaining good eye contact allows you to see deep into the soul of your partner and it immediately creates a deep attraction for one another.
Even for two people who haven't met before, staring in the eyes can fill them with a deep connection and a feeling of having known that person for so long.
This connection can be thought of as love by some people.
3. Outer and inner synchronicity
You fall in love when the processes of your body align with the right triggers present in the outside world. The right triggers refer to regular olfactory, visual, auditory, and tactile cues taking place in the proper order, time, and place.
Scientifically speaking, in a romantic relationship, there are many different types of chemistry required.
For someone to fall in love, various different external stimuli and neurochemical processes have to fit in the right sequence for you to fall in love.
4. Smell
Many people fall in love with their partner or their friend due to the way they smell.
The above statement sounds pretty absurd, but body smell does trigger amorous feelings in men and women alike. Now, remember that we are not just discussing the ordinary smell that your partner's dirty shirt has but also the odorless shirts and other clothing items.
These smell signals enter your brain through the olfactory system, and you fall in love.
5. Hormones
Hormones play a huge part in making you fall in love.
Does your mouth go dry and your heart starts to pound as soon as your significant other rings your doorbell? Well, this is a stress response, and it occurs when hormones such as serotonin, dopamine, and adrenaline are released in your bloodstream.
Loves struck couples have high levels of dopamine in their blood.
This neurotransmitter helps in stimulating an intense amount of pleasure and has the same effect on the brain as using cocaine.
6. Why do some people fall in love easily?
Occasionally, two pairs of eyes meet across the room, and the rest is history.
For most of you, falling in love can be complicated. Sometimes you want to fall in love, but you are unable to give back. However, in order to be in love, you must be able to give love and have love within yourself.
When you feel lovable, and when you love yourself, you are able to project this love out. When searching for a lover, someone who does not feel worthy of love, cannot present himself as lovable and so cannot love. This lack of confidence is translated as neediness, and this repels other love-interests like a pepper spray.
The needier you appear, the more you will repel people, and you will have lower chances at finding love.
7. Start working on yourself to confidently pursue love
So, if you are horrible and finding love, then you must work on yourself first.
Try to be confident, love yourself, open yourself to the outside world and before you know it, chemistry will follow through, and you will find yourself falling in love.
Do not follow the old saying "opposite attracts" and instead make it your goal to find someone who has the same values and same outlook on life as you do.
This way, you will have a life partner to share your life forever with.
Share this article on
Want to have a happier, healthier marriage?
If you feel disconnected or frustrated about the state of your marriage but want to avoid separation and/or divorce, the marriage.com course meant for married couples is an excellent resource to help you overcome the most challenging aspects of being married.
Learn More On This Topic
You May Also Like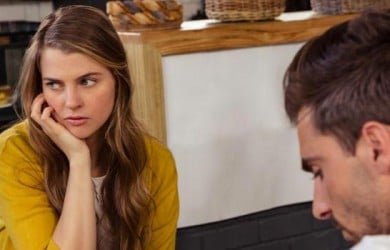 Popular Topics On Married Life