15 Warning Signs He's Actually a Player
What are the signs he is a player?
Does he have to walk around with "player" tattooed across his forehead? Must he have the contacts of 15 girls saved on his phone with "sweetheart?" What are the warning signs of a player you must look out for if you don't want to get your heart broken?
In this article, we will show you how to tell if a guy is a player. You will also learn how to deal with a player guy.
What does a player mean in a relationship?
The word "player" has been used over time in many ways. For some, it is used to describe a person with lascivious tendencies. On the other hand, others believe a player is one who never keeps to their word in a relationship.
In any case, a player creates an impression of being in a committed relationship with one while still maintaining multiple relationships simultaneously. Men who are players in relationships are skilled at deception as they are able to convince everyone they are committed to that they are exclusive.
With about 32% of the entire U.S adult population suggesting that their ideal relationship is non-monogamous, there is every possibility that you may come across someone who isn't interested in being fully committed to you. Hence, you must know how to tell if a guy is a player and what being a player entails.
15 warning signs a guy is actually a player
Have you been suspecting that this guy in your life is a player? Well, here are 15 signs that confirm for sure.
1. His phone is always out of your reach
Now, this doesn't mean you have to go all ninja on him and try to snoop on his phone. However, if a guy takes extra care to keep his phone out of your reach, especially after you have committed to a relationship, it may be a cause for concern.
Also, always being on the phone and acting shady might be one of the signs a guy is a player. Since healthy relationships are based on mutual trust, you may want to pay closer attention when it feels like your man cannot trust you with his phone.
2. He never tells you exactly where he has been
One of the signs of a player is that he never tells you where he has been or what he has been up to. Pick up the phone and call him in the dead of night, and you would probably hear things like "I have been out with the boys" or "I was out of town for a couple of days, and there wasn't any cell reception where I was."
If you try to press and find out exactly where he was, he might get angry or make you feel guilty for even suspecting him.
3. He disappears into thin air at intervals
This is how to recognize a player. It is kind of connected to the last point. One of the signs that he's a player is that he drops off into thin air without warning and zooms back into your life as abruptly as he left.
At the early stages of your relationship, this may not be a problem to you. However, as time proceeds and you begin to commit more to the relationship, you may begin noticing these disappearing spells more frequently.
Related Reading: 

The 5 Stages of Love Couples Go Through
4. He reads your messages but finds it difficult to respond
Is he a player?
One way to find out for sure is to look at how he relates to you and your messages. Once in a while, he may forget to reply to your messages. However, if he makes it a habit to always read your messages but never respond, that should give you a cause for concern.
5. Rainchecks, every time
You can finish making plans with him right now, and a few minutes before it is time to kick the plan in motion, he asks for a raincheck without a proper explanation.
When he does this once, it could be because he has a genuine reason. However, one of the signs a guy is playing is that he makes a habit of canceling out on your plans without giving you prior notice.
6. Your relationship is pretty much a secret
It is okay if he doesn't want to run into the streets with his hands on his head, screaming about you and how awesome your relationship is. However, if you have noticed that he goes to great lengths to keep the relationship a secret, you must ask the question.
Who is he keeping this a secret from?
So, if you are asking, "Is he a player or is he genuinely interested in me," you may want to take out some time to study how he treats you and the relationship. There must be someone or a group of people who know about you, the relationship, and how much you mean to him.
7. You are not connected on social media
Social media reveals a lot about people; what they like, how they think, and how they interact with life. One of the signs a guy is playing is that he goes to great lengths to If nature your paths don't cross on social media.
If your boyfriend or male significant other has blocked or restricted you from interacting with them on social media, you may want to pause and ask yourself why.
8. His past is still vague to you
No one goes into a new relationship eager and ready to recite their entire life's history to their present partner. However, one of the signs he is a player is that he does his best to keep his past away from you.
When he can't keep the conversation about his past from coming up, he will do his best to leave you more confused than you were before asking about it.
At the beginning of your relationship, this may not be a challenge to you. At this stage, you would be more interested in respecting your boundaries. However, when the relationship has progressed, it is only natural for you to know some basic details about his past.
If you still can't tell anything about what his past relationships looked like, it could be one of the signs he is a player.
9. He keeps playing hot and cold
One second, he is brimming with excitement and ready to take you to church. He is cold, detached, and threatening to break up with you the next second.
So, if you are asking, "Is he playing me?" Simply take a look at how consistent he is. Does he keep to his word?
10. His words are a bunch of crap compared to his actions
One thing you must know about players is that they are smooth. They can talk, especially at the beginning of every relationship. When a player meets you for the first time, he sucks you into his world with a trailer load of promises.
However, a time comes when you match his promises against his actions and notice the glaring disconnection. He promises to be there for you, only to drop off the deep end when you need him the most.
He promises to make life easier for you, only to keep breaking your heart many times over.
Looking for the warning signs he is a player? Compare his words against his actions.
11. He is perpetually unable to give a name to your "situationship"
One common thing you would notice when it comes to almost all players is that they find it extremely difficult to label things and make their relationships official.
When you engage them in a conversation concerning what you are and what to label your relationship as they find the most diplomatic ways to weasel out of that conversation.
Does your man refuse to call you his girlfriend or admit that you are his partner? Well, things may be pretty obvious in that case.
12. He knows just what to do
Players are generally suave. They are extremely handsome and charismatic, they have the sweetest words, and their touch is magical. However, one of the signs he is a player is that he knows just what to do.
He knows how to give you that look that makes you blush from the base of your neck to the back of your ears. He knows where to touch when having sex with you; that spot that makes you go wild. He is just too good, and he knows what to do to get you every time.
Including the catchphrase that makes you break into a smile, no matter how mad at him you are.
While you deserve a guy who gets you, just keep your eyes open and ensure that this isn't one of the signs he is a player.
13. He lives for your attention
Players enjoy being the life of the party, especially when this attention is coming from you. However, the irony of this is that they don't give you as much attention as they want you to give them.
Here's a clear case in point.
He may ask you to keep your phone and give him your undivided attention in the middle of a conversation. This is good, but he will find it extremely difficult to return the gesture.
14. He is always busy
Call him up to help you with something, and he will probably come up with a thousand and one reasons why he cannot.
All those reasons will inadvertently boil down to one thing; he is a busy man. Sometimes, you may wonder if this isn't the same guy you know and have been close to.
This brings us to the last of the signs he is a player.
15. You feel it within
When the chips are down, your instincts will always warn you when you meet a player. When a guy starts displaying all these signs we have discussed so far, the detective in you comes to play.
This will eventually give rise to suspicions that you can choose to act on or stomp way down the hole of trust.
How do you know if a man is playing you?
The easiest way to know that a guy is playing you is by looking at his actions and comparing them against the last section of this article.
Does he display the signs he is a player?
Yes? Then he is most likely playing you.
It is that simple.
How to deal with a player guy
Now that you have admitted that he is a real player, the next step you must take is to take care of him, once and for all.
Here's how to deal with a player guy.
1. Decide if that relationship is worth it
Being in a relationship with a player is like being on a rollercoaster. One second you are on top of the world. The other second, you hit rock bottom without warning.
The first step to handling a player is to define if the relationship is worth a shot. If you feel like committing to it and making something out of the relationship, then so be it.
On the other hand, if you want to prioritize your mental health and exit the relationship, have at it.
Related Reading: 

Are Relationships Worth It? 9 Reasons Why They Are
2. Match his wit
One way to get a player to commit to you is by letting him know that you are the perfect match for his cunningness. So, while he is busy being the player, keep yourself busy with playing hard to get.
Players aren't used to being rebuffed, especially not from someone they believe will be an easy catch. So, playing hard to get will throw him off balance and cause him to double-check himself.
3. Don't express jealousy
When you find him flirting with other people, don't get jealous. At least don't let him see that you are jealous.
When he knows that you are jealous, he may feel spooked and want out of the relationship immediately. So, focus on getting something going for yourself and take your eyes off him completely.
Then again, if you are jealous and value monogamous relationships, you may want to rethink the idea of staying put in this relationship.
Related Reading: 

15 Tips on How to Stop Being Jealous in Your Relationship
How to overcome jealousy in a relationship? Watch this video.
4. In the end, don't expect too much from him
He may end up becoming a better man. Or not. In any case, managing expectations is key to dealing with a player. This research highlights expectations in relationships and their management. Such expectations, when in a relationship with a player, may not materialize for you.
Conclusion
There are so many signs he is a player. If you have ever suspected that you are dealing with an A-list player, do well to check out the 15 signs discussed in this article.
Then again, there's no rule that says you have to break up with him or be together for that matter. It is all about knowing what matters to you and making a commitment to live your life on your terms.
In any case, do what works for you. Conversely, if he is open to it, you may want to consider going for couples therapy. This may be the first step needed to help you make sense of what is going on in the relationship.
Share this article on
Want to have a happier, healthier marriage?
If you feel disconnected or frustrated about the state of your marriage but want to avoid separation and/or divorce, the marriage.com course meant for married couples is an excellent resource to help you overcome the most challenging aspects of being married.
You May Also Like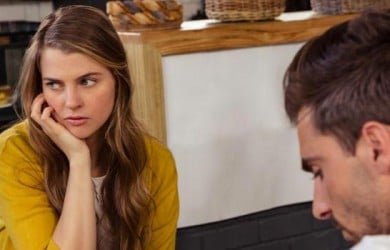 Popular Topics On Married Life