How Do You Let Go of Anger and Resentment in a Relationship?
Anger is a normal, natural emotion. It alerts us to a situation that we perceive as unjust, unfair, and perhaps out of our control. We can feel anger when something makes us feel inadequate, vunerable, at risk or helpless.
Feeling angry is something we do in the present, but it can be related to an event that happened long ago. When we carry our anger around, it can have a corrosive effect on us and our interpersonal relationships.
How do you let go of anger and resentment? Let's examine these emotions and look at ways that we can both recognize why we are angry and find strategies to let it go.
The purpose of anger
It may seem contradictory, but anger serves a purpose in our lives.
It works as a buffer that keeps what might be more uncomfortable emotions at a distance. You feel angry so that you don't have to go deep and feel the more primary, hurtful emotions.

Example

: Alice learns at the time of her mother's death that she has been cut out of the will. She immediately becomes angry and resentful. This deflects the pain of thinking that her mother didn't love her—she left everything to her sibling. Alice concentrates on carrying around the anger rather than dealing with her sense of feeling unloved.

Anger gives you a perceived sense of control. You might not be able to control the event that is triggering anger, but you think you can control the response to it (the anger itself).

It directs focus outward to identifiable, external situations (people, political parties, government institutions). It is almost always easier and more comfortable to focus on the actions of others than it is to focus on oneself.
What is the difference between anger and resentment?
These are related emotions, but anger is something you feel mostly in the present, whereas resentment is felt about something that happened in the past. Resentment is anger from the past carried into the future, like a heavy piece of luggage that weighs you down constantly.
When you reflect on a long-ago injustice and you start feeling a flood of negativity, that is resentment. People can hang on to resentments for decades. We all know of someone, perhaps a family or a celebrity, who has had an inter-family riff which has split them apart for years, right?
Long-standing resentment is hurtful to the person harbouring it, hence the saying ""Holding on to a resentment is like drinking poison and waiting for the other person to die."
How to let go of anger and resentment
Getting angry and feeling resentment can be justifiable emotions. Do not feel badly about having these. It's how you move forward with them that is important. Let's see how to let go of anger and resentment.
Recognize that you are in control. Anger and resentment are strong feelings. We can often feel like they are controlling us. This is unhealthy, because it is giving away your agency. It is helpful to remember that you are in the driver's seat, and that you can control the way you react to outside forces, be they people or events.
How do you let go of anger and resentment?
1. Put a name on the 'What'
Identify and name the reason that you are feeling angry or resentful. What is making you hurt or fearful? This shifts the focus from the anger to the source of the anger.
2. Be present with the anger and resentment
Just sit with it for a moment. Observe it. Allow it to exist. Tell yourself that you see it, you respect its right to be there. Imagine it existing in its own space, with a protective wall all around it, allowing it to be there but not encroach on your well-being.
3. Ask yourself if you have a role in this anger-producing situation
This will require brutal honesty, but it is helpful to examine if you may have contributed to these circumstances. Take responsibility.
4. Practice expressing things in a anger And resentment
Reach out to your group of supportive friends and tell them what is making you angry.

Journal your thoughts.

Go out for a brisk walk or a workout at your gym or pool.

Try a walk in the forest; it is difficult to hang on to resentments when you are surrounded by fresh air and beautiful nature.

Get involved in social justice activism, where you are working towards a better world with other like-minded people.
5. Calm your mind to let go of anger and resentment
Replace angry thoughts with positive mantras. Practice some self-calming techniques, such as circle breathing, meditation, yoga, mindfulness, staying in the present. Go have a relaxing massage, a cup of herbal tea. Stay away from energy drinks and caffeine as these will raise your heart rate which in turn can make you jumpy and anxious.
6. Don't get caught up in collective anger and resentment
If your work colleagues are constantly complaining about workplace conditions, or how unfair the boss treats them, it can be tempting to join in. Try to avoid this so that you can focus on how to effect positive change rather than just be drawn in to the drama. It is much healthier for you to be the change leader than to just sit around expressing how unjust life is and how you can do nothing about it.
Let go of anger and resentment, it will serve you well. Put into practice the tips here, and you will find yourself feeling lighter, happier and more positive, even when faced with difficult situations.
Share this article on
Want to have a happier, healthier marriage?
If you feel disconnected or frustrated about the state of your marriage but want to avoid separation and/or divorce, the marriage.com course meant for married couples is an excellent resource to help you overcome the most challenging aspects of being married.
More On This Topic
You May Also Like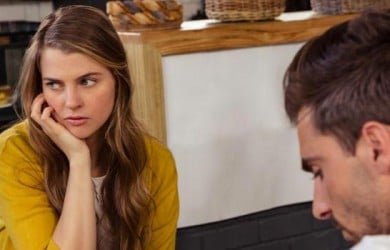 Popular Topics On Married Life