How Holding Grudges Affect Relationships and Ways to Let Go
Did you have a conflict with your partner, and you found it hard to forgive them? Things like this are bound to happen in a relationship because you and your partner are most likely from different backgrounds with different mindsets.
Hence, there is a big tendency for conflicts of interest and disagreements to occur. However, if it amounts to holding grudges in relationships, both parties will start drifting apart.
We'll be looking at how holding grudges in a relationship can be disadvantageous to both the relationship and your health. It will also be expedient to delve into how to let go of a grudge to get your relationship back on track.
Related Reading: 

8 Easy Ways to Resolve Conflict & Improve Marriage Communication
What does grudge mean?
For people who ask, "what is a grudge?"
It is the persistent harboring of resentment and anger towards someone because of what they did. When someone is carrying a grudge, it means that they have bottled that feeling of bitterness for a long time- most times longer than usual.
In a relationship, one party can be found holding onto grudges if they are offended by the other party. This usually happens when the other party has committed an act considered unpardonable.
So, till the matter is resolved, the grudge might linger for a long time as unfinished business.
5 Reasons why people keep grudges in relationships
Do you have an idea why your partner is holding onto resentment? Here are some reasons why people keep holding on to anger and bitterness in their relationships.
Related Reading: 

5 Valuable Tips on Managing Anger in Relationships
1. Unrealistic expectations
Some people set high standards for their partners in a relationship which is often difficult to meet. When their partners do not deliver as expected, they become disappointed, bitter, and angry. This can set the motion for holding grudges in relationships.
Usually, people who are quite emotionally benevolent are susceptible to such feelings because they don't receive an equal measure of the love and care they give.
2. Fallouts and assumptions
In the real sense, a relationship is expected to experience fallouts and misunderstandings so that both parties can pick lessons pertaining to them and become better partners in the relationship. This is the primary reason why partners should be open to settling conflicts to avoid holding grudges in a relationship.
If you are still struggling with how to resolve conflicts in your relationships, you can check out Paul R. Shaffer's book titled Conflict resolution for couples. His book gives couples insights on how to avoid assumptions, resolve conflicts and get back on track.
If a conflict is unsettled in a relationship, both parties might start holding onto resentment. This act gives room for assumptions which causes further problems in the relationship.
3. The feeling of being left out
This feeling is a wide category containing various possibilities.
It is possible for someone to feel exploited, used, unloved, ignored, etc. If your partner has various personal activities where they do not carry you along or even give you information, you might feel out and begin to harbor a grudge.
4. Insufficient validation
In a relationship, it is possible for one partner to be big on validation while the other party does not care. For instance, if your partner is going through a difficult time, and you make their situation all about yourself instead of them, they can feel hurt and begin to hold grudges.
It is important for partners in a relationship to be sensitive to the emotions and needs of each other by lending a listening ear and a shoulder to cry on.
Related Reading: 

How to Save Your Marriage During Difficult Times?
5. Unresolved issues
When it comes to settling the conflicts the right way, it involves both parties trying to understand each other's point without pointing out who wins the argument. If you try to always have your way in every conflict by claiming you are right, there will be various unresolved issues that will affect the relationship.
The intention of both parties in a relationship should be to understand each other better so that respect, true love, and security will abound in the relationship. Hence, if you want your partner to stop holding a grudge, it is important to resolve issues amicably by understanding and validating each other's standpoint.
Also Try: 

Do You Feel That You Understand Each Other?
How holding grudges can impact your relationship?
Concerning holding grudges in relationships, there are some effects it has on your relationship. If you are not sensitive to them, you will not discover them until the damage results in a far-reaching effect that makes the relationship almost repairable.
Letting go of grudges allows you to focus on other relationships that radiate positive energy, happiness, and satisfaction.
If you are carrying a grudge, here are some reasons not to do so because of your relationship
1. Long-standing anger and bitterness
Anger and bitterness are the banes of holding grudges in relationships. And when they continue for a long time, they are also the immediate resultant effect of lack of forgiveness. Both parties are liable to treat each other with disdain and resentment in the absence of love.
With time, they will grow tired of each other and go their separate ways.
2. Inability to enjoy the present
With persistent holding grudges in a relationship, it would be difficult for you to live in the present and focus on what matters.
The truth is, relationships form the core of our existence as humans, and if you are in a romantic relationship, it might be challenging for you to achieve much if you are holding grudges with your partner.
Related Reading:

 What Is the Importance of Romance in a Relationship
3. The feeling of a purposeless life
Holding grudges in a relationship can cause stagnancy even though you feel things are moving forward. This is the point some people get to that they start wondering the purpose of their existence in life so far.
Effects of holding grudges on your health
One of the common effects of holding grudges in relationships is anxiety and depression.
You will be the one suffering from the situation while the other person might be unaware. Holding onto grudges amounts to accumulating lots of negative energy, which affects your relationship with other people. It will be difficult.
In addition to increasing your stress levels, grudges cause other health conditions like post-traumatic stress disorder.
Related Reading: 

How to Cope With Your Mental Health Issues in a Relationship
4 Reasons why it is difficult to forgive
Forgiving someone who has hurt or caused you pain is difficult. This is why some people prefer not to forgive because they feel that those people should have a fair share of what they caused. The inability to forgive someone amounts to holding grudges in relationships, and this is detrimental to both parties.
Here are some reasons why it is so hard to forgive
1. You don't want to be hurt again
One of the primary reasons why you might find it difficult to forgive someone is because you want to avoid being hurt again. It is possible to be in a relationship and avoid forgiving your partner because you are afraid that they will repeat the same act.
Hence, since you don't want to expose yourself to more hurt, you prefer to hold on to your anger and pain than forgiving them.
2. You feel that they deserve to be punished
When you refuse to forgive someone and hold a grudge against them, it could be your way of punishing them. You don't want them to have it easy because they have caused you pain, and you want to pay them in their coin. Most people use this line of thought to feel powerful after feeling victimized, punished, and hurt.
However, it would be fruitless if the other person is not aware because they will move on with their life while you hold on to your grudge.
Related Reading: 

Help With Forgiveness in Marriage
3. You feel misunderstood
If you feel that your partner always misunderstands you, there is a chance that you will find it hard to forgive them. Also, if you are always misunderstood, it means that your partner does not listen to your words, nor do they trust your decision.
So, your most likely line of action would be to hold on to a grudge because they don't treat you right.
Hence, it doesn't mean you are voiding your partner, but you prefer to deliberate on issues with them because you are sure they will not listen to you.
4. You are mixing up the concepts of forgiving and forgetting mistakes
To some people, when the idea of forgiveness comes up, they frown at it because they don't understand the concept. The truth is, it is possible to forgive someone, but it is not possible to forget their mistakes.
When it comes to forgiveness, it implies that you let go of any harm or pain they have caused you without seeing the need for revenge.
In addition, forgiveness also means that when you relate with those who hurt you, you don't treat them based on their past errors. You simply relate with them like you have been on close terms before.
Related Reading: 

How To Learn to Let Go and Forgive In Your Marriage
6 Steps to letting go of a grudge
In his book, Frank Desiderio highlights some crucial ways on how to let go of grudges and get your life back.
How to deal with someone who holds a grudge against you?
It is expedient to mention that grudge is not a one-off growth; it takes time. If you are thinking of letting go of grudges, here are some steps to help you achieve this.
1. Acknowledge the pain
One fact you shouldn't fail to realize is you were hurt, and that is the primary reason why you are holding grudges.
If you are thinking of how to not hold a grudge, you need to come into the self-actualization that your pain/hurt was real, and you have to deal with it. The act of telling yourself the truth plays a pivotal role in helping your journey to forgiveness easier.
2. Realize that keeping grudges is tantamount to self-harm
Another way on how to get over a grudge is to realize that even though you were incredibly hurt, you are doing yourself a disservice by holding onto it.
There is a chance that the person you are holding a grudge against and holding in anger effects might be living their life to the fullest. They might not be aware that they hurt you until you let them know.
As mentioned earlier in this piece, keeping grudges affects your health. Realizing this gives you the fortitude to start making attempts to let go of grudges.
Related Reading: 

How to Deal With an Angry Partner
3. Recognize that forgiveness is a gift to yourself
When you are taking steps to forgive someone, you need to know that it is a gift to yourself. You will be releasing yourself from every emotional and mental attachment with that person. One way to recognize this emotional and mental attachment is how the rate of your heartbeat increases when you see them.
Hence, to avoid this and other damaging effects, realize that you are doing yourself a favor by forgiving those who hurt you instead of them.
Check out this video that discusses how you can practice forgiveness in the relationship and apply some practical tools to be happy in love:

4. Communicate
When issues are not confronted, grudges begin to take form. If you don't want to take the bold step to forgive, you can consider communicating with them. If it is your partner, you need to communicate to provide proper clarification on any pending situation.
You should also consider if your feelings are worth bottling up or talking about. If they are worth bottling up, you can forgive them silently and move on with your life. However, if you feel you want your partner to learn a lesson or two, you can communicate with them.
Related Reading:

 The Importance Of Communication In Marriage
5. Stop dwelling on the situation
When you decide to forgive, you need to stop dwelling on the issue responsible for your grudges.
Therefore, you need to keep going forward without looking back. Also, be careful not to think about the situation or discuss it casually with friends. If you keep dwelling on the situation, it will be difficult for you to let go.
6. Stay positive
Instead of not forgiving whoever hurt you, take a cue from that situation that you can always become a better version of yourself by letting go of resentment and anger. It is important to realize that in every negative situation, there is a positive side.
Your fallout with your partner or any of your relationships will teach you crucial lessons to prevent you from getting hurt next time.
This research study by Charlotte vanOyen Witvliet et al. gives a deep study into harboring grudges and forgiveness and how it impacts emotion, physiology, and health.
Related Reading: 

5 Life Lessons Betrayal in a Relationship Can Teach You
Conclusion
When it comes to holding grudges in relationships, letting go starts with forgiveness. Although, it is unarguable that forgiveness is difficult, especially if it hurts so much. However, to avoid being the one who pays dearly, you need to start practicing how to forgive.
To wrap up, letting go of grudges comes with a truckload of health benefits like reduced blood pressure, enhanced heart health, better mental health, etc.
Share this article on
Want to have a happier, healthier marriage?
If you feel disconnected or frustrated about the state of your marriage but want to avoid separation and/or divorce, the marriage.com course meant for married couples is an excellent resource to help you overcome the most challenging aspects of being married.
More On This Topic
You May Also Like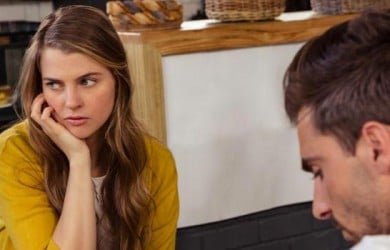 Popular Topics On Married Life