Can a Rebound Relationship Work? What Are the Odds?
Break-ups can be distressful and very hard to cope with, but can diving straight into a new relationship actually provide soothing comfort for the brokenhearted?
Opinions may vary, and while some consider that "filler" rebound relationships are doomed to have a short lifespan, others are of the opinion that they can develop into new and long-lasting affairs.
What is a rebound relationship?
Brumbaugh and Farley define rebound relationships as romantic affairs that an individual starts shortly after they have just gotten out of a long-term relationship and still feel emotionally attached to the previous partner.
It is commonly heard that by entering into a new relationship shortly after getting out of one can prove to be distracting, and reduce the time needed for contemplation on the previous relationship.
It is also believed that because people dive in straight into a new affair after a break-up, all they are doing is to mask it.
But is that really the case? Can a rebound relationship work?
The concept of rebound relationships
The concept behind these kinds of relationships is that after you exit a long-term relationship that had a strong emotional attachment you immediately fall for someone that you newly met without actually getting to know them.
By ending the previous relationship that caused emotional distress, some people seek immediate emotional alleviation.
Some of the other reasons that make people jump immediately into a new relationship after leaving the old one are that there could be a degree of change happening in their lives, such as graduating from a school, moving to a new city, getting a big promotion accompanied by a big rise in income, career retirement and having a lot more free time, or simply just taking on a new attitude on life.
After individuals quickly jump into a new relationship without actually taking the time to get to know their new partners, there will always going to be a strong chance that the person isn't really right for you in the long-term, but that he or she can help alleviate the pain through which they are going post-break-up.
It helps more than you think
After people go through a break-up, loneliness can be the number one enemy and factor that causes distress.
In the same study done by Brumbaugh and Farley that we talked earlier, it was discovered that individuals who were engaged in a rebound relationship after their break-up coped better with it than individuals who had to deal with loneliness.
They were better with their desirability and showed a better resolution towards their former partners. Rebound relationships can offer people the much-needed support and care that they need when they are still dealing with issues regarding their break-up.
Even if this is a short term solution, and doesn't provide any security in the long term, having someone near you to help with the struggle of the fresh break-up is a good way to help you cope with it.
Benefits
If you find yourself asking " Can a rebound relationship work", you should know that getting involved into a rebound relationship can bring a number of benefits for the broken-hearted.
It boosts self-esteem and builds more self-awareness, helps individuals cope with the post-break-up anxiety and lingering attachments for the former partner. It provides intimacy and social interactions, companionship, and prevents toxic reunions with the former partners.
How can I make it work?
Generally speaking, rebound relationships are the "band-aid" for break-ups.
People think that they only work on short term, but that is not always the case. If you engage in a rebound relationship, keep in mind that you have to be sincere towards your new partner. Tell them that you have just gotten out of a long-term relationship.
Be honest about your feelings and intentions, support and healing can sometimes come unexpectedly.
You also have to be one hundred percent certain that your former relationship is history, and that it remains history. Be engaged in the new affair, and let your new partner discover you. Nowadays, many labels are put on rebound relationships, but in the end, everything has to with specific factors, such as having a positive attitude and mindset, have a good understanding capability. These are ultimately corroborated with matureness, courage to overcome fear and certain personal insecurities to get over the past and start something new.
Share this article on
Want to have a happier, healthier marriage?
If you feel disconnected or frustrated about the state of your marriage but want to avoid separation and/or divorce, the marriage.com course meant for married couples is an excellent resource to help you overcome the most challenging aspects of being married.
More On This Topic
You May Also Like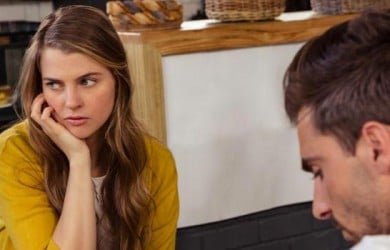 Popular Topics On Married Life