What If Rebound Relationships Are the Real Deal?
At some point or the other in our lives, we all have had that dreadful moment of a breakup, whether we were the one breaking up or the one being dumped. (Let's pull the band-aid quick)
It's never we parted ways cordially, one is a little hung up and hoping they get back.
While some part ways for good and take their post-breakup time on self-reflection others jump right into another relationship, the reason for which can be many- whether it is to make your ex jealous or to prove a point that you have moved on or maybe you really found someone special. But only time will tell the fate of the rebound relationship.
Imagine this, you've just broken up and you have met this amazing person soon after. You really enjoy his company genuinely and secretly start to believe it's going somewhere. But then, you are worried that it is all happening way too soon and you don't take it any further.
What if you throw away a perfectly good relationship that could have turned into something real in the long run? Not a good idea, right?
Here are 5 signs that are screaming to you that the rebound relationship can be something more:
1. You are no longer checking your ex's Instagram
Better, you unfollow them on social media. No, it's not pity move. It is, in fact, a healthy step may be at a later day you can be the best of friends, just after the break up is not the time.
So, if you are no longer checking your ex's last seen or what picture they uploaded or who is in their latest Facebook update.
That's the first step that you are getting over your breakup and this new person in your life is definitely making you forget your past.
2. You keep planning things to do together
Even if it's to laze around at home and watch Netflix. Yes, even just staying in and binge watching a show seems a great idea. Not just that, you both keep making plans to hang out, try out new things whether it's a good ol' movie and dinner date or go watch a game or even go for wine tasting.
Everything seems like a good idea and even better when it's with them. You just keep making plans after plans and actually do them too.
3. When you want more than sex
Yes, when it is a new relationship especially a rebound one there'll be a lot of sex, great sex, new sex, and even adventurous sex probably. But what's a clear-cut sign that the relationship is going somewhere is that the relationship isn't just about sex.
You start doing more things together things that are not necessarily sexual or even romantic. Maybe, they attend your office party or tag along to a weekend at home where dreadful questions such as when are you going to get married and when will they get to see grandkids are going to be targeted at you.
In fact, they'll be more than happy to be there with you and for you, probably even have a little fun at your expense.
4. When they honestly just want to know you
If they are not interested in you, why else would they come to an annoying work even or actually try to get to know all of your family and probably even come out for friend's night with your friends?
They treat your friends and siblings like their own and all of your friends and family will love them. If your Grandpa gives them a thumbs up then you know they have worked their way in.
For all you know they spent hours or even days thinking of the perfect gift for you and then settled for the gift card because they don't want to make the wrong move.
5. They'll make you believe in love again
Breakups are sad and you are going to go through gut-wrenching pain and you'll probably spend weeks or months crying over your heartbreak watching sappy rom-coms eating ice cream saying out loud you'll never find love again.
But then enter this new person and everything just changes, you'll start smiling again, start being happy and the best of all you'll start believing that you'll love again and you'll actually be in love again.
In the times, where hooking up has become way too normal, finding love is not an easy task.
Sometimes, we get into relationships way too soon and sometimes we don't give them the time or the credit that it will turn into something great, but then again why believe those norms when it comes to your relationships?
Hey, last time I checked it's YOUR relationship and you are entitled to make your own norms.
As long it is a healthy relationship and you have had your own healing space and time, why not see where life takes you with this wonderful new human and the positive energy they bring with them?
The new person in your life is definitely a bundle of joy and is worth your time and energy, you just need to follow your intuition and the past experiences might tell you otherwise which you totally need to keep in account but you also need to give your heart a break.
People just don't shower you with gifts and amazing moments that you are going to cherish for a really long time for nothing. If nothing else, don't leave them hanging on your uncertainty that's the last thing they deserve.
Share this article on
Want to have a happier, healthier marriage?
If you feel disconnected or frustrated about the state of your marriage but want to avoid separation and/or divorce, the marriage.com course meant for married couples is an excellent resource to help you overcome the most challenging aspects of being married.
More On This Topic
You May Also Like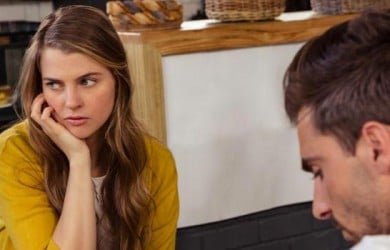 Popular Topics On Married Life