What to Do When You Miss Your Ex
Even if breaking up with your significant other was for the best, you are likely to miss them and have some feelings of sadness after the relationship ends. Knowing what to do when you miss your ex isn't always easy.
You may be tempted to contact them to make the pain go away, or you may be looking for some solution to find happiness again. Here, learn what to do when you can't stop thinking about your ex.
Why do I miss my ex so much?
When you miss your ex, you probably wonder if it is normal to miss them so much. The truth is that it is entirely normal to find yourself realizing, "I can't stop thinking about my ex" after the relationship ends.
This is because you spent time with them and shared life, so you have to adjust to the changes associated with the end of the relationship.
Even if the relationship wasn't perfect, you would find yourself missing your ex because you will also hold on to some of the positive memories of the relationship.
One study found that when people who had experienced a recent breakup recalled positive memories of the relationship, they became distressed.
So don't feel discouraged or like something is wrong with you if you miss your ex-girlfriend or boyfriend. You have happy memories together, and it's only natural to miss the good times.
Related Reading: 

Reasons You're Dreaming About Your Ex and What It Means
20 Things to Do When You Miss Your Ex
There is no one best way to get over an ex, but when you realize, "I still think about my ex all the time," there are fortunately ways to cope with missing someone.
Consider the following strategies for how to not miss someone when you can't get over an ex:
1. Think about the reasons ending the relationship was for the best
Remember that recalling fond memories of the relationship leads to distress over your breakup, so when you are trying to figure out how to stop missing your ex, it may be helpful to remind yourself of the negatives of the relationship.
Maybe you and your ex were always fighting, or perhaps being in the relationship was stopping you from pursuing your career goals.
Whatever the case, calling attention to the not-so-pleasant parts of the relationship can bring you back to reality and get you out of the funk of missing your ex.
2. Don't hold your feelings inside
Repressing your emotions can make it hard to process them and move on from your ex truly.
Instead of trying to control your feelings of missing your ex inside, share them with someone you can trust, like a close friend. Letting your feelings out can help you to let go of them eventually.
3. Take up journaling
Maybe you don't feel comfortable sharing your feelings with a friend, but it is still helpful to get them out one way or another.
If you feel more comfortable with writing than talking, you might consider taking up journaling to release some of your negative emotions surrounding still missing my ex.
4. Stay busy
When you miss your ex, it is easy to stay home feeling sorry for yourself, but remaining productive can take your mind off your feelings of sadness.
Get ahead on some tasks at work, or start on those projects you've meant to do around the house. Giving yourself a long to-do list can help you turn your sadness into productivity.
5. Do not give in to the urge to call or text
If you're asking yourself, "Why can't I get over my ex?" do not give in to your desires to contact them.
You may think you'll feel better hearing their voice or receiving a message from them, but reaching out can make it hard to forget about them altogether.
You may be sad if you reach out and find that they have no interest in talking to you or if you learn they are dating someone new.
Related Reading: 

Get Back with Your Ex With the No Contact Rule
6. Go out with friends
It is somewhat natural for friends to fall by the wayside during a serious relationship, as our significant other becomes a priority. Instead of staying at home alone and missing your ex, take advantage of the opportunity to reconnect with friends.
Get together for dinner, see that movie you've been dying to see, or get back to enjoying your favorite activities with friends to take your mind off of your ex.
7. Focus on self-improvement
A little self-improvement can boost your confidence and mood when you're trying to figure out what to do when you miss your ex.
Get a haircut, treat yourself to some new clothes, or take that class you've wanted to take to further your career.
Watch some self improvement tips in this video:

8.Consider whether you miss your ex
It is normal to feel a sense of longing when a relationship ends, but it may not be your former partner you miss. You might miss the routine the two of you shared or the idea of being in love.
When you look back at the negatives of the relationship, you may realize that you don't miss the person that much after all.
9. Talk kindly to yourself
After a breakup, it's easy to get stuck in a trap of negative self-talk. You may blame yourself for the breakup and tell yourself that the breakup wouldn't have happened if you were smarter or more attractive, or a better person.
Don't allow yourself to get caught up in this negativity. Give yourself positive affirmations, and you are likely to find that you are not so stuck on the thought of, "I can't get over my ex."
10. Ask people not to mention your ex
When you're trying to get over an ex, it can be hard not to miss the person when mutual friends constantly say their name. You can politely ask your friends not to bring up your ex while you are healing.
Related Reading: 

Is It Normal to Still Love My Ex
11. Get moving
Not only can exercise be a form of self-improvement, but it can also alleviate some of your feelings of sadness associated with missing your ex.
A review of multiple studies shows that exercise significantly reduces symptoms of depression. Get outside for a jog, or try out a group exercise class.
12. Take some time to travel
You may find yourself thinking, "I'm still missing my ex." If this is the case, now is the time to book that beach vacation or travel back home to see family.
A change of scenery can help you to shift your mindset and move on from your ex.
13. Get rid of the reminders
If you've been hesitant to get rid of old pictures or gifts that remind you of your ex, doing so can help you stop missing them. It's difficult not to think of someone when reminders of them are in front of you.
No matter how difficult it may be, you will probably have to toss the old photos in the trash or remove them from your phone.
14. Be a little selfish
Relationships require compromise, and sometimes putting your partner's needs before your own, or at least sacrificing some of your preferences for the good of the relationship.
Now that the relationship has ended, instead of missing your ex, focus on putting yourself first. Take advantage of the opportunity to spend all of your time exactly as you like.
15. Practice self-care
Self-care is important at any time, but especially when you are missing an ex. Be sure to eat properly, get plenty of rest, and take time to do things you enjoy.
Feeling sad doesn't mean you don't deserve to care for yourself; in fact, you're probably going to find that it's harder to stop thinking about your ex if you aren't properly caring for yourself.
Related Reading: 

Healing Your Relationship with Food, Body, and Self Care
16. Spend time with those who love you
An important part of what to do when you miss your ex is to surround yourself with those who care about and support you. Missing your ex may mean that you are craving time spent with those who love you.
Reaching out to family and friends and soaking in their love can help you get over your ex faster.
17. Focus on your passions
Relationships can be intense and bring a sense of power to our lives, which fizzles away after a breakup.
To get some of this intensity back, spend some time on your passions. Take on a project at work that interests you, or spend time volunteering for a cause you're passionate about.
18. Try something new
Sometimes, missing your ex is because of boredom. Try something new, challenge yourself in a new way, or take on something that scares you.
Maybe you should consider going back to school, signing up for a marathon, or learning a new skill.
19. Take charge of your future
Breaking up with an ex can feel like a little bit of a letdown because falling in love can give you hope for a future together. You may start making plans for buying a house together or talking about shared relationship goals.
Stop thinking about your ex and set some goals of your own so that you can feel excited about the future again.
20. Consider therapy
If you still can't figure out what to do when you miss your ex, it may be time to seek treatment. A licensed professional can help you process your emotions and develop solutions for when you are missing your ex.
Related Reading: 

Couples Counseling and Why It's so Important
Conclusion
It is normal to miss your ex, especially if you had a long-term relationship and have many happy memories together, but there are things you can do to stop missing your ex, so you are not longing for them forever.
Share this article on
Want to have a happier, healthier marriage?
If you feel disconnected or frustrated about the state of your marriage but want to avoid separation and/or divorce, the marriage.com course meant for married couples is an excellent resource to help you overcome the most challenging aspects of being married.
More On This Topic
You May Also Like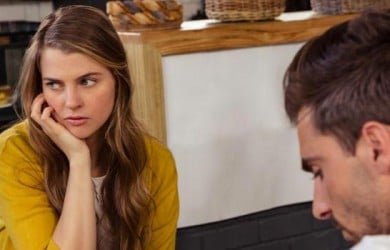 Popular Topics On Married Life