Preoccupied Attachment Style: Beware the 15 Signs You Have It
Bowlby's attachment theory says that we are wired to develop attachments with our primary caretakers early in life. When our parents meet our needs by responding to us when we are distressed, we develop a secure attachment, and we learn that we can count on the people around us.
On the other hand, if our needs are not consistently met, such as in the case of having an abusive, neglectful, or otherwise absent parent, we may develop a preoccupied attachment style. Here, learn about preoccupied attachment style in adults, including what causes it, and what the signs of preoccupied attachment style are.
Related Reading: 

How Attachment Styles Affect Relationships
What is a preoccupied attachment style?
Sometimes called the anxious preoccupied attachment style, the preoccupied attachment style occurs when a person has not developed healthy attachments during childhood. Watch this video to understand how your childhood affects your attachment and love relationships.
Perhaps one or both of their parents were neglectful or inconsistent in their child responses. Once the child reaches adulthood, they will have anxiety surrounding close relationships with others, because they do not know if they can trust people to meet their needs.
You may be wondering, "What does preoccupied mean?" when it comes to attachment style. The answer, quite simply, is that the preoccupied attachment style means that you feel inferior to others, and you are afraid that you will be abandoned or rejected in your close relationships.
This can lead you to cling to your partner or constantly be on the lookout for signs that they are angry or planning on leaving you.
15 signs of preoccupied attachment style
Now that you have a general understanding of attachment issues in relationships, you might be wondering about anxious preoccupied attachment style signs. Maybe the definition of the preoccupied attachment style reminds you of yourself, and you want to know about additional signs to look out for.
The 15 signs of preoccupied attachment style below suggest that you might be dealing with this type of attachment as an adult:
1. High dependency in relationships
If you developed a preoccupied attachment style, it usually means that you could not rely upon your caretakers to meet your needs. As an adult, if you have a preoccupied personality, you may become highly dependent upon your partner whenever you're in a romantic relationship.
You may rely upon them to make decisions for you, and you're likely to base your sense of self-worth on how your partner feels about you. You may be subconsciously seeking from your partner the care and consistency you didn't get from your parents when you were growing up.
2. You require frequent reassurance
Since people with a preoccupied attachment style have difficulty trusting and fear abandonment, they constantly need their partners to reassure them.
You might find yourself asking your partner frequently if they still love you or making your partner promise you they aren't leaving you after a fight because you're so afraid of rejection and abandonment.
Related Reading: 

Seeking Reassurance in a Relationship? 12 Ways to Rest Assured
3. High sensitivity to others' emotions
As someone with a preoccupied anxious attachment style, you will always be on the lookout for signs that others are angry with you because you have such a strong need to protect yourself from abandonment and rejection.
This can mean that you are incredibly sensitive to any signs that someone is upset with you because you are prepared to swoop in and fix the issue to prevent the person from walking out of your life. This high degree of sensitivity will mean that you can detect the slightest change in other people's emotions, and you'll be able to notice when they're sad, disappointed, or holding in anger.
4. You've been accused of being too needy
Signs of preoccupied attachment style can cause you to appear quite needy to a partner. If the behavior is excessive, it may even cause issues in the relationship, to the point that your partner complains of you being too needy.
Your anxiety surrounding abandonment and rejection can cause you to constantly seek reassurance and attention from your partner, making you seem pretty needy.
5. You push your partner away
People with anxiety attachment in relationships tend to push their partner away whenever they feel the relationship is threatened. If your partner seems more distant than usual, you may ignore them or attempt to make them jealous, to test whether they will "chase" after you again.
You view their attempts to reconnect with you as a sign that they truly care, so you can quickly get stuck in a pattern of pushing them away just to see if they'll fight to get back to you again.
6. Keeping tabs on your partner
The distrust that occurs with the preoccupied attachment style can lead people to monitor their partners closely, to ensure that they are not somehow engaging in disloyal or dishonest behavior.
You may find yourself tracking your partner's location or obsessing over how long it takes them to return a text message or phone call.
Related Reading: 

Quiz To Test The Trust Between You And Your Partner
7. Bombarding people with text messages
Just as you might track your partner's behavior because of distrust, you may also bombard them with text messages or phone calls if you feel they are engaging in unscrupulous behavior.
If you tend to send one text message and then flood your partner or friends with countless additional messages if they don't respond immediately, this is one of the clear signs of a preoccupied attachment style.
8. You depend upon other people's approval and praise
It's nice to receive compliments, but most people can get by without depending upon approval and praise from others.
If you have an anxious preoccupied attachment style, you are likely to have low self-esteem, which means you will rely entirely upon others' approval to regulate your self-esteem. One negative comment can make you feel as if you aren't worthy and send you into a downward spiral.
Related Reading: 

Am I Too Dependent on My Boyfriend Quiz
9. You worry that people don't love you
Just as someone with a preoccupied attachment style is likely to seek constant reassurance, they also tend to worry that others don't love them.
One fight or one bad day with a friend or significant other can lead you to believe that they don't like you or care for you anymore.
10. You don't feel secure in your relationships
When you're constantly worried that others will abandon or reject you, you'll never feel secure in your relationships. You may worry that you're always on the verge of being replaced, or you may constantly be on the lookout for signs that your partner is cheating or directing their attention elsewhere.
Related Reading: 

8 Signs Indicating Insecurity in Relationships
11. You sabotage relationships
Sometimes people with an anxious preoccupied attachment style subconsciously sabotage their relationships because they feel it is better to leave the relationship before their partner leaves them.
You may find yourself purposely picking fights or engaging in annoying behaviors to push your partner away, or you may even go so far as to break up with them because you're worried that they'll leave you eventually anyway. You'd rather experience the pain sooner rather than later.
Related Reading: 

Am I Sabotaging My Relationship Quiz
12. Dysfunctional relationships
People who have an anxious preoccupied attachment style tend to find themselves in a series of dysfunctional relationships because they have difficulty forming healthy bonds with other people.
If you find that you jump from one relationship to the next or that most of your long-term relationships have involved a series of ups and downs, you may have an anxious attachment style.
You can get caught up in a cycle of push/pull, in which you push your partner away, hoping that they will then reconnect with you so that you can pull them back in again.
13. You constantly feel inferior
Because of a lack of consistent caregiving during childhood, people with attachment issues in relationships tend to feel inferior to others.
They may feel as if they are not deserving of happy relationships because they simply aren't as good as other people. If you frequently feel inferior, your attachment pattern may be to blame.
14. You tend to be passive in your communication
Research suggests that people with a preoccupied attachment style are likely to use non-assertive communication. If you have difficulty speaking up for your needs, this is another one of the signs of preoccupied attachment style.
Related Reading: 

How Your Communication Style Says a Lot About How You Communicate
15. You avoid relationships because of your anxiety
In some cases, people who have an anxious preoccupied attachment style may avoid relationships altogether or only have a series of short-lived flings because they are afraid of forming intimate relationships.
The risk that comes with potentially being abandoned and hurt by a romantic partner can be too high for some people with this attachment style. Avoiding relationships doesn't mean that you don't desire them. You may long for a loving relationship, but your anxiety prevents you from forming one.
Related Reading: 

What is Relationship Anxiety and How can you Deal with it?
How does preoccupied attachment style look?
The signs above can give you an idea of what, specifically, to look out for if you think you might have a preoccupied attachment style.
Beyond these specific signs, a preoccupied attachment style generally looks like this: you experience low self-esteem, as well as chronic feelings of being inferior to other people. You also have difficulty trusting others in relationships, and you have a deep fear that others will reject and ultimately abandon you.
What is the cause of preoccupied attachment style?
The preoccupied attachment style often has roots in childhood, and it can be a result of low-quality or inconsistent parenting. For example, if one or both of your parents was absent due to mental illness or addiction, you may not have received adequate care and affection.
Ultimately, this can result in developing an anxious preoccupied attachment style because you learn that you cannot depend upon your caretakers to meet your needs.
In some cases, the anxious attachment style can develop due to serious issues, such as abuse or rejection from parents. When you cannot even rely upon your parents to protect you from harm, you will feel that you cannot trust anyone, which shows the preoccupied attachment style.
While attachment styles often have roots in childhood, sometimes, people may develop preoccupied attachment after a toxic or abusive relationship.
Abusive relationships tend to follow a cycle in which the abusive partner sometimes loves between episodes of abuse. Over time, this can erode a person's self-esteem and develop a fear of rejection, leading them into the next relationship.
Are preoccupied and avoidant attachment styles the same?
Preoccupied and avoidant attachment styles are both forms of insecure attachment, meaning they arise from a lack of consistent caregiving in childhood, but they are not the same thing.
A preoccupied attachment style is associated with high anxiety and a lack of trust in relationships. Still, those with an avoidant attachment style tend to avoid relationships altogether, especially those that involve intimate emotional connections.
Whereas someone with an anxious attachment style may enter a relationship and be very clingy and needy because of their fear of abandonment, someone with an avoidant attachment style will simply close themselves off emotionally and avoid getting too close to other people.
Unlike someone with an anxious attachment, someone with the avoidant attachment style does not like to become dependent on other people for anything. Instead of relying on others for their sense of self-esteem, someone with the avoidant attachment style is overly independent. They've learned that since you cannot trust people, you may as well rely upon yourself.
The four attachment styles explained
It turns out that there are three other attachment styles, in addition to the preoccupied attachment style. Aside from this style, some people have a secure attachment, which means they have healthy relationships with their caregivers as children. They can trust others and develop close bonds in adulthood.
On the other hand, the avoidant attachment style, as its name might suggest, involves someone fearful of commitment and avoids close relationships. They can come across as emotionally cold and distant in relationships. The disorganized or fearful/avoidant attachment style is paradoxical because, on the one hand, someone with this attachment style longs for close relationships, but they are fearful of them.
In summary, the four attachment styles are as follows:
Secure

: This is the ideal, and it forms when people have responsive, consistent caretakers as children

Anxious/Preoccupied:

Discussed in detail here, this attachment style develops due to inconsistent caregiving and causes people to be incredibly fearful of abandonment and distrustful in relationships.

Avoidant:

Someone with an avoidant attachment style doesn't have anxiety surrounding intimate relationships, but they avoid getting too close to other people because they learned during childhood that they could not trust adults to care for them.

Fearful-avoidant:

People with the fearful-avoidant attachment style crave intimate relationships, but they are also fearful of them. Like other insecure attachment styles (preoccupied and avoidant), someone with a fearful-avoidant attachment style has issues stemming from inconsistent and poor caretaking during childhood.
Coping with preoccupied attachment style
Preoccupied attachment disorder is not an official mental health diagnosis, but it can lead to anxiety and relationship problems, which may require help from a mental health professional.
In fact, research shows that attachment styles are directly linked to the level of satisfaction within a relationship.
What this means is that if you've been struggling with anxiety attachment in relationships, you may benefit from working with a couple's counselor or an individual counselor.
If you're in a relationship, couples counseling may help you work through issues that have arisen in your relationship due to the anxious preoccupied attachment style.
Individual counseling can also be helpful, as it can provide a safe space where you can discuss childhood issues and process your emotions.
Beyond seeking counseling, you can make an effort to recover from attachment issues on your own. For instance, by practicing self-care, you can learn to put your needs first and improve your overall well-being, increasing your sense of self-esteem and self-worth.
Once you develop an awareness of the behaviors linked to preoccupied attachment (ie, clinginess, need for reassurance, high dependency), you can intentionally identify triggers for these behaviors and learn new ways of responding.
Over time, through counseling and intentional effort, you can learn how to deal with anxious attachment.
Conclusion
A preoccupied attachment style can lead to issues with self-esteem and relationship difficulties. If you have a preoccupied attachment, you're likely to feel inferior to others, and you'll be constantly worried that friends, family, or your significant other are going to abandon you.
This can lead to unhealthy behavior in relationships, such as excessive neediness, constant requests for reassurance, and a tendency to use tactics to push people away so they will chase after you and make you feel more secure.
Fortunately, you can learn how to overcome anxious preoccupied attachment. You may employ self-help strategies once you develop an awareness of your anxious attachment style, but in many cases, it can be beneficial to seek professional assistance.
Attending a group on healthy communication skills may help you learn healthier ways of interacting and setting boundaries in relationships. Counseling can also help you process childhood issues that have led to attachment problems in your relationships and develop strategies for overcoming them.
Share this article on
Want to have a happier, healthier marriage?
If you feel disconnected or frustrated about the state of your marriage but want to avoid separation and/or divorce, the marriage.com course meant for married couples is an excellent resource to help you overcome the most challenging aspects of being married.
Learn More On This Topic
You May Also Like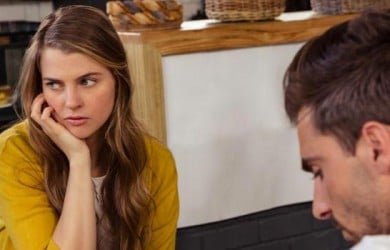 Popular Topics On Married Life