10 Things You Need to Know About Men With Trust Issues
Trust is one of the crucial building blocks of any relationship. If you trust someone, you will likely be more open and vulnerable with them because you feel secure. However, if someone breaks your trust, it could adversely affect your future relationships.
You may begin to doubt people's intentions and actions because of your experience. In this article, you will learn more about men with trust issues, how to identify them, and some suitable ways to handle them in a relationship.
In this research piece by Cara Cosentino, you will learn more about how trust works in relationships. The title of this study is Trust in Relationships, which helps determine the importance of trust.
What is the meaning of a guy having trust issues?
When it comes to men with trust issues, it may mean that they are reluctant to open up to people or be vulnerable with them, probably because of past experiences.
Additionally, the meaning of a guy with trust issues could imply that they are overprotective of themselves and those around them.
It is important to mention that trust issues may develop because of present or past experiences. The man might be directly affected by the situation or based on his awareness as a third party.
Ten things to know about men who have trust issues
People with trust issues may find it difficult to feel secure in their relationships. When trust is broken, it might be hard to regain it. The absence of trust may not bid well on a relationship and your mental health.
Here are some things you need to know about men with trust issues
1. They focus more on the negative
One of the ways to know men with trust issues is they are likely to pay more attention to the negative consequences than the positives.
The case may be quite different for people without trust issues because they may not have experienced anything that will destroy their trust.
Getting someone with trust issues to look on the brighter side of things may be difficult, and you might need to present them with enough reasons to be optimistic.
Someone who would naturally focus on people's weaknesses instead of identifying their strengths might be struggling with the downsides of broken trust.
2. They are suspicious of your loved ones
When dealing with a man with trust issues, you may notice that they have a frosty relationship with their family and friends.
Sometimes, people suffer trust issues because their loved ones let them down, and it becomes difficult to trust people in that category again.
Therefore, judging a man who is suspicious of his family and friends might be hasty because he might have been burned before and doesn't want to experience it again.
Such men may prefer to do things independently instead of putting their faith in people.
Related Reading: 

10 Ways to Show Devotion to Loved Ones
3. They hold grudges
Another way to identify men with trust issues is when they don't forget. Some men in this category may find it hard to forget that someone broke their trust, and they might not trust the person in the future.
There might also be a ripple effect of this broken trust, as they will not find it easy to believe some people, even when they have genuine intentions.
Also, holding grudges means they might not forgive the person, and whatever relationship or connection they shared may be severed.
Watch this video on what holding a grudge says about you:
4. They spy on people
One of the possible signs of a man with trust issues is he is likely to develop an interest in spying on people. The reason might be that he wants to know what is going on with them, to help him anticipate any forthcoming betrayal.
Such men may go to the extent of checking the phones, emails, and social media messages of their loved ones. Some may want to put their minds at rest so that their loved ones are not harboring ill thoughts against them.
5. They might be over caring
When identifying men with trust issues, one of the ways to spot them is how they care for people who matter to them. They might be too caring to those around them, which may become burdensome at some point.
The same could apply when dating a man with trust issues. He might be too caring because he doesn't want you to experience trust-related issues. It may look like he is breathing down your neck, but his intentions could be genuine.
6. They are afraid of being abandoned
The fear of abandonment is one of the signs of trust issues that some affected men may struggle with. For instance, if they get a random and vague text from their partner, they could begin to worry that they are about to break up.
Also, the same applies when they get a message from their employer on an emergency meeting, they could begin to see the end of their job without even waiting to hear what their boss has to say.
Such men constantly think of being abandoned, and they may start preparing their minds ahead.
Related Reading: 

15 Signs of Abandonment Issues and How to Deal With Them
7. They find it hard to be committed
When a man or boyfriend has trust issues, it might be hard for them to be committed. Usually, the primary reason is that a committed relationship is built on vulnerability and trust.
Someone with trust issues could struggle to be vulnerable and open with their partner. Even when their partner reassures them continuously, it might be difficult to stay committed.
8. They don't tolerate human mistakes
Sometimes, men with trust issues may find it hard to give their fellow humans the benefit of the doubt. When people around them make mistakes, they might find it hard to give them another chance to make amends.
A man with trust issues could see a one-time mistake as a behavior ingrained in their makeup. So, they most likely believe that you will make the same mistake, which could affect their trust in you.
9. They don't feel worthy of having a happy and trusting relationship
Due to what they have faced in the past, men with trust issues might find it hard to visualize having a stable relationship where there is love and trust.
One of the reasons could be their self-esteem and confidence in having a healthy relationship where trust has been defeated.
So, when they find themselves in a relationship similar to a secure and healthy one, they may begin to tell their partner that they are not good enough.
10. They isolate themselves
Another possible sign of trust issues with men is they are likely to isolate themselves from people from time to time. This is probably to reduce the chances of being vulnerable with people to the point where they trust them.
So sometimes, they prefer to stay in their corner instead of being in people's spaces.
What makes a man have trust issues?
If you have questions like what to do when my boyfriend doesn't trust me, it is important to address the root cause. Sometimes, his past experiences with parents, friends, etc., might be responsible for how he views trust in relationships.
If family members and friends hurt him, it might be hard to trust people.
Also, if they experience cheating or any form of heartbreak in their romantic relationship as adults, it can break their trust. Hence, they feel unsafe, and they may decide not to trust anyone easily again.
Five reasons why men have trust issues in relationships
When men show signs of trust issues in relationships, it might be disappointing and sad for their partners because it could make the union a chore instead of a love haven.
Identifying the reasons for questions, like why my boyfriend has trust issues, will help know how to handle them.
1. Toxic relationships
Some men with trust issues may have experienced toxic relationships with their partners. Most times, toxic relationships come with insecurities, pain, doubts, and insecurities.
In a toxic relationship, it might be difficult for both parties to trust each other because they may keep doubting their intentions and actions.
2. Childhood trauma
Another reason some men may have trust issues in their love life is childhood trauma, affecting how they interpret their partner's actions.
For instance, if a man does not get enough attention and care as a child, it may affect his ability to trust potential partners.
Even if they show some signs that they care, the man might be skeptical about trusting and being vulnerable with them. Similarly, someone who experiences first-hand abuse or absence from parents could develop trust issues.
Check out this evidence-based study to understand the connection between childhood trauma and trust. This research is titled Trust and childhood maltreatment, and Louise Neil and other brilliant authors write it.
3. Unsatisfiable needs
In a healthy relationship, partners are expected to be there for each other. Even if they may not meet all their needs, they can give their best shot to keep their partners satisfied to a good extent.
For instance, if their partner doesn't meet their communication needs, it may push them away, making them lose trust in the process.
The same could apply if their partner does not meet their needs in bed; it could cause infidelity due to the absence of trust in relationships.
4. Social rejection
Any man who has experienced social rejection at any point in his life might develop the fear of going through the same thing with people around him.
Social rejection is a powerful entity that can make anyone doubt themselves and those around them. If a man continually harbors the fear of social rejection, he may live each day thinking that his partner might abandon him anytime.
Related Reading: 

How to Manage the Psychological Effects of Rejection
5. Incompatible values
When partners in a relationship do not have enough values to align, it may breed mistrust between them. If a man discovers that his partner does not share the same views, it could weaken his emotional connection with them.
The presence of incompatible values in a relationship suggests that both partners do not see a future together. Since they have different attitudes to life, the man might need to trust his partner more.
How can you date someone with trust issues?
When it comes to dating someone with trust issues, it might be difficult, and not everyone can be patient and understanding with their partners. Here are some tips for you when you want to date someone who has trust issues.
Let them know that you trust them and will be there for them

Ensure they feel comfortable with you

Be honest and straightforward when you approach them

Please encourage them to open up to you about their past experiences

Try to put yourself in their shoes, and don't make it all about you

Don't take their reactions to heart

Remind them that they can trust you, and give them every reason to

Help them seek counseling or professional therapy

Try to live out your promises to avoid a false impression

Don't try to fix them
To manage the insecurity, anxiety, and jealousy that comes with a relationship, check out Jessica Riley's book titled Trust issues. This book teaches you how to navigate your union and appropriately handle trust issues.
How to handle a man with trust issues
When you've been able to identify a man with trust issues, don't tackle them like they are a mental nut case. Rather, approach him with kindness and understanding. Be patient with him till he understands what is at stake, and you can encourage him to seek help from a professional therapist or counselor.
Related Reading: 

15 Ways on How to Communicate in a Relationship With a Man
FAQs
Here are some frequently asked questions about men with trust issues.
1. Is having trust issues a red flag?
Some people consider having trust issues a red flag because of its negative effect on a relationship. However, it might be more appropriate to consider that their trust issues came from a place of hurt, betrayal, disappointment, etc.
2. Is it worth dating someone with trust issues?
People with trust issues are not entirely bad or difficult people. Some of them have good hearts and intentions marred by traumatic events. Dating someone with trust issues can be a great experience if you're willing to help them get better.
The takeaway
When you know how to identify men with trust issues, you better understand what they are going through and become more empathetic with them.
Also, try to be more open, honest, and detailed with them so that it doesn't evoke their painful or traumatic memories. You can consider going for couples counseling to help your partner if they are not showing any signs of getting better.
Share this article on
Want to have a happier, healthier marriage?
If you feel disconnected or frustrated about the state of your marriage but want to avoid separation and/or divorce, the marriage.com course meant for married couples is an excellent resource to help you overcome the most challenging aspects of being married.
More On This Topic
You May Also Like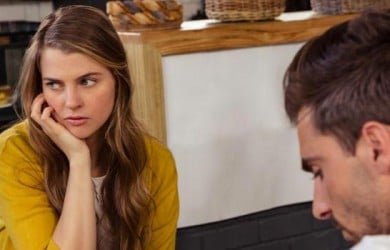 Popular Topics On Married Life