10 Ways to Show Devotion to Loved Ones
It can sometimes be hard to show a loved one that you care. You may not know how or feel it's unnecessary. Showing devotion to loved ones is important in any relationship. Your attention, time, and effort will go a long way toward keeping your bond strong and healthy. In this article, we'll look at ten ways you can show your devotion to loved ones.
What does it mean to be devoted in a relationship?
Devotion is a term used to describe one person's strong love, affection, and admiration for another. When you're wondering what a devoted partner means, it can also refer to a strong emotional attachment to a person or cause.
If you're asking yourself what devotion is in a relationship, this emotional connection is often accompanied by feelings of loyalty and commitment. When you are devoted to someone or something, you're willing to give up your own needs and desires to support whatever means so much to you.
When you're wondering what it means to be devoted to one another in love, this devotion is often seen as a sign of true love. It makes us want to do anything for someone else — even if it hurts our self-interests.
The word "devotion" comes from the Latin devovere, "to consecrate" or "to vow" – that is, to promise something strongly and with great conviction. In modern English usage, the definition of devoted usually describes an intense personal attachment or loyalty that may be religious or secular. A person devoted to another person might be described as having "a deep sense of love and respect for them."
Why is showing devotion important?
Showing your partner how much you care about them can strengthen your bond and make you feel closer. If your partner knows that you enjoy spending time with them, are always there for them when they need it, and do things just because they like it, they will feel closer to you.
This can be especially helpful if they have had a bad day or something has happened that has made them feel sad or upset. Showing affection when someone needs it most is one of the best ways to show devotion.
Another reason why devotion to loved ones is important is that it makes people more attractive to their partners. When someone shows their partner that they care about them, they become more desirable as a partner. This isn't just true for romantic relationships either. Research has shown that children who receive unconditional love from their parents are happier than those who don't receive this type of love from their parents.
Lastly, devotion is important because it can help people avoid feeling alone or isolated. When someone feels like they have someone who loves them no matter what, it can make them feel less lonely or depressed. As a result, this leads to happy and fulfilling relationships, marriages, and even friendships.
Related Reading: 

What is Loyalty & Its Importance in a Relationship?
10 ways to express your devotion to the people you love
To express devotion, you don't have to write poetry or give expensive gifts. Sometimes simply saying "I love you" can go a long way. Here are 10 ways how to show devotion in a relationship.
1. Make a genuine commitment statement
A commitment statement is a public declaration of your plan for your relationship. It's a way of making your intentions clear and putting them out there for everyone to see. You can use it to tell each other how you want your relationship to be, or you can tell the world how much you love each other. This is a very powerful tool for creating devotion in your relationship.
Here's an example of a commitment statement: "I, (your name), promise to love and support (partner's name) in all ways. I will be there for them through thick and thin. I will listen when they need someone to talk to and offer advice when they ask for it. I will respect their opinions and ideas even if they differ from mine."
How to get your partner to commit to you? Watch this video.
2. Show genuine empathy
Empathy is a powerful tool for creating devotion in your relationship. It's the ability to understand someone else's feelings, perspectives, and needs. It means being able to put yourself in their shoes and see things through their eyes without judgment or bias.
So, how can you be more empathetic? Pay attention to the things that your partner says and does. When they make an observation or share their feelings, try to see it from their perspective. For example, if they tell you they're feeling lonely because of a lack of connection with friends or family, try to understand what this means for them.
Related Reading: 

How to Build Empathy in Relationships
3. Be mindful of your relationship's milestones
Whether it's a birthday, anniversary, or just a random Tuesday night, make sure you're making time to celebrate your relationship with each other. It doesn't have to be extravagant and expensive; it can be as simple as going out for dinner at your favorite restaurant or taking a walk around the neighborhood together.
This might not seem like a big deal, but when trying to show more devotion in your relationship, it's important to remember that the little things count too.
Related Reading: 

15 Relationship Milestones That Are Worth Celebrating
4. Spend a lot of quality time with them
If it's been a while since you've spent time together or if one of you is always busy with work, school, or other commitments, then it's important to reconnect. Schedule time in your calendars to be together and ensure that neither of you has any distractions or interruptions.
You can watch a movie together, go for dinner at your favorite restaurant or hang out at home enjoying each other's company.
Related Reading: 

15 Relationship Milestones That Are Worth Celebrating
5. Show that you are willing to make sacrifices
You may not have time to spend with your partner, but that doesn't mean you should put all your needs ahead of theirs. If you want to show your partner that their happiness is important to you, you need to do things even when they're not fun or convenient.
If you're asking yourself, what is meant by a devoted partner, sacrifice is one of the essential factors when showing devotion to someone you love. This demonstrates that you're willing to put your own needs aside for the sake of someone else's. When you do this, it can make your partner feel valued and appreciated.
6. Set aside your pride and ego
Sometimes, pride can get in the way of showing your love for someone. You may feel you need to be perfect, but this isn't true. When showing your partner how much you care about them, let go of any false notions that they deserve anything less than your best effort. Especially when showing devotion in a relationship, being vulnerable is a key ingredient.
7. Learn to express your partner's Love Language ®
People express their feelings in Five Love Languages ®: words of affirmation, quality time, receiving gifts, acts of service, and physical touch. If you know your partner's primary love language, you can show them how much they mean to you by doing things that make them feel loved rather than just saying it every day.
This is a great way of showing devotion because it shows that you are actively working to meet your partner's needs and make them feel good.
Related Reading: 

30 Romantic Ways To Express Your Love Through Words & Actions
8. Consider your partner's role in your future endeavors
Including your partner in your future plans shows that you're invested in them and want them to be part of what you do. This can be as small as planning a trip together or something larger as getting married.
Also, when you include your partner in your plans, it shows them that they are important to you and that their feelings matter. This is important in showing devotion because
9. Become someone who can be counted on
The most important thing in any relationship is trust. If you want your partner to trust you, becoming a reliable person is essential. This means that when you make a promise, you keep it no matter what happens.
If you can't keep your promise, then let your partner know. Don't just break the promise and expect them never to find out about it. Building devotion is all about trust and reliability, so you need to become someone your partner can count on.
10. Resolve conflicts in a healthy way
Conflicts are inevitable in any relationship. It's how you deal with them that matters most. If you want to build and show devotion to loved ones, work through conflicts effectively, so both of you feel respected and valued. This means that if one person wants to talk about the problem while the other doesn't, then compromise by finding a middle ground where both people can be comfortable talking about it.
Related Reading: 

5 Steps to Resolve Conflict With Your Partner
The takeaway
Building a strong and healthy relationship can be challenging. It would help if you worked hard on it for it to succeed. If you follow these tips and strategies for showing devotion to loved ones, you will be able to create a strong bond with your partner or loved ones that will last for many years.
You may also choose to take advantage of a personal development course to help you build your devotion to your partner or loved ones. This way, you will be able to better understand how to show devotion in meaningful and effective ways for your loved ones.
Share this article on
Want to have a happier, healthier marriage?
If you feel disconnected or frustrated about the state of your marriage but want to avoid separation and/or divorce, the marriage.com course meant for married couples is an excellent resource to help you overcome the most challenging aspects of being married.
More On This Topic
You May Also Like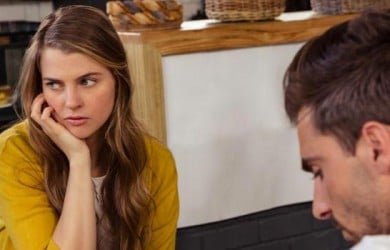 Popular Topics On Married Life